Clark County's first female battalion chief files discrimination suit
November 14, 2013 - 10:43 am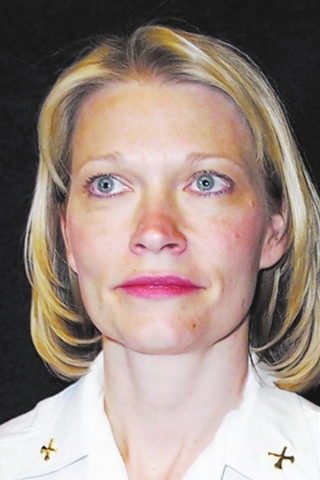 The first female battalion chief of the Clark County Fire Department has filed a federal lawsuit against the county, alleging that she was fired because of her gender.
Renee Dillingham was fired in 2011 in connection with the county's review of sick leave abuse within the Fire Department. However, an arbitrator in 2012 ruled that she was to be reinstated with full pay.
Dillingham, who started her Fire Department career in 1987, contends in her lawsuit that male battalion chiefs were not fired and were disciplined instead with only counseling, coaching and reprimands for actions tied to sick leave and overtime scheduling.
The lawsuit was filed Tuesday in U.S. District Court.
In her lawsuit, Dillingham is seeking economic damages of more than $10,000, compensatory damages of more than $10,000 and attorney fees.
Dillingham is seeking the compensatory damages for suffering "humiliation, embarrassment and distress," according to the complaint.
The economic damages are sought because of how the firing will financially impact her pension, which will happen despite her reinstatement, said Daniel Marks, her attorney.
County spokesman Erik Pappa declined to comment, because it is pending litigation.
Dillingham, who became a battalion chief in 2002, was unavailable Wednesday for comment.
The county's sick leave abuse probe examined emails that Fire Department employees wrote that showed them planning and scheduling sick leave.
Dillingham was fired after emails gave the impression she put together a special roster for sick leave, according to Review-Journal archives.
In Dillingham's case, she wrote a 2009 message to other battalion chiefs that said: "Please do not post the August roster with SICK. I have added the other roster for posting and the sick is for you to take home."
Dillingham also appeared to arrange sick leave months in advance for Battalion Chief Gina Geldbach-Hall, who retired before the county started its review of the matter.
"I will be taking off June 10, 17, 19, 21, 23 and 25 (all sick days if I can work it out)," Geldbach-Hall wrote. "… Again, thanks. It is so much nicer having a scheduler I can work with."
However, Dillingham argued her supervisors signed off on Geldbach-Hall's sick leave, and she didn't have the standing to approve the request.
The arbitrator found that the two rosters were created, "not because they wanted to conceal the sick leave from their superiors, who had apparently approved it, but rather to avoid setting a bad example for the employees under their supervision. … (Dillingham) did not have any special duty or responsibility to police the use of sick leave by other battalion chiefs."
The county also alleged that Dillingham planned her own sick leave in February 2010 in the expectation of having migraines without knowing if she would have them, according to Review-Journal archives.
But Dillingham argued that former Fire Chief Steve Smith was aware of her migraine problem and authorized her to take the time off.
Dillingham also gave the arbitrator a letter from her neurologist documenting her condition. Dillingham wasn't the only fired county employee to get her job back. Firefighter Donald Munn was also reinstated in 2012 after an arbitrator ruled the county failed to prove he had abused sick leave.
Contact reporter Ben Botkin at bbotkin@reviewjournal.com or 702-405-9781. Follow @BenBotkin1 on Twitter.