Clinton calls for immigration reform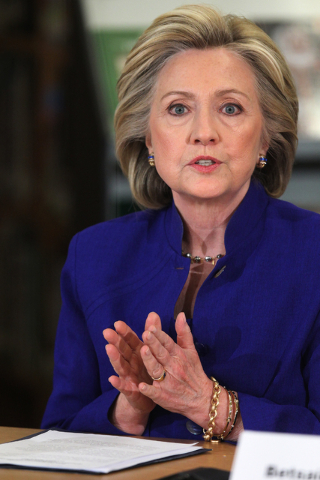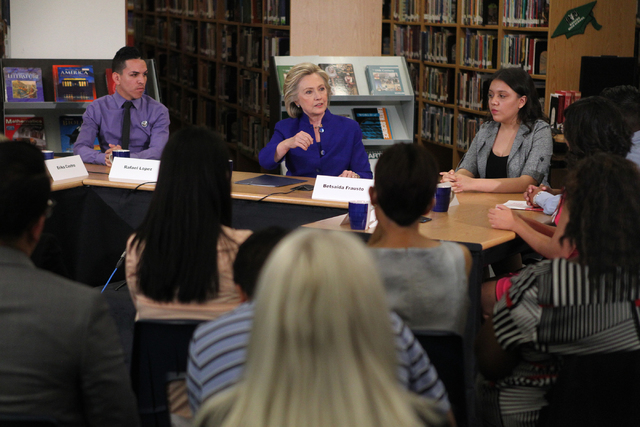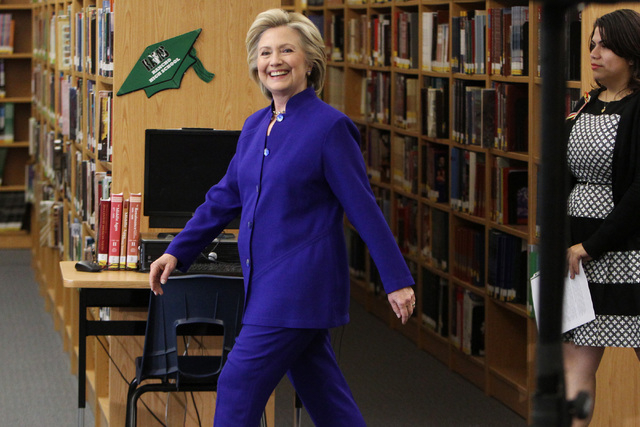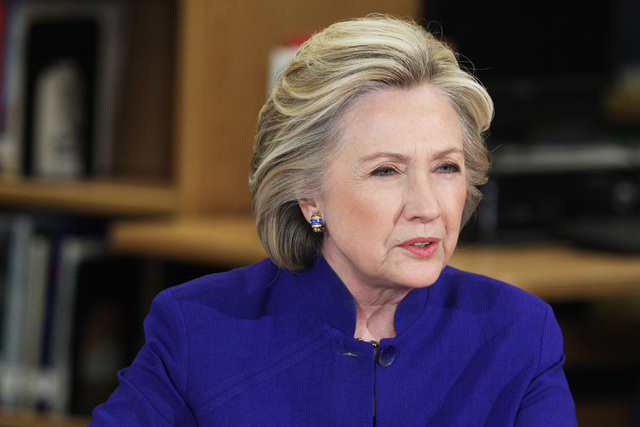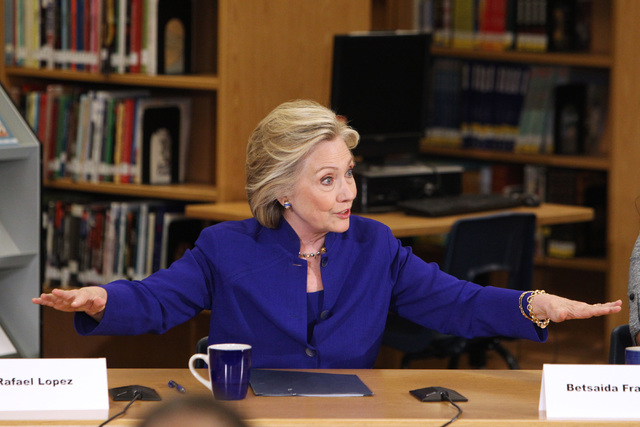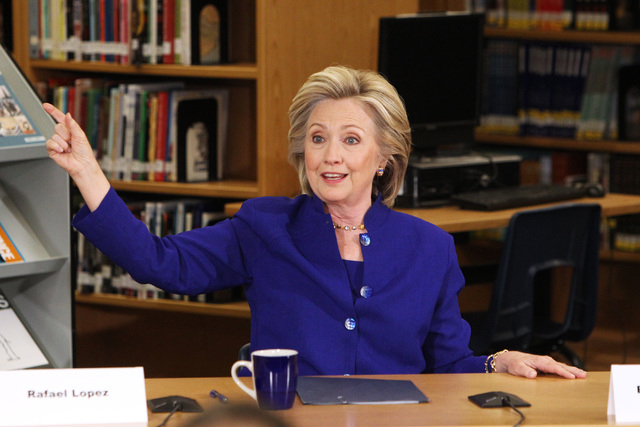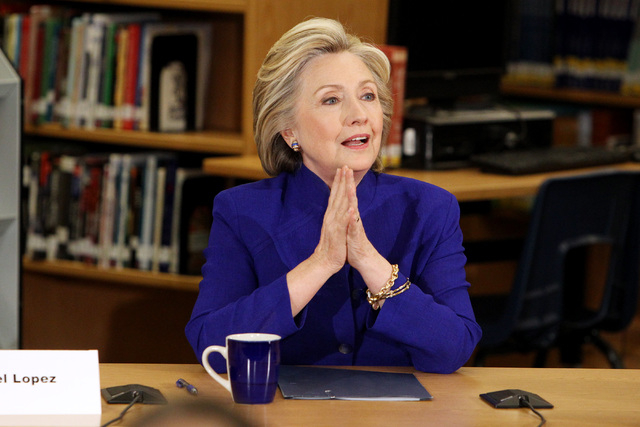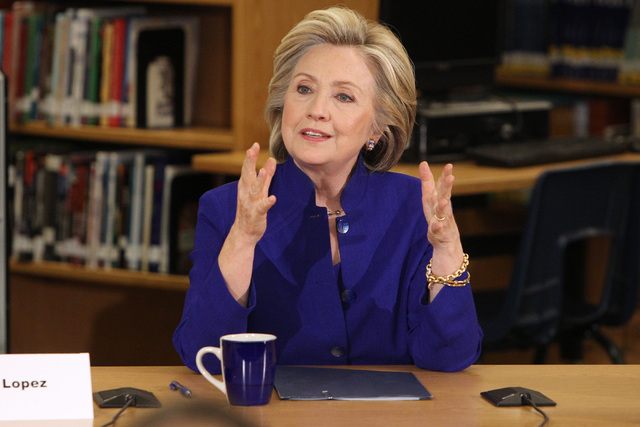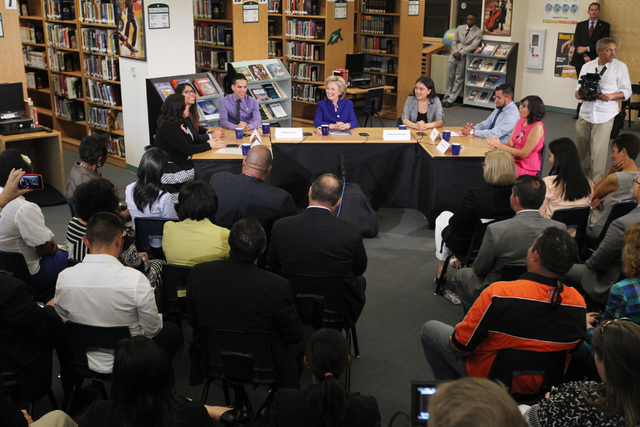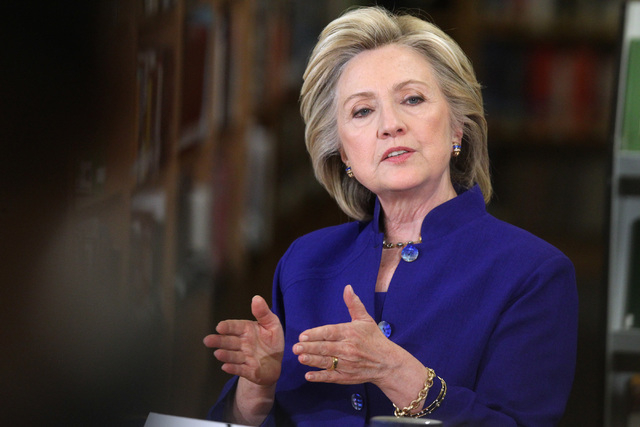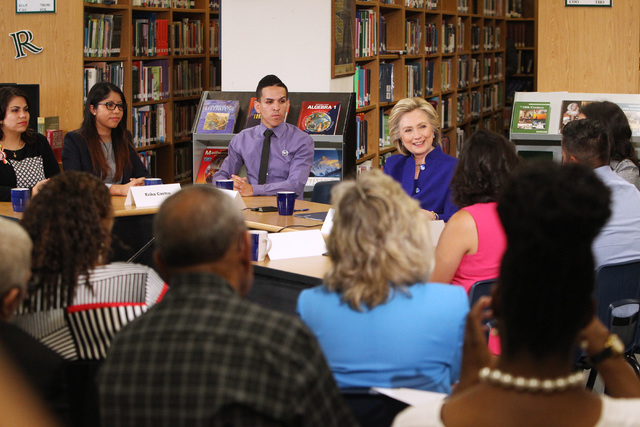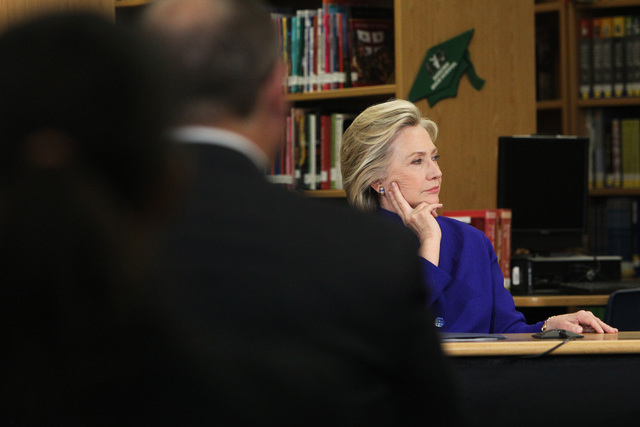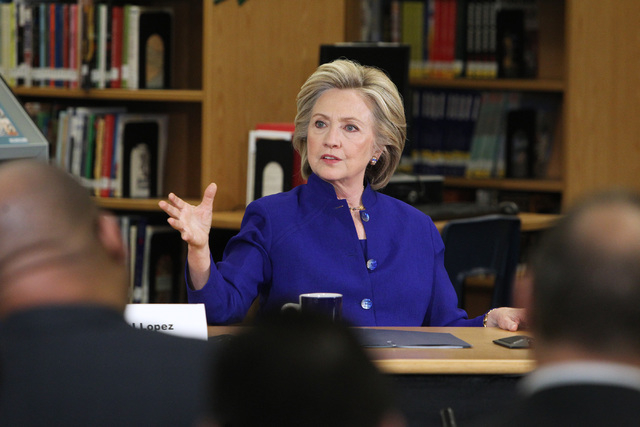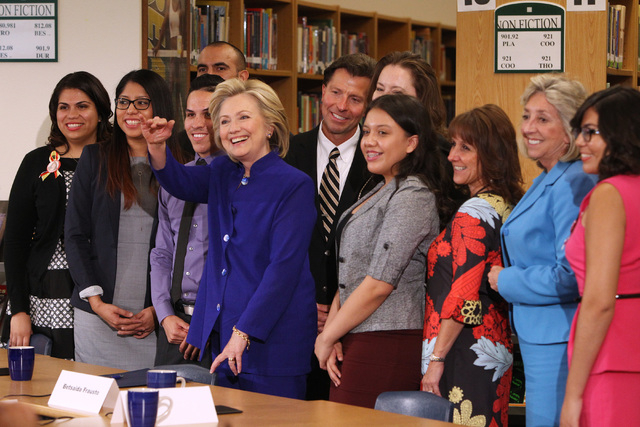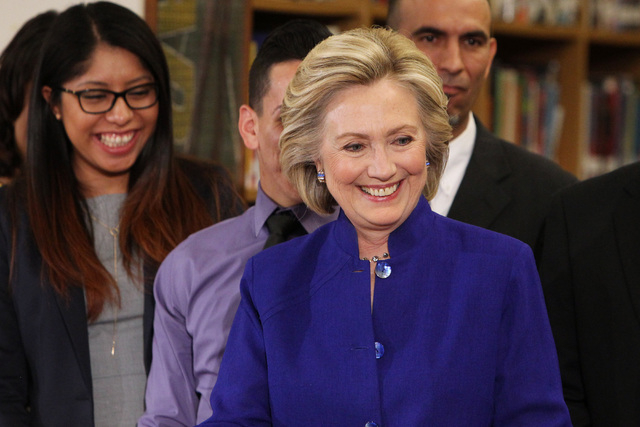 Democratic presidential candidate Hillary Clinton called for comprehensive immigration reform Tuesday at Rancho High School in Las Vegas, saying it's necessary to keep families from pulling apart.
"We can't wait any longer for a path to full and equal citizenship," Clinton said, seated at a table with six people and appearing before an audience of just 33. The half-dozen round-table discussion participants all have family members who have faced struggles in the immigration system.
"It is at heart a family issue," Clinton said. "And if we claim that we are for families, we have to pull together and resolve the outstanding issues around our broken immigration system."
The stop at Rancho High was the former secretary of state and first lady's first visit to Nevada since she announced her candidacy on April 12, and was part of a tour of early voting states that included Iowa, New Hampshire and South Carolina.
Clinton's approach at the event was in step with efforts to soften her image, placing her in a low-key, intimate setting with a question-and-answer format, rather than making speeches to large crowds. No questions from the media were allowed.
Rancho's student body is about 70 percent Hispanic, and Clinton's round-table discussion included young people who are eligible for the Dream Act. About 30 percent of Nevada's population is Hispanic.
In the Silver State and across the nation, immigration reform is a growing issue, with an estimated 11 million undocumented Hispanics in the United States.
Clinton spoke of her experience babysitting young migrant children while growing up in the Chicago area. Those children would rush to greet their families members, including older siblings, when they returned home after a day of toiling in fields, she recalled.
"They were all scooped up by these really, really tired people," Clinton said of the children, using that image to demonstrate that immigration reform is about families.
Advocates for immigration reform have pressed for giving a legal status to undocumented residents, while Republicans have argued instead for incremental changes and increased border security.
Clinton said it's "unrealistic" to talk as if the country is going to deport 11 million people.
"That is not going to happen," she said.
Clinton attempted to use the immigration issue to cast herself as different than her Republican opponents, saying not a single active or potential GOP candidate has come out in favor of a path to citizenship. She said that GOP talk about getting a "legal status" for immigrants is "code for second-class status."
Clinton said she supports the Obama administration's actions on immigration, adding that the House leadership didn't take up a bipartisan agreement that had passed the Senate.
Clinton rose to prominence when her husband, Bill Clinton, ran for and won the presidency in 1992.
After eight years as the nation's first lady, Clinton became s a U.S. senator representing New York. She lost a bid for the Democratic nomination for president in 2008 to Barack Obama, then became secretary of state in 2009, holding the position until 2013.
Clinton said immigration reform is crucial to avoid millions having a second-class status.
"I saw what happens to countries that establish a second status for people," she said, referring to her time as secretary of state.
Those people don't have any allegiance to their country, she said, calling it a "recipe for divisiveness."
Noting that the Great Recession hit Nevada particularly hard, Clinton said the state and country are coming out of tough economic times, but more work is needed to get ahead and stay ahead.
"It's important to recognize that even with all of the hard work and sacrifice that so many families made, in many ways the deck is still stacked in favor of those at the top," she said. "And I'm well aware that in Las Vegas there's nothing worse than a stacked deck. I want to reshuffle the deck. I want to be a champion for hard-working Americans."
It's not the first time for a Las Vegas high school to be a backdrop for a high-profile immigration announcement.
President Barack Obama visited Del Sol High School Nov. 21 to tout his efforts at immigration reform, and he signed documents for his executive orders aboard Air Force One while at McCarran International Airport. Those orders help undocumented immigrants with children born in the United States.
In January 2013, Obama was at Del Sol High School to announce he is pursuing comprehensive immigration reform.
Contact Ben Botkin at bbotkin@reviewjournal.com or 702-387-2904. Find him on Twitter: @BenBotkin1
RELATED
Hillary Clinton announces she is running for president
Hillary to bring her campaign to Nevada on May 5