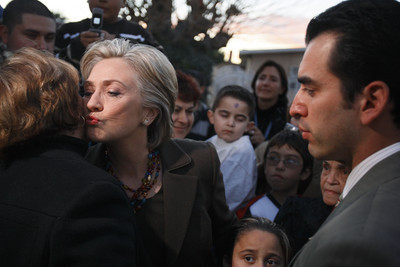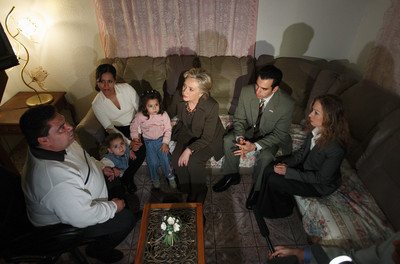 People in the Las Vegas neighborhood saw all the cameras and trucks and buses and police on the streets Thursday, and they began to trickle out of their houses to find out what was going on.
Soon, as a sherbet-orange desert sunset filled the sky, they got their answer, as New York Sen. Hillary Clinton began walking up the street of low-slung houses near Eastern and Washington avenues, accompanied by the area's representative, state Assemblyman Ruben Kihuen.
Clinton hugged Kihuen around the shoulders and asked about his family, and then the two began knocking on doors, the same doors Kihuen knocked on nearly two years ago in his first campaign. Clinton spent more than an hour in the predominantly Hispanic and black neighborhood.
Gilberto Santana, 38, sat on the edge of a chair as Clinton sat on the brown leather sofa in his living room next to his wife and two young children.
Santana told Clinton how his wife, Elizabeth, a housekeeper on the Strip, was barely supporting the family single-handedly while he was unable to work for two months because of an operation.
"We're sort of struggling," he said. "We're getting there, but you have to be strong to make it."
Clinton asked the couple questions about their mortgage and his disability payments, and answered his questions about immigration and the war and health care costs.
Stroking the 4-year-old girl's head, Clinton said, "I feel so strongly that if we don't take care of our children, we don't take care of our future."
Santana said, "We are going to do everything we can to make sure that everyone in Las Vegas votes for you."
That is the warm, earnest, human side of campaigning, politicians comforting people with detailed explanations of how they will solve their problems and flattering them with their presence.
There was nobody who didn't know who the Democratic presidential candidate and former first lady was, even if they didn't speak English or weren't old enough to vote. They flocked to her for camera-phone pictures, and she posed in tableaux of adorable multicultural children.
But Clinton is in the final heat of an intense race for the Democratic nomination, and Nevada, which holds the Democrats' next contest, on Jan. 19, is ground zero for that cold, hard fight.
After leaving the Santanas' house, Clinton walked across the street and took questions from a few of the dozens of reporters, standing in front of a faded American flag pinned to a dingy garage door.
Today, Clinton is scheduled to travel to Los Angeles, where she will give a policy speech about the economy and what kind of stimulus she believes it needs.
"I think we're slipping toward a recession," she said. "A couple of people that I met on the street, they work in construction. They tell me it's slowed down."
She reiterated her doubts about the caucus process, which requires in-person, on-time participation.
"That is troubling to me," she said. "People who work during that amount of time, they're disenfranchised. People who can't be in the state or are in the military, they cannot be present. … If people feel like there's no reason to participate or they can't, then that's the same thing. So I think it's a problem."
Clinton and her busload of traveling press moved from there to the popular local Mexican restaurant Lindo Michoacan, where a "roundtable" that was actually square passed a microphone around to tell her people's concerns about the mortgage crisis and foreclosures. She took notes and munched on tortilla chips.
In broken English, one woman told Clinton how she wasn't making money as a broker anymore.
"I have no income at all," she said. "So how will I survive?"
Choking up with emotion, the woman said, "In my neighborhood, there are brand-new homes, but the value is nothing. I'm glad you are here so I can tell you, because you're going to be the president, I know."
A man shouted through an opening in the wall that his wife was illegal.
"No woman is illegal," Clinton said, to cheers.
Summing it up at the end, Clinton said, "We've only talked to a few people, but each of them talk about some part of the problem we are confronting. This is a problem that is only going to get worse if we don't address it."
Clinton said unscrupulous lending leads to bad mortgages, which lead to foreclosures, which lead to people with nowhere to go and vacant neighborhoods that can go rapidly downhill.
"We treat these problems as if one is guacamole and one is chips, when … they both go together," she said.
In an interview, Clinton enthused about Nevada but didn't predict victory.
"I never make predictions," she said. "But I'm very confident. We've got a great campaign here, we've got a lot of support across the state, and it just feels good. But of course the big question mark is, how many people are going to come out? And I keep urging people, get out and do this, for yourselves, your families, your future."
Clinton said Nevada, which stands to break the current tie between her and Illinois Sen. Barack Obama in terms of how many victories they've chalked up, will be an important indicator of "what the people in the West think," but is not the end of the race.
"We have an election that'll go through February fifth, maybe beyond. I've always run a national campaign."
Clinton said the race is "hard fought, as it should be. And I was very pleased that starting in New Hampshire we finally began to draw some contrasts and comparisons, because that's what voters need to have. They need relevant information to make up their minds."
She recounted her work to help establish the Children's Health Insurance Program, secure health care for members of the National Guard and Reserves, and oppose the nuclear waste repository at Yucca Mountain.
"I come with all of my experience and my lifelong commitment to making positive change for people with a record on issues that matter to the people of Nevada."
With change the buzzword on everyone's lips, and Obama's soaring speeches credited with inspiring a movement of hope, she said, "I think there's a difference between talking and acting and between rhetoric and reality."
Clinton criticized the ethics bill that is Obama's signature achievement, saying it doesn't prevent lobbyists from eating with members of Congress as long as they are standing rather than sitting.
"I'm not asking people to take me on a leap of faith," she said. "I'm asking them to look at what I bring to this race, and what I will do as president."
She blamed President Bush and the, until recently, Republican-controlled Congress for obstructing change.
"But change never stops," she said. "Change is going to happen whether anybody does anything or not. The question is, is it the right kind of change. Is it positive change?"
Clinton implied that Obama's career has mostly been spent running for office rather than governing.
"He was a part-time state senator for a few years, and then he came to the Senate and immediately started running for president," she said. "And that's his prerogative. That's his right. But I think it is important to compare and contrast our records."
Clinton, who voted to authorize the war in Iraq and now vows to end it, criticized Obama for saying he opposed the war but then voted to fund it.
The specter hanging over Clinton's visit Thursday was the Culinary union, which endorsed Obama on Wednesday. The powerful union of Strip workers, of which both Santana parents are members, cited Obama's walking of picket lines and work as an organizer as an example of doing rather than talking.
Clinton said that rationale sounded more like a case for John Edwards, who "certainly has walked picket lines and has been with them organizing." She said her labor record is as strong as anyone's.
"I've been on picket lines, I've visited picket lines. I've taken coffee to people on picket lines," she said. "But can I just say something? A president has to change the laws so that people have the right to organize and bargain collectively. And a president has to be judged, in my view, on the kind of positive results you can get on behalf of labor," such as the recent increase in the minimum wage.
Asked whether she had the power to inspire people, Clinton said, "I've inspired lots of people to get involved in these elections who've never been involved before. I feel very proud of the inspiration that I am. People tell me all the time that I'm a role model, I'm their hero; and I'm very proud of that. But you know, when the cameras go away, when the reporters finally get to go home, when the lights are down, what matters is who the leader really is. And we face a lot of problems in our country that are not going to be solved by a speech, no matter how eloquent or passionately delivered."
In the restaurant's foyer, Ruben Beltran, 53, was carryng a "Culinary Workers for Hillary" sign. He didn't know where it came from; someone had given it to him.
Beltran said he was not worried about going against his union leadership.
"People know that Hillary is the best choice for real," he said. "They try to confuse the workers, but the workers are smarter."
Contact reporter Molly Ball at mball @reviewjournal.com or (702) 387-2919.