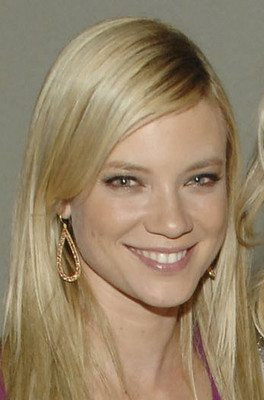 George Clooney and his Las Vegas girlfriend were injured in a motorcycle accident Friday in New Jersey.
Clooney, 46, suffered a broken rib, while his companion, Sarah Larson, 28, broke her foot when the motorcycle collided with a car as the actor tried to pass it, authorities said.
Clooney was treated at a hospital and released, spokesman Stan Rosenfield said in a statement.
The Associated Press reported that Clooney sped up to pass the car on the right as it was preparing to make a right turn. Police Sgt. Sean Kelly said it was not known whether the driver of the car had used his turn signal.
The accident remains under investigation.
Clooney met Larson in June at the Palms during the premiere of "Ocean's Thirteen."
Larson was serving cocktails when she met Clooney in Moon nightclub. Her name surfaced last month when she was identified as his companion during the European promotional tour for his new film "Michael Clayton."
Larson had worked for N9NE Group for three years before taking off with Clooney, one of the world's most eligible bachelors.
'EVIL' REUNIONS
Sylvester Stallone could have found a safer place to shoot "John Rambo."
Instead, he went for the element of realism.
Stallone, who was in Las Vegas on Thursday to attend the premiere of "Resident Evil: Extinction" at Planet Hollywood Resort, wanted a country where attention could be drawn to man's inhumanity.
He found it in Myanmar, formerly known as Burma, where genocide has flared up again after decades of tyranny by a military junta.
During the poolside after-party this week, Stallone was surprised to run into two cast members of the fourth "Rambo" movie. Graham McTavish and Matthew Marsden play mercenaries on a mission to help Rambo rescue missionaries.
When I walked up to their group, they were discussing the worsening atrocities: "It's the worst genocide since 1997," Stallone said.
"Our movie is going to highlight it," said Marsden, a baby-faced Brit who plays Slater in "Evil."
"I see these guys every day," said Stallone, who was on his way to chat with Milla Jovovich, the star of "Evil," the final installment of the sci-fi trilogy.
Stallone's pal, Planet Hollywood founder Robert Earl, also had a poolside surprise Thursday.
Former Planet Hollywood employee Valorie Hubbard spotted Earl and reminded him that she opened a Planet franchise in Chicago.
She plays the evil doll woman in "Evil," which includes a zombie battle scene.
THE SCENE AND HEARD
The PR hits keep coming for Britney Spears, who has been charged with one count of hit and run causing property damage and one count of driving without a valid California license. The misdemeanor charges were filed this week by the Los Angeles city attorney. Spears' accident occurred Aug. 6 in a private parking lot in Los Angeles. The singer could face up to six months in jail and a $1,000 fine for each count.
SIGHTINGS
Pamela Anderson, partying in short shorts and a white sheer tank top at the Heart Bar (Planet Hollywood Resort) late Thursday with members of the Scorpions. … Illusionist David Copperfield, star chef Michael Mina, and hoteliers Cliff Perlman and John Wilhelm, inducted into the Gaming Hall of Fame on Thursday at Caesars Palace during the annual charity dinner to benefit the National Center for Responsible Gaming. … Longtime Los Angeles sports anchor Stu Nahan, at Celine Dion's show (Caesars Palace) on Friday. Nahan was cast as a boxing commentator in all of the "Rocky" movies. … Anderson, sharing a 44-ounce mangorita with two friends at Diablo's Cantina (Monte Carlo) Thursday.
THE PUNCH LINE
"Maybe karma tapped him on the shoulder." — Kim Goldman, sister of Ronald Goldman, after seeing O.J. Simpson go to jail. Simpson was acquitted of the 1994 slaying of her brother.
Norm Clarke can be reached at 383-0244 or norm@reviewjournal.com. Find additional sightings and more online at www.normclarke.com.
NORM CLARKEMORE COLUMNS