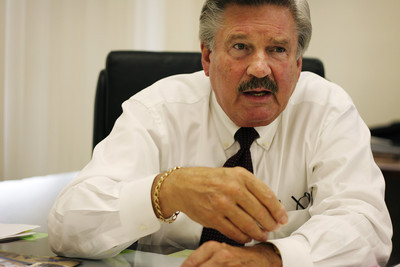 Stella Wingard lives in a tiny one-bedroom in what she calls "the projects," a bare-bones group of 84 public housing units collectively known as Ernie Cragin Annex #2.
The 50-year-old is grateful to have a place to stay — she was homeless for a time years ago — but she's not entirely happy to be living in the meager, low-ceilinged beige structure off U.S. Highway 95 and Eastern Avenue.
"I don't have any peace," Wingard said on Wednesday while resting on her sofa with her small dog, Dollar Bill, named for "the things I don't have too often."
"I hear gunshots," she continued. "The police are here every night. It can be depressing. I don't feel safe. There's always fightin', talkin', gossipin' and hatin', living this close together, and everybody's struggling."
So Wingard was excited when she learned that the Ernie Cragin buildings are among the first targeted for demolition in a controversial Las Vegas Housing Authority plan to eventually do away with much of its public housing.
The agency plans instead to give many of its low-income residents Section 8 rent-subsidy vouchers, which allow recipients to live wherever landlords are willing to accept the vouchers.
Other cities around the nation began experimenting with replacing public housing with Section 8 vouchers years ago as a way to help people escape the concentrated poverty of "the projects." But the results have been decidedly mixed, and such demolitions have been criticized for destroying public housing communities, spreading crime and failing to lift people out of poverty.
Over the next several years, the Las Vegas and North Las Vegas housing authorities plan to get rid of hundreds of public housing units, essentially forcing the relocation of thousands of poor people.
For Wingard, a substitute teacher who says she's been unable to find a full-time job, the demolition that could come as soon as next year will give her the chance to start over in a nicer, safer neighborhood.
"It's a blessing," said Wingard, who is one of the few single women among her neighbors who doesn't have children living with her. "I'm already packing."
Critics who favor doing away with standard public housing say clustering low-income people together doesn't work and traps families in a cycle of poverty.
"Public housing communities are not healthy places to raise families," said Carl Rowe, executive director of the Las Vegas Housing Authority. "There's a lot of dysfunction. A lot of it is as a result of the concentration of low-income people."
Section 8 rent-subsidy vouchers, on the other hand, give people the opportunity to blend in with the larger community.
The U.S. Department of Housing and Urban Development has repeatedly slashed public housing budgets in recent years, effectively forcing housing agencies to come up with alternatives, Rowe said. HUD would have to approve any demolition of public housing before it can go forward.
"If it works for the community, we would approve it," said Larry Bush, a HUD spokesman.
Bush said it's often less cost-effective to continue repairing older public housing than to demolish it in favor of Section 8 vouchers. The vouchers also allow people to move closer to job opportunities, day care facilities or schools, Bush said.
In Las Vegas, the list of landlords willing to accept Section 8 vouchers has been growing steadily because of tough economic times. Those lucky enough to score the vouchers — the waiting list is lengthy — may settle anywhere in the valley vouchers are accepted, so long as rental rates there are considered reasonable according to fair market rent standards set by HUD.
Fair market rent for a three-bedroom home or apartment, for example, is $1,382. A low-income family would typically pay about 30 percent of its income toward that rent, and a Section 8 voucher would be issued for the remainder.
The valley's three housing authorities — Las Vegas, North Las Vegas and Clark County — already collectively administer nearly 9,000 Section 8 rent-subsidy vouchers. They also manage 3,170 public housing units and have a budget of about $109 million.
The units slated for demolition do not include housing for seniors.
Las Vegas and North Las Vegas have tentative plans to eventually build mixed-income housing at the former public housing sites, and some past public housing residents may one day end up living in the mixed-income units. But in the meantime they'll make do with vouchers.
Public housing residents who are displaced by demolition have been promised they'll have no problem getting vouchers, and will go to the top of the waiting list. The housing authorities expect HUD to offer "replacement" Section 8 vouchers for the loss of public housing.
The replacement of public housing, which often is clustered together in neighborhoods, with vouchers has stirred controversy in other cities.
In Memphis, Tenn., the demolition of public housing projects beginning in 1997 has recently been linked to the spread of crime throughout the wider community there, essentially reinforcing the stereotype about poor people destroying the suburbs.
People already unfairly blame Section 8 recipients for bringing crime and other problems along with them to their new communities, Rowe said.
"We find lots and lots of times when people call and say, 'There's a Section 8 family causing problems,' we look and, no, they're not a Section 8 family," he said.
Rowe has heard the criticism and read the research about the potential downsides of getting rid of public housing. Worrying about whether it's truly the right thing to do has kept him up at night.
"There are those out there who advocate keeping them (public housing residents) in one place," Rowe said. "But isn't that essentially saying these folks are no better than animals, and you should keep them with the rest of the animals? There's nothing human about that kind of view."
Instead, Rowe said, his housing authority will focus on adequately preparing residents for the switch to rent-subsidy vouchers in an effort to avoid the kinds of problems other cities have encountered.
"We recognized early on that housing is nothing but a necessary vehicle," he said. "You can put folks in a mansion and it's not going to help them cope any better in the larger society. Our efforts have to be aimed at increasing self-sufficiency programs, and we've begun that."
The agency hosts classes that focus on skills such as budgeting and job searching. But funding for such classes is limited, Rowe said.
Some who live in public housing say they understand the concern people may have about more "Section 8 people" moving to their neighborhoods.
Natalyn Coleman, the 51-year-old single mother of two young children, said she doesn't much care for some of her public housing neighbors, either, and will be happy to get away. But there's already crime everywhere, she said, and it's unfair to assume it will be spread by people from "the projects."
"There's shootings all over the valley," she said. "Schools are locked down all over."
Coleman, a Clark County School District employee who works as a "floater" — someone who goes from school to school as needed to help teachers supervise students who have behavioral problems — says she's seen as many school lockdowns in upscale neighborhoods as in those near public housing communities.
That's one example of how crime is already widespread, she said. Moving people out of public housing won't make that any worse.
"People think, 'Oh, no, here they come, tearing up the neighborhood,'" Coleman said. "'Here comes the crime.' It isn't so. There's crime everywhere already."
When asked whether she thinks handing out rent-subsidy vouchers to former public housing residents will spread crime to other areas of the city, Wingard joked: "The police won't have to keep coming to the same street. They can see some other streets."
After a moment, she added, "There's the stigma that people from the projects are thieves or killers. Not all of us are bad people. We all have something to offer."
Wingard, who has lived in public housing about seven years, plans to be a good neighbor in whatever new community she lands.
"You could teach me something, and I could teach you how to cook sweet potato pie," she said.
"If everybody could love your neighbor, if we get a chance, some of us will make you proud."
Contact reporter Lynnette Curtis at lcurtis@reviewjournal.com or 702-383-0285.