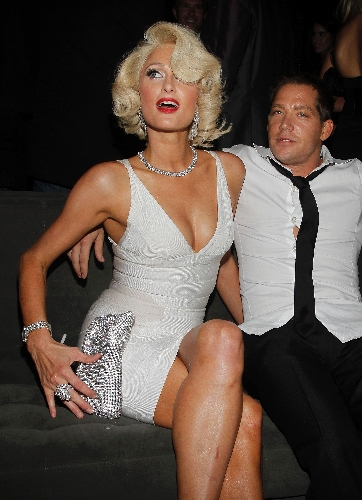 In four wild days, Cy Waits' world has flipped upside down: from Paris Hilton's rescuer, to being elevated to one of the best jobs in Las Vegas, to jail.
Tuesday he made headlines for holding a knife-wielding intruder at gunpoint after the man threatened to gain entry into Hilton's home in Beverly Hills.
A day later, Waits and his identical twin, Jesse, were elevated by Steve Wynn to the top nightclub operations job in Las Vegas after Wynn bought out Victor Drai, founding partner of Tryst nightclub.
Today, Cy Waits, 34, is facing an uncertain future with Wynn after being arrested late Friday on charges of driving under the influence of alcohol or drugs, a misdemeanor, on the Strip with his girlfriend, Hilton.
Both were booked into Clark County Detention Center about midnight Friday. She was booked on suspicion of felony cocaine possession and was released without bail after a few hours.
Her release raised some eyebrows and questions about whether she received preferential treatment because of her celebrity status.
A 2008 article in Details magazine about the Waits brothers did little to allay the perception that Hilton got off easy.
In the article, profiling the high-flying twins and their ascension to the top of the Las Vegas' nightlife industry, Jesse Waits brought up their close ties with the Metropolitan Police Department.
"At about 3 a.m. the following night, while driving his Hummer across Las Vegas Boulevard en route to Drai's, Jesse blows through a red turn arrow. He doesn't bother checking his rearview for flashing lights. 'I know the guys at Metro,' he says. 'You'd be surprised at the influence that comes from owning a club in this town.' "
But there's an explanation: Because of overcrowding issues, about one-fourth of the 75,000 booked at Clark County Detention Center last year were released under their own recognizance and don't have to post bail. They have to meet certain requirements like not having a violent record.
Cy Waits' status with Wynn is another issue.
Six years ago, a top Wynn executive was quickly dismissed after he was arrested on DUI charges while leaving Wynn Las Vegas on opening night.
'MONEY' LOVES ACTION
Unbeaten boxing champ Floyd "Money" Mayweather Jr. isn't modest about letting the world know about his high-stakes betting habit.
Friday he twice posted photos on his Twitter feed that showed betting slips with big numbers.
"My last big bet I put up 200,000 to win 510,000. That was last November," he tweeted, adding, "I love vegas."
That was a boxing match between Mikkel Kessler and Andre Ward.
Another Twitpic showed a betting slip from five days later that indicated he won $210,000 on a $100,000 wager when the Denver Broncos beat the New York Giants, 26-6.
Mayweather told his 681,000-plus Twitter followers that he averages a $100,000 bet per week, or about $5 million a year.
SIGHTINGS
About 3,000 people bearing new shoes for Boys and Girls Clubs, showed up at The Palazzo on Saturday, some as early as 5 a.m., to get free tickets to the "Jersey Boys," who are celebrating their 1,000th show. … Music mogul Clive Davis, at Barry Manilow's Friday evening performance. … Drai , at Botero (Encore) on Friday with Andrew Pascal, president of Wynn and Encore. … Also at Botero: Andre Agassi, Steffi Graf and their children. … "American Idol" winner Fantasia, with a film crew at N9Ne Steakhouse (Palms) on Friday. Also there: Olympics swim king Michael Phelps and Demi Moore and Ashton Kutcher, taking in Fantasia's concert at the Palms Pool & Bungalows.
THE PUNCH LINE
"The weather here has been 70 and gray, like Brett Favre." — David Letterman
Norm Clarke can be reached at 702-383-0244 or norm@reviewjournal.com. Find additional sightings and more online at www.normclarke.com.