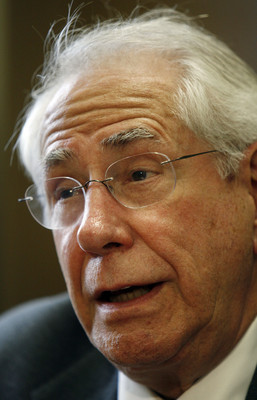 When Democratic presidential candidates face off in Las Vegas next week, former Alaska Sen. Mike Gravel will be a few blocks down the street, critiquing the action as it unfolds on CNN.
The cable network invited seven Democrats to participate in the Nov. 15 debate at UNLV, but is excluding Gravel based on his lackluster fundraising, according to David Bohrman, CNN senior vice president and Washington bureau chief.
One of the criteria to be invited to the debate was to have raised at least $1 million in campaign donations, whereas Gravel had raised about $240,000 through Sept. 30.
"That's not a very high threshold," Bohrman said. "It does separate the people who are really serious about running for president from people who have interesting, important issues to discuss."
Gravel, a two-term U.S. senator who left office in 1981, was similarly shut out of last week's MSNBC debate in Philadelphia.
In protest, he staged a counter-debate at a nearby venue, giving a running commentary on the debate as it unfolded on TV.
His campaign spokesman, Alex Colvin, said he would travel to Las Vegas and do the same, at a location yet to be determined.
"Once again, the media is using money as a way to determine which candidates should be allowed to take part, and that's unfortunate," Colvin said. "We want to create as much media as we can around this (counter-debate) so that we get more coverage for being out of the debate than we would if we were in the debate."
Colvin suggested Gravel was being shut out for his willingness to aggressively criticize the other candidates.
"The reason he's running is because he doesn't see another candidate on the stage who's going to end the war as soon as he is," Colvin said. "He should be able to get his message out and call out the other candidates."
Gravel will attend the Clark County Democratic Party's fundraising dinner being held after the debate, where he is invited to speak along with the other candidates.
Gravel had been included in previous debates, including debates produced by CNN.
But it is getting later in the election season, Bohrman said, and a candidate who has been in nationally televised forums but still not managed to put together a significant campaign enterprise no longer belongs on the stage.
He pointed as a counter example to Republican Ron Paul, who despite being considered a fringe candidate has attracted a strong following and millions in donations based partly on the exposure he gained in early debates.
Some have suggested that the networks err in the other direction, culling the long shots from the field of seven. Bohrman said that would be premature.
"I don't think you can draw it any tighter yet," he said. "As we get later in the season and have real votes by Americans, we will be able to narrow it more," for debates in late January.
The seven candidates participating in the UNLV debate are Delaware Sen. Joe Biden, New York Sen. Hillary Clinton, Connecticut Sen. Chris Dodd, former North Carolina Sen. John Edwards, Ohio Rep. Dennis Kucinich, Illinois Sen. Barack Obama and New Mexico Gov. Bill Richardson.