Co-author says new book is not 'pro Yucca Mountain'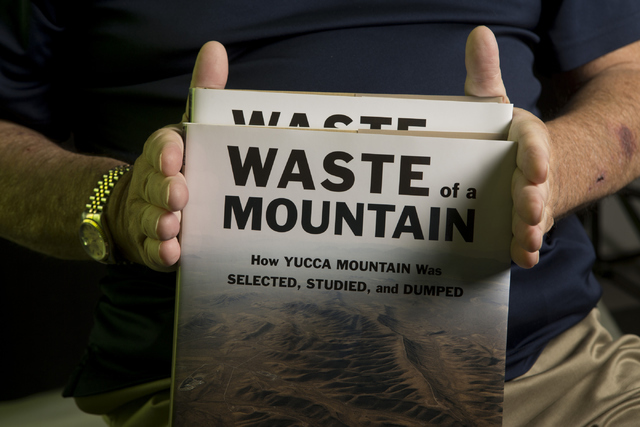 Its title is a double entendre.
To critics of the federal effort to entomb the nation's most potent radioactive material in Yucca Mountain, the newly released book, "Waste of a Mountain," snubs the Nevada congressional delegation's 30-year opposition to hauling and burying the nation's spent nuclear fuel in a maze of tunnels 100 miles northwest of Las Vegas.
But co-author Michael Voegele, 67, the project's former chief scientist, insists the two-volume, 920-page book is "not pro-Yucca Mountain."
He says it's about both the nuclear "waste" that's piling up at commercial power reactor sites and about the "waste" of the nearly $11 billion effort by Congress, the Energy Department and five administrations that "selected, studied and dumped" the Yucca Mountain site as the book's subtitle implies.
"It ends with an argument that you either change the law or follow the law," he said in an interview Wednesday.
Voegele was referring to the Nuclear Waste Policy Act and its 1987 amendment that state political leaders dubbed the "Screw Nevada Law" because it singled out the remote, volcanic-rock ridge in Nye County as the only site to be studied for a national nuclear waste repository.
The plan was off-schedule but on track until President Barack Obama's administration derailed it at the urging of then-Senate Majority Leader Harry Reid, D-Nev.
Reid persuaded Obama to terminate the project in 2010 by eliminating it and appointing a blue-ribbon panel to chart a new course for disposing the long-lived, highly radioactive remnants of nuclear power reactors for commercial and defense endeavors.
Voegele, a geological engineer, said he and co-author Donald Vieth, a metallurgical engineer who managed the Nevada Test Site's environmental program in the late-1980s, "tried to create a reference document for people who are working with the program today who didn't live through the history."
Four hundred copies of the book, which sell for $100 per two-volume set, were published by Nye County Press. Voegele said "every penny" of the sale of the first edition's 400 copies will be donated to the Pahrump Valley Museum where Yucca Mountain history exhibits are displayed.
Reiterating the book's conclusion, Voegele said that to have a workable solution to the nuclear waste problem, future leaders must "change the law, create a new program, follow that program or follow the law."
"Nothing Reid or Obama ever did tackled the issue of changing the law," he said. "Regardless of who the next president is, there's a real pressing problem in the country with dealing with the nuclear waste that's piling up at all the sites around the country. The Obama administration chose to push it into the next administration and frankly we've run out of time. Something has to be done."
Reid's spokeswoman reacted to Voegele's stance, saying in an email Thursday that "we didn't need to change the law to end the Yucca Mountain project — Yucca has zero funding today and the project is terminated."
"However, the law must change in order for our country to have a workable path for managing nuclear waste," said Reid's spokeswoman Kristen Orthman.
She added that it's unfortunate that "pro-Yucca Mountain zealots have chosen to fight to resurrect the defunct project rather than being part of a legislative solution to finally deal with the problem."
Reid backed creation of Obama's blue ribbon commission and "that's also why Senators Reid and (Dean) Heller (R-Nev.) introduced the Nuclear Waste Informed Consent Act — to give states and local governments a meaningful voice in the selection of a nuclear waste storage site," Orthman said.
The last chapter, "Politics Trumps Science," elaborates on the Blue Ribbon Commission report. But for readers to grasp how the project reached that point, Voegele and Vieth devote other chapters to questions scientists raised as they examined geologic evidence in and around the mountain.
Among the turning points that bolster state opposition is reference to "one staff scientist" who is the main source in a 1990 New York Times article, "A Mountain of Trouble." Although not mentioned by name, the scientist, Jerry Szymanski, found mineral evidence, including opal, in a trench on Yucca Mountain's west side.
Szymanski, according to the authors, contends the presence of such minerals near the surface indicates that warm water from depths below the planned repository level could again "well up, flood the facility, and prompt a calamity of vast proportions" by corroding waste containers and carrying off their potentially deadly, radioactive ingredients.
Later, besides suspected earthquake and volcanic hazards, scientists debated the relatively fast flow of surface water traveling downward through porous rock layers. They analyzed whether or not engineered barriers, like titanium drip shields, could protect metal waste containers long enough to keep any radioactive releases within Environmental Protection Agency safety standards.
Bob Halstead, executive director of the Nevada Agency for Nuclear Projects, said he is "anxious to purchase" the book.
"Yucca Mountain, unfortunately, is more of a reality than what Nevada would want it to be," Halstead said. "The notion is kept alive by politics rather than science. And it's been kept alive by people like Michael (Voegele) who has sound scientific credentials and a distinguished career."
Contact Keith Rogers at krogers@reviewjournal.com or 702-383-0308. Find him on Twitter: @KeithRogers2.