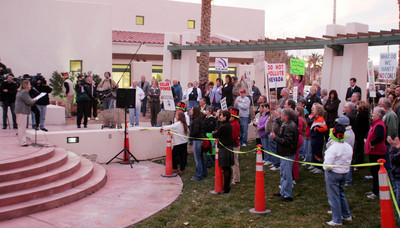 Orange clouds were glowing in the western sky and jagged mountains fading into a black canopy punctuated by neon lights as 200 protesters chanted Thursday outside Mesquite's City Hall.
They were demonstrating against plans for a $1.5 billion coal-fired power plant on the outskirts of Mesquite.
"What do we want?" a speaker asked. "Clean air," the crowd shouted in unison as other protesters with stovetop hats, signs, "No Coal" campaign buttons and specially printed T-shirts marched in a circle around the crowd.
Marching along with the protesters were several hired representatives of the coal-power advocacy group Americans for Balanced Energy Choices. They wore backpacks equipped with lighted signs saying: "You're looking at 50% of American Energy. Clean Coal."
Inside, a standing-room-only crowd of 300 gathered as television cameras rolled and Dante Pistone, public information officer of the Nevada Division of Environmental Protection, moderated. While some object to coal plants because they throw off large quantities of carbon dioxide, which is believed to cause global warming, Pistone said carbon dioxide was not a regulated pollutant and the state could not consider carbon dioxide pollution from the plant.
Pistone explained that the division's sole task was to see whether the 750-megawatt, coal-fired Toquop Energy Project would produce less air pollution than government rules allowed.
Sithe Global Power, a company controlled by private equity giant Blackstone Group of New York, is developing the site. It plans to bring coal from the Powder River Basin of Wyoming to Nevada by railroad and connect to nearby transmission lines.
The company hopes to get a final air permit from the Nevada division and environmental approval from the Bureau of Land Management so that construction can start by March 2009 and power generation by 2013, spokesman Frank Maisano said.
It would employ an average of 800 people during construction and 110 permanently when it starts operations.
Maisano said the region needs a mix of fuels for power generation, including coal as well as natural gas and renewable energy. He said Toquop and a coal-fired power plant it is developing on the Navajo reservation in New Mexico would be the cleanest coal generation plants in the country.
Based on scientific review, Pistone said the power plant complied with air pollution rules. The division, as a result, issued a draft air permit.
Assemblyman Joe Hardy, a Republican doctor who represents the area, Clark County commissioners Bruce Woodbury and Tom Collins and Mesquite Mayor Susan Holecheck took turns criticizing the project and were rewarded with roaring applause. A representative of state Sen. Warren Hardy read a statement critical of the amount of water that the power plant would consume.
Woodbury said the project could threaten the Las Vegas buckwheat, a shrub that is a candidate for the endangered species list.
John Paul, president of the Virgin Valley Water District, said he feared the power plant would pollute the area's water supply.
Gov. Jim Gibbons, who was invited by the mayor, advised that he couldn't attend and was the target of verbal barbs.
Ronda Hornbeck, Lincoln County Commission chairwoman, spoke in favor of the project. She said it would bring the sparsely populated and financially struggling county $10 million in additional yearly taxes to be used for schools, roads and other needed public programs. The county came close to insolvency four years ago when it ended the year with a zero balance in the bank and was forced to lay off one-fourth of its employees.
Joe Hardy called it a bad idea to build a controversial project such as a coal-fired power plant near the county line and Mesquite. He suggested it made better political science to build such plants near Ely where many favor projects proposed by Sierra Pacific Resources and LS Power Group, rather than near Mesquite where many object.
Another group of opponents came by bus from in the St. George, Utah, area.
Richard Anderson, a retired safety professional from Washington City, Utah, told the crowd that Gibbons said he was too busy to attend. "You people ought to remember that in the next election in the state of Nevada," Anderson said.
Dr. Craig Booth of St. George complained as well: "Arizona and Las Vegas get the power. Lincoln County gets a few dollars. Sithe gets the money. St. George and Mesquite get the pollution." He said St. George is 34 miles from the plant site and directly downwind 80 percent of the time.
Retiree George Michnick said he recently bought a new home in Mesquite's Sun City where he moved because of health problems. If the plant is built, "I either leave here or you'll see me in black somewhere down the road," Michnick said.
Contact reporter John G. Edwards at jedwards@reviewjournal.com or (702) 383-0420.