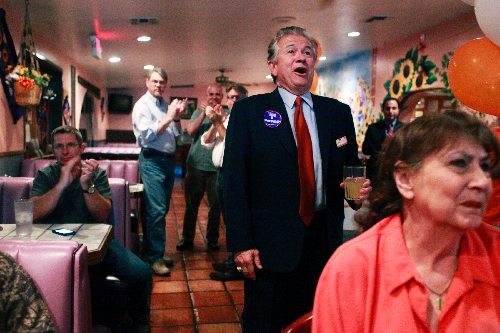 As Bob Coffin supporters waited Tuesday for election results to trickle in, they were entertained by "Wheel of Fortune" on a television set up at Dona Maria's restaurant.
Had the hint been "Las Vegas City Council Ward 3 race," the answer to the puzzle undoubtedly would have been "nasty."
Two hours before Coffin ultimately defeated Adriana Martinez, he declined to speak about the campaign during which Martinez told voters the seasoned politician embraced prostitutes and pedophiles.
Coffin slipped past Martinez by capturing 2,542 votes, 52.5 percent, compared with Martinez's 2,300, 47.5 percent. He will take over the seat left vacant by Gary Reese, who was barred by term limits from seeking another four-year term.
On Tuesday, the emotional Coffin, 68, said that during his eight successful bids for state office, he has never been the subject of such harsh political attacks.
"The worst. Yeah, the lowest," said Coffin, who admitted he was exhausted and personally hurt by a barrage of fliers Martinez distributed. "It was gutter tactics in Spanish — less offensive in English."
The race might be over, but it won't be the last time the two meet. Not only will they bump into each other on the sixth floor of City Hall — Martinez is a community liaison for Councilwoman Lois Tarkanian — but they could also end up in court. Coffin said he plans to file a defamation lawsuit against Martinez.
Despite Coffin's claims that Martinez spent more time on his race than her own, she said she spent hours walking door-to-door explaining her priorities, which include luring more big companies downtown and improving the line of communication between constituents and the government.
"What I've said from Day One is that I will have an open door. I don't want people to be intimidated," she said.
Martinez, 47, believes she fell short of winning the tight race because her backers failed to vote.
"The amount of supporters I had didn't come out to vote," she said. "That's all I can say because the support was there."
The two lobbed insults at each other regularly. As she mingled with friends at a strip mall in a neighborhood largely populated by Hispanics, Martinez said she was born and raised in the area. Coffin and other opponents leading up to the primary race contended she didn't live in the ward when she filed for candidacy, which would have made her ineligible for the seat. The case is hung up at the Nevada Supreme Court .
Martinez, former head of the state Democratic Party, took aim at Coffin when he said he would entertain discussions about making prostitution legal. Then, during a debate, the discussion turned to the possibility of child predators in parks. To that, Coffin noted that "pedophiles certainly have rights."
The two have battled over who would best represent the growing Hispanic population.
Martinez said the city would benefit from a Spanish-speaking representative and questioned the heritage of Coffin, whose mother is Hispanic.
Clearly fed up with the assault on Coffin, his wife, Mary Hausch, defended her husband Tuesday. She said he has served on the Latin Chamber of Commerce for decades and visited Nicaragua to help with the country's election.
Coffin has visited the east side of Las Vegas and discussed converting vacant fenced-in lots into parks or community gardens. He has dropped in on mobile home parks and offered help in creating a green common area to bring residents together.
"He really wants to do this grass-roots kind of stuff," Hausch said.
Coffin said he would like to provide programs to help homeowners spruce up their property. He acknowledged that residents are struggling financially but said the city might be able to help supply trees or ground cover to improve the neighborhoods and, in turn, boost property values.
"I want to help people get out of this demoralizing mess we're in," Coffin said. "If we can help people improve their home, job prospects and their neighborhood, a lot of things can fall into place. The city can't print money, but these are things we can try to do until we get out of the recession."
Coffin regrets the campaign. He said he would have much rather have discussed issues rather than defend against attacks. He would have preferred voters choose between two candidates' positions on important matters rather than two different personalities.
Coffin's first task when he takes office in early July will be to do his best to repair the hard feelings his race created among fellow council members and staff. He will take a seat next to five other City Council members, half of whom lobbied against him in their support of Martinez. But don't expect him to spend a lot of time focusing on a certain staff member.
"I don't care what Councilman Tarkanian does with her office; she has hers, I have mine," he said. "Some believe the council belongs to the people of City Hall. I'm happy we can break into that mind-set."
Contact reporter Adrienne Packer at apacker@review journal.com or 702-387-2904.
2011 GENERAL MUNICIPAL ELECTION RESULTS