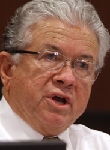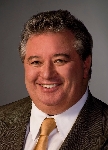 Former state legislator Bob Coffin announced plans Tuesday to run for Ward 3 on the Las Vegas City Council, becoming the second of what's likely to be a long list of candidates vying for the open seat.
Steve Evans, a longtime member of the Las Vegas Planning Commission, also is in the race.
Gary Reese holds the seat now but cannot run for re-election because of term limits.
Evans and Coffin are both proponents of energizing the older neighborhoods that make up Ward 3, which includes most of downtown and stretches east to Nellis Boulevard.
They want to continue redevelopment work forwarded by Reese and Mayor Oscar Goodman.
"Ward 3 is behind the other districts in many respects," Coffin said. "Parks. Pedestrian safety. Beautification. Some of the neighborhoods are 70, 80, 90 years old. They've fallen behind."
Evans has the same concerns.
"I want to make sure the older areas get their fair share," he said. "Trying to ensure that neighborhoods don't deteriorate is always a challenge. We've got a diminished budget, and we're trying to do the best we can."
Coffin, an insurance broker, was elected to the Assembly in 1982 and moved up to the Senate in 1987, where he was part of the Senate Committee on Taxation. Term limits kept Coffin from running again in 2010.
Evans is a hearing officer for the state, dealing mostly with worker compensation cases. He has been on the Planning Commission since 2001 and served on the city's 2020 Master Plan Steering Committee and the Neon Museum's board of trustees.
Next year, Las Vegas voters will pick a new mayor as well as City Council members for Wards 1, 3 and 5. The incumbents in Wards 1 and 5 — Lois Tarkanian and Ricki Barlow, respectively — have said they will seek re-election.
Like Reese, Goodman cannot run again because of term limits.
Candidate filing for the city's elections will take place Jan. 25 to Feb. 4.
The primary will take place April 5. In races where no candidate receives at least 50 percent of the vote, the top two finishers will move on to the June 7 general election.
Contact reporter Alan Choate at achoate@reviewjournal.com or 702-229-6435.