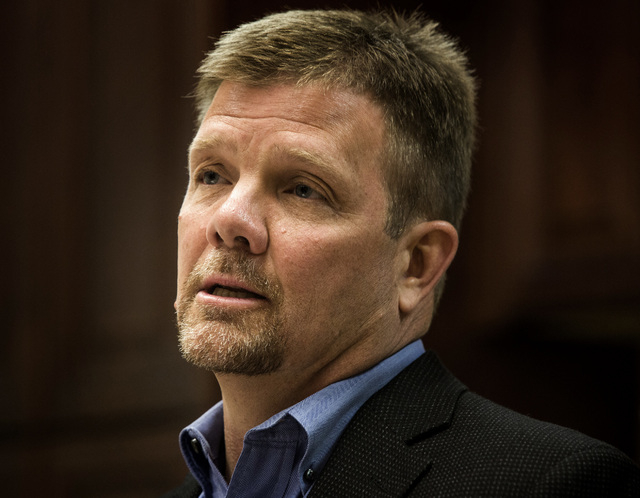 When they change the locks on the office door and shut off your email account, consider the honeymoon officially over.
That's the first undeniable truth facing ousted Las Vegas Police Protective Association Executive Director Chris Collins.
He may have logged more than seven successful years as the police union's leader. He might have put in more than 31 years with Metro, including a dozen with SWAT.
But that doesn't improve his odds of getting a going-away party from the PPA's executive board.
Organized labor is under unprecedented pressure at the Legislature, and you need look no further than the turmoil inside the PPA for proof. Legislation meant to diminish labor's influence and set public employee unions on their heels appears to be at the heart of the board's recent decision to suspend Collins from his leadership and lobbying role while lawmakers were still in session in Carson City. It's more than a little embarrassing to longtime labor observers; it's also a clear sign that PPA officials are feeling the heat of big changes under consideration.
The PPA isn't just any labor organization. It has long been considered one of the leading employee unions in the state. Its political endorsements are among the last truly prized seals of approval sought and celebrated in campaigns.
The fact the suspension of Collins has been so public is another sign the pressure might be getting to at least some labor leaders. With Assembly Bill 182 still threatening to rewrite how public employee union officials are compensated, you don't have to search far to find a few of those pressure points in play.
The board locked Collins out and silenced his email, and he said he has reason to believe his cell calls are being monitored.
The answer from the police union is clear: A meeting of the entire PPA board resulted in a 30-2 vote to suspend Collins with pay pending the outcome of an internal investigation into allegations that include the accusation he misused union funds in support of unsuccessful sheriff's candidate Larry Burns.
At a news conference late last week, Collins rebutted each allegation leveled by board Chairman Scott Nicholas. Collins defended the decision to spend $150,000 for a political mailer on behalf of Burns late in the campaign.
Collins, who tried to knock the allegations point by point, is also accused of failing to disclose poll results unfavorable to Burns, who ended up losing by a narrow margin to Sheriff Joe Lombardo. Among other accusations, Collins is accused of a conflict of interest in the employment supervision of his wife, longtime PPA labor attorney Kathy Collins.
He was suspended with pay and has 30 days to file an appeal. The inquiry into the executive board's allegations is limited to 45 days.
And absolutely none of this plays well for either the PPA or public employee unions during a legislative session that finds them in a conservative shooting gallery in Carson City.
After downplaying the allegations, Collins said the turmoil is "killing public employees in Nevada."
"It's hurting the reputation of the PPA," he said. "It's hurting the reputation of my membership. It's hurting IFF (firefighters union). It's hurting schoolteachers. This is throwing gasoline on the fire. It's what I asked them not to do: to wait until the law passed and see what we're dealing with, and come up with a formulated plan that all public employees in Nevada could be part of. Because we're all going to be in that boat. How do we fund our union? It's not going to be a PPA problem. It's going to be a union problem."
Then again, accusations of misfeasance and conflict of interest, if proved, would also tend to fan the flames of criticism of one of the most respected and powerful public employee unions in Nevada.
John L. Smith's column appears Sunday, Tuesday, Wednesday, Friday and Saturday. Email him at Smith@reviewjournal.com or call 702-383-0295. Follow him on Twitter @jlnevadasmith