Colorado River conservation program could get financial boost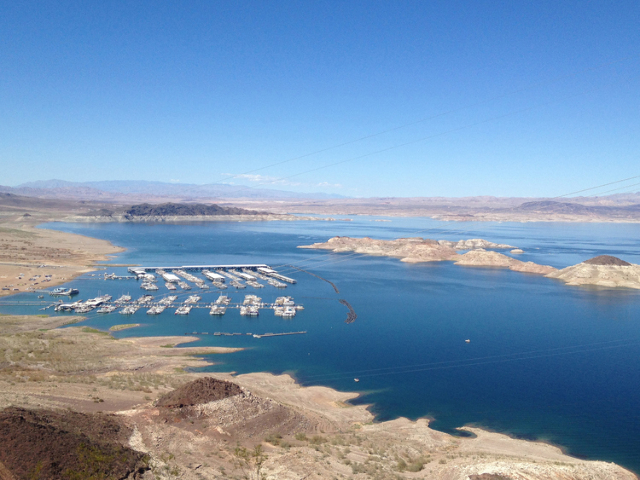 Water officials insist a pilot program designed to save Colorado River water and boost Lake Mead and Lake Powell is off to such a promising start that they are already looking to pour more money into it.
The Southern Nevada Water Authority is poised to chip in as much as $1.5 million on top of the $2 million it already committed to the Colorado River System Conservation Program, which was established last year among the U.S. Bureau of Reclamation and the water suppliers from the four largest communities served by the Colorado.
"I think it's working very well. We were very pleased with the level of interest in the lower basin and the upper basin … and the diversity of the proposals," said Colby Pellegrino, the authority's Colorado River programs manager.
Pellegrino said the program has received about 20 proposals for conservation projects so far, more than a dozen of which came from the lower basin states of Nevada, Arizona and California. Negotiations are now underway on five of those projects — three in Arizona and two in California — to determine how much money they should receive and how much water they might save.
To date, the only project to receive final approval is one actually proposed by the Southern Nevada Water Authority. Pellegrino said the authority has agreed to leave 15,000 acre-feet of water in Lake Mead over the next two years instead of storing it for future use.
The water in question is being leased by the authority from water-right holders on the Virgin and Muddy rivers. In return for leaving that water in Mead and relinquishing any claim to it, the authority will be paid $2.25 million — or about $150 per acre-foot — out of the conservation program's coffers to recoup its costs.
One acre-foot of water is enough to supply two average Las Vegas Valley homes for just over one year.
The Colorado River System Conservation Program's interstate conservation program was originally seeded with $11 million — $3 million from the Bureau of Reclamation, the federal agency that oversees the river and many of its dams, and $2 million each from the water authority, the Central Arizona Water Conservation District, the Metropolitan Water District of Southern California and Denver Water. The Bureau of Reclamation recently agreed to contribute another $3 million.
The money is being used to help cities, farms, factories and power plants pay for efficiency improvements and conservation measures that reduce their use of river water.
But unlike previous conservation collaborations on the Colorado, the water saved under this program is being left in the river to help bolster lakes Mead and Powell, its two largest reservoirs.
The Las Vegas Valley draws 90 percent of its water supply from Lake Mead, which is has seen its surface drop by almost 140 feet during 15 years of drought on the over-taxed river. Today the lake is less than 38 percent full, while Lake Powell upstream is about 53 percent full.
Pellegrino said the five conservation projects now being negotiated include converting farm fields from flood irrigation to drip systems, removing excess turf from golf courses and improving infrastructure to increase return flows into the Colorado.
The water authority board voted earlier this month to devote up to $1.5 million more to the pilot program. Board member and Las Vegas City Councilman Bob Coffin cast the only dissenting vote, saying the effort would unfairly benefit California, which uses far more Colorado River water and has developed far bigger water problems to address than has any other state.
"California is Greece, and we're Liechtenstein. We'd love to be able to help them, but we can't help them really," Coffin said during the July 15 meeting. "We need to hold onto our own money."
But Pellegrino said everyone who shares the Colorado has something to gain from the conservation program. A higher Lake Mead means better water quality, more reliable hydropower output and greater flexibility for water agencies should the drought continue, she said.
"I think there's benefits to every state," she said.
Contact Henry Brean at hbrean@reviewjournal.com or 702-383-0350. Find him on Twitter: @RefriedBrean.