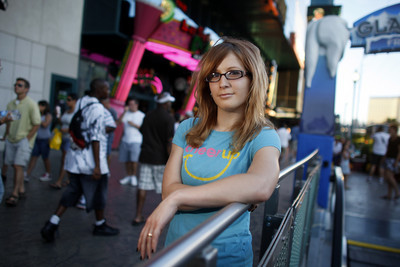 Sarah Todora, who went from the brink of homelessness to Las Vegas headliner and back to the mean streets, is making a comeback.
The 21-year-old blues singer from Louisiana is booked for four consecutive Saturdays, starting May 23, at the E String Grill & Poker Bar, 2031 W Sunset Road, in Henderson.
Todora and her father, Phil, moved here in 2005, after leaving Louisiana the day before Hurricane Katrina hit. Their plan was to settle in Las Vegas and get her music career established.
Shortly after arriving, their 20-year-old car was stolen and they had to join the food lines for the homeless.
A guest appearance at the Bootlegger Bistro put Sarah and her talent on the radar. After locals held several fundraisers for the Todoras, they landed in a multi-million condo at Turnberry, thanks to an anonymous donor later identified as Bill Fry.
"Bill saved us from being homeless," Sarah said.
Eight months after arriving here, she landed a gig in the Sahara's Casbar Lounge. Two months later she was booked to open for Al Green at the House of Blues here.
Then came the fall. A friend introduced her to crystal methamphetamine and her career disappeared.
When we caught up to her last July, she had been drug-free for almost a year. To make ends meet, she was working at M&M's World, greeting visitors while wearing the M&M costume in 100-degree heat.
At her first rehearsal on the comeback trail, she said she had a combination of "nervousness and goosebumps."
DARIN BENEFIT
Former Bobby Darin band member Bill McCubbin, who organized this Sunday's "Music From the Heart" benefit that honors Darin's music, hopes to turn it into an annual event.
The 2004 film "Beyond the Sea" sparked a resurgence in interest in Darin, said McCubbin, who played bass for Darin for three years before his death in 1973 at age 37.
Darin was the complete package, said McCubbin.
"He had it all across the board: the humor, comedy, music ability, he played 6-7 instruments and danced," said McCubbin, adding, "Sammy Davis Jr. once said Bobby was the only performer he never wanted to follow on stage."
Darin's last Las Vegas performance was at the Hilton in 1973, McCubbin said.
Proceeds go to the Children's Heart Foundation of Nevada. Doors open at 5 at the South Point showroom, with the show at 6 p.m.
THE SCENE AND HEARD
The Abba tribute group Abbacadabra has a June 12 through 14 weekend engagement at the Las Vegas Hilton. The group is managed by Mirage Tribute Bands, a company formed by Jerry Greenberg and James Elliot. Greenberg's involvement completes a circle. He was president of Atlantic Records in 1974 when he signed Abba to its first U.S. deal. …
Steve Schirripa's life after "The Sopranos" continues to sizzle. The former Riviera entertainment director is hosting a new prime time Las Vegas-set poker show for NBC, called "Face the Ace," beginning in August. He's landed a role in "The Irishman," which co-stars Christopher Walken and Val Kilmer. Meanwhile, he's on "The Secret Life of the American Teenager" with Molly Ringwald and recently shot his 44th appearance on "The Tonight Show with Jay Leno."
SIGHTINGS
At the opening night of "The Lion King" on Friday: composer Quincy Jones, Siegfried & Roy and many from the original creative team, including creator/director Julie Taymor; choreographer Garth Fagan; book writers Roger Allers and Irene Mecchi; scenic designer Richard Hudson; and Thomas Schumacher, producer and president of Disney Theatrical Group. … George Clooney and director Jason Reitman, at the "Up in the Air" wrap party at Rare 120 Steakhouse (Hard Rock Hotel) on Thursday. Clooney was seen shaking hands with fans on the casino floor. They were also seen at Caramel Lounge at Bellagio. … Famed director Taymor, taking a break from "The Lion King" to attend the 9:30 p.m. Thursday performance of "Love" (Mirage). She was accompanied by composer Elliot Goldenthal.
THE PUNCH LINE
"Scientists now say French kissing can lead to sexually transmitted diseases. I think I have a way to avoid French kissing: Get married." — David Letterman
Norm Clarke can be reached at (702) 383-0244 or norm@reviewjournal.com. Find additional sightings and more online at www.normclarke.com.