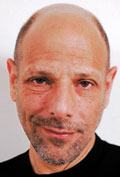 Comedian Robert Schimmel and his second wife went through an ugly breakup last May. Yet she had the gall to come to Vegas four weeks ago with a guy and ask Schimmel to get them VIP passes into a club, he says.
Here's how Schimmel remembers responding:
"I am not gonna call the entertainment director … and say, 'Hey it's Robert Schimmel, I'm not in town and I can't offer you anything — but do you want to get my wife and her boyfriend into a show?' "
Even after that, the ex, 35, again called Schimmel, 59, and asked: If he had come to Vegas with her, instead of the other guy, where would he take her?
Schimmel says he replied, "Where would I take you? Out to the desert with a sawed-off shotgun and a … shovel."
"And you know what she says? 'This is why we can't be friends.' "
Schimmel is a comedian (playing Wednesday-Sunday at the Riviera), so your natural thought is to suspect this story has some comedic hyperbole in it.
But Schimmel is so insistent that he's planning to talk about the breakup today on Adam Carolla's podcast, and next week on Howard Stern's Sirius show and "The Joy Behar Show."
Schimmel's marriages always seemed tragically odd. A decade ago, he left his first wife for this new ex, after he and the first wife (already having problems) lost a son.
"You lose a kid, that's like a giant Novocain shot in your heart. You don't feel anything for a long time."
The new wife made him feel alive. He thought they were destined soul mates. He put her on a pedestal and wanted to show her she was his queen.
He thinks the eventual problem was: "I wasn't the same to her."
In 2000, he got cancer. His oncologist told him chemotherapy would destroy his ability to sire. This was fine. The couple didn't want kids. His wife stood by his side — then got pregnant.
"I called my oncologist," Schimmel says. "I said, 'You want to be the godfather of the kid that you said we could never have? He thought we were going to sue him for child support, because he literally told her, 'You don't need to use any birth control. Robert cannot get you pregnant.' "
Then, one of his adult daughters from his first marriage cracked on him for having a kid at age 53, snarking: "How are you going to go to the parent-teacher conferences? Seance?"
Schimmel's manager wanted him to get a vasectomy. But his wife got pregnant again. Their boys are 6 and 4.
Last year, he accused his wife of dallying with a male "friend." (She denies it.) He had seen her phone bills. He had seen her guy friend's number listed in her phone under a woman's name, he says.
Besides, the guy was at their house all the time, it seemed. She would leave for "milk" at 9 p.m. and come home at 1 a.m., saying she didn't want to kiss him because she'd just eaten onions, he says.
When Schimmel would do comedy on the road, neighbors and a daughter would tell him his wife was entertaining the guy friend at their house.
The guy friend even tried to get Schimmel in trouble with the law, but prosecutors didn't bite.
Now the ex is living in their Southern California house. Schimmel is holed up in an apartment. They share custody. Somehow, they're actually getting along. She spent the night at his place recently when she got sick. And he's close friends with his first ex, who helped him battle cancer even after he left her.
Schimmel is using some of this craziness in his comedy. But he's trying to keep it funny and not bitter.
"It's a waste of time to hate and hold grudges. Those people never feel it anyway. It's only you that gets sick from it."
He's meeting with insiders this week to try to get a regular gig here. He turns 60 on Saturday. He hasn't dated since May. But his video-gaming sons might have a romantic solution to solve all his troubles forever.
"Their dream come true would be if I turned gay and married Mario or Luigi. They would be in seventh heaven."
Doug Elfman's column appears Sundays, Mondays, Tuesdays and Fridays. E-mail him at delfman@reviewjournal.com. He blogs at reviewjournal.com/elfman.