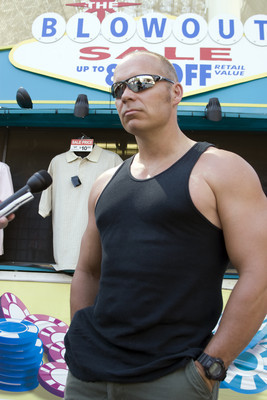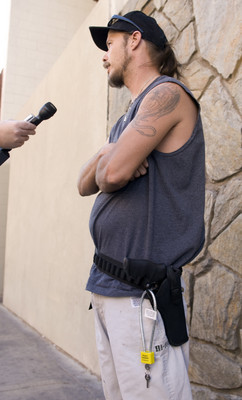 Opinions on the Supreme Court decision voiding a Washington, D.C., ban on handguns, gathered Thursday afternoon at the Fremont Street Experience.
JIM AZAR
LAS VEGAS
"I believe the people in the United States have a right to bear arms. The old cliche — if we outlaw guns, only the outlaws will have guns. I believe that responsible people should be able to have guns. Guns aren't what kill people, people are what kill people. I don't have a weapon for self-defense. I have it for plinking and target shooting. If somebody feels that they need it, they should certainly have that right."
SHAWN AUDIE
SPOKANE, WASH.
"It's our right to bear arms. I'm on board, as long as there are background checks and things like that to ensure weapons stay out of criminals' hands. People have the right to protect themselves."
MICHAEL LAUTZENHEISER
MUNCIE, IND.
I'm not really a proponent of the Second Amendment. I know it's the constitution, but other constitutional amendments have been overturned, like prohibition. We don't need to keep and maintain a well-regulated militia, in my opinion. We have police. We have military. I think the rate of gun deaths in the United States is higher than any place in the world, and we should look at that. I don't think there's anything wrong if someone wants to fire a gun for enjoyment, like at a firing range … but to carry a gun out on the street? I think more people are harmed than helped by that."
SHELDON HUDSON
LAS VEGAS
"It seems to me like that's the only realistic thing to do. This is America. America is founded on violence. I think that everybody should have the right to protect themselves. I personally don't like guns. But I'm thinking about realistically — if I had to take that route — I would like to be able to exercise it."
RUSTY MANES
LAS VEGAS
"Everyone should have the right to bear arms and protect themselves and their family. I am carrying a gun right now. I do also have a concealed weapons permit, but I'm carrying it out in the open today. It's for personal protection. The only time it will leave the holster is if, and when, … I'm presented with some type of danger — I will in fact defend myself."
RELATED STORY Court decision may not affect Nevada Watch the video