Commission rejects Loux deal
February 13, 2009 - 10:00 pm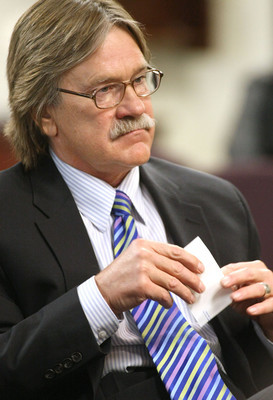 CARSON CITY — The state Ethics Commission on a 3-2 vote Thursday refused to accept former state Agency for Nuclear Projects administrator Bob Loux's proposal to pay the state back more than $29,000 in salary overpayments in exchange for dropping an ethics complaint against him.
Acting Commissioner Robert Weise said he could not accept Loux's proposal "because there is no punishment here."
"All he would be doing is giving back money that he should not have received in the first place," he said.
The decision means the Ethics Commission will go forward with a planned March 12 evidentiary hearing at which many state officials, including former Gov. Kenny Guinn, have been subpoenaed to attend.
That civil hearing might last several days and commissioners could decide to fine Loux and order him to pay back additional funds to the state.
Assembly Minority Leader Heidi Gansert, R-Reno, filed an ethics complaint against Loux after a September legislative hearing. At that hearing, Loux admitted taking the salary of an employee who retired from his office and dividing it up among his staff and himself.
Soon afterward, Gov. Jim Gibbons released results of an audit that showed Loux and his staff for at least three years received as much as 33 percent more than their legislatively approved salaries.
According to the administration, Loux made a $151,442 salary last year when he was entitled to receive $114,088. Governors of Nevada earn $141,000 a year.
Gibbons called for Loux's resignation.
Loux eventually resigned and recently was replaced by Bruce Breslow as the head of the agency that fights against the proposed Yucca Mountain nuclear waste repository about 100 miles northwest of Las Vegas.
As head of the agency for 23 years, Loux was one of the best known officials in Nevada.
After rejecting Loux's proposed agreement Thursday, Ethics Commission Chairman Mark Hutchison and other commissioners said they would accept the stipulation if in it Loux admitted that he "willfully violated" ethics laws by diverting money to his and his staff salaries without proper authority.
Tom Perkins, one of Loux's lawyers, refused to accept that offer. He said that admitting to a willful violation might adversely affect his client if criminal charges eventually are brought against him.
"I would not like an admission (of a willful violation) brought against him in that context," Perkins said.
The Washoe County Sheriff's Department is investigating whether Loux violated state laws by his decisions that increased salaries for himself and his staff.
Carson City District Attorney Neil Rombardo has agreed to prosecute if a criminal indictment is filed against Loux.
By admitting to a willful violation, Loux also could have been fined as much as $5,000 by the Ethics Commission.
Hutchison questioned how Loux could not be guilty of a willful violation since "he took a full salary of someone in the department and divvied it up without authority."
Besides paying back $16,444 in salary overpayments and $12,922 in overpaid retirement benefits, Loux likely will be forced to pay back another $22,000 in salary overpayment he received in two earlier years. Perkins said the state controller is still determining what Loux must pay back for those years.
During the hearing, Judy Sheldrew, another of Loux's lawyers, said that state law from the time of Guinn's administration gave governors the authority to change salaries of Loux and people in his office as long as they did not exceed legislatively approved spending for the agency.
Salaries were increased under this procedure, according to Sheldrew, and state budget officers for some reason did not pick up the changes in subsequent budgets presented to the Legislature.
She said Guinn "essentially delegated" to Loux the authority to set his agency's salaries.
Rules on this procedure were supposed to have been written, but they were "all verbal," Sheldrew added.
"It will be difficult to sort out who is responsible for all these messes," said Perkins, adding that the administration and the Legislature also are to blame.
Weise, however, said there was no record of governors actually approving Loux's salary adjustments and he would like to hear from people in positions of authority on whether they knew of the adjustments.
Perkins acknowledged that Loux "made a lot of mistakes" and did not tell the Gibbons' administration about diverting the salary of a vacant position to himself and his staff.
He said Loux had a "distinguished" 30-year career with the state, lost his job and likely will not find a comparable job in today's economy.
"He agrees it was an ethical transgression," Perkins said.
Contact Capital Bureau Chief Ed Vogel at evogel@reviewjournal.com or 775-687-3901.