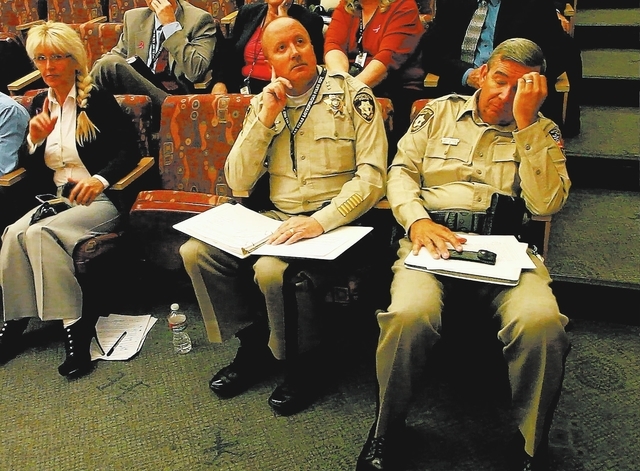 Clark County Commissioner Tom Collins is resurrecting the sales tax increase proposal to help police departments pay for officers that his colleagues rejected this week.
The effort is the latest move afoot in the County Commission to pass a sales tax increase for the costs of police officers in the Metropolitan Police Department and the departments in North Las Vegas, Henderson, Mesquite and Boulder City.
Collins is crafting a sales tax proposal that would incrementally phase in the 0.15 percentage point sales tax increase by July 1. Under his plan, part of that increase would start in April 2014 and the remainder of the tax increase would start by July 2014.
"We have a world-class county," Collins said Friday in an interview with the Review-Journal. "We've got to make sure it stays safe."
Collins faces an uphill battle to sell his proposal. Commissioners this week rejected two More Cops proposals that would have increased the sales tax rate by different levels.
He intends to introduce his proposal on Oct. 15, and from there it would get a public hearing and vote as soon as November. Collins said he's still working on the figures for the incremental increases, saying one possibility is a 0.12 percentage point increase followed by a 0.03 percentage point increase.
Through legislation dubbed "More Cops," state lawmakers this year allowed Clark County to increase the sales tax rate by up to 0.15 percentage points to pay for police officers. The current sales tax rate is 8.1 percent.
After county voters supported a 0.50 percentage point increase in a 2004 advisory vote, the Legislature in 2005 authorized half that amount, a 0.25 percentage point increase. Clark County Sheriff Doug Gillespie this year lobbied lawmakers for the second half of the increase, but they opted to trim it down.
Both county proposals then failed to garner the five-vote supermajority needed for passage. One proposal, for the full 0.15 percentage points, had just three supporters: Collins and Commissioners Larry Brown and Lawrence Weekly.
The other proposal, for half of that increase — a 0.075 percentage point increase — fell short by one vote. Four commissioners supported it, and three — Collins and Commissioners Steve Sisolak and Chris Giunchigliani — opposed it.
Collins has the distinction of being the only commissioner to vote against the smaller increase but for the larger increase.
Commissioners opposed to an increase point out that the sheriff already has options for patching a budget gap he's estimated at $30 million. For example, the existing More Cops account, which started in 2005, has an estimated $124 million to $134 million. It pays for about 520 Las Vegas police officers.
Collins, like Gillespie, points out that the current More Cops tax sunsets in 2025, and the officers hired with the revenues since its start will still be on the job. That will create two deficits, Collins said.
"If we don't act now and the longer we wait, the more it's going to cost later," he said.
In Collins' view, his colleagues need to support public safety with the tax increase.
"If they're going to talk the talk, they should walk the walk," he said.
Gillespie declined Friday to comment on Collins' proposal, saying he hasn't talked to him about it.
Commissioner Susan Brager has backed a 0.075 percentage point increase, asking the sheriff to reach into his existing More Cops account and contribute $15 million toward his shortfall. Her intention has been for the new tax revenues to go toward hiring about 125 police officers.
"I will absolutely not vote for that," she said of Collins' proposal.
She also said it's a shame the sheriff didn't get behind her proposal.
"He got nothing, which is unfortunate for Metro and officers out there in the street," Brager said.
Sisolak, an opponent of both tax increases, said he's starting to feel sorry for the public and the police officers attending a lengthy series of meetings without resolution. But don't count on him to change his mind.
"I'm not wavering on this one," he said.
Giunchigliani said the sheriff should be willing to tap into his More Cops account, adding that the sales tax increase can be considered later if necessary. The law allows the county to consider it until 2016.
The commission's rejection of the increase also means that dollars are lost even if a new proposal passes. If the commission had passed the increase this week, the tax hike would have started in January 2014.
But because of the time frame for the state's implementation and collection of sales taxes, any potential increase passed in November wouldn't kick in until the following quarter, which begins April 1. As a result, the Metropolitan Police Department and other county law enforcement agencies will automatically lose out on a quarter of sales tax revenues if any increase passes.
With the smaller rejected tax, for example, the revenues lost in one quarter will amount to slightly more than $6 million for all police agencies, of which $4.47 million would have gone to the sheriff's department, according to county figures.
When asked if he had any regrets about his vote against the smaller increase, Collins said he did not because the full amount is needed.
Contact reporter Ben Botkin at bbotkin@reviewjournal.com or 702-405-9781. Follow @BenBotkin1 on Twitter.