Commissioner wants to make curbside recycling more convenient
October 3, 2010 - 11:00 pm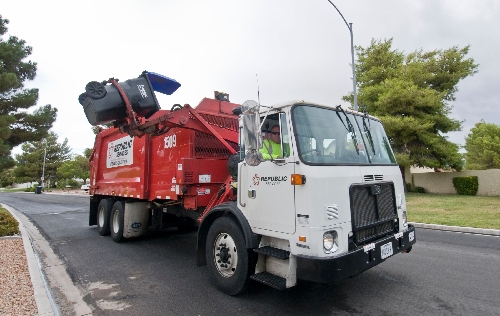 For many residents, half the trick to recycling is not missing the pickup day to avoid having the stuff pile up for another two weeks.
Some people also are put off by having to sort the materials into three colored boxes.
Clark County Commissioner Chris Giunchigliani wants to make curbside recycling more convenient and, in turn, encourage more households to participate.
She proposes that all households in the un­incorporated areas receive large rolling bins in which to toss their recyclable items, and that Republic Services pick up the bins weekly instead of every two weeks.
She argues that the Phoenix-based company should continue hauling away trash twice a week without raising rates on the 205,000 homes it serves in unincorporated areas of the county.
As added incentive, people who recycle could earn coupons and gift cards for stores from RecycleBank, an online company that offers such rewards to promote environmentalism throughout the country.
The new approach to household recycling must evolve beyond pilot programs and into an actual service, she said.
"I just think we need to move forward," Giunchigliani said. "We've been piloting for three years."
Crews pick up glass, paper, cardboard, metal and plastics, and haul them to a plant where workers, aided by machines, sort them. The materials are resold to manufacturers and vendors.
Bob Coyle, the company's area president, said Republic Services could not increase recycling runs to every week and maintain twice-a-week trash pickup without raising rates from the current $13 a month.
"We cannot do it," Coyle said. "There would be an increase in rates."
No research has been done to nail down how much rates would have to go up to cover the costs, he said.
Coyle said the best option is once-a-week pickup of garbage and recyclable waste.
The company proposed this method for its regional service area several years ago and stirred a loud outcry from people who didn't want to give up their twice-a-week trash pickup. Many worried that garbage would stink if left to rot in the summer heat for a week.
In response, the company created a pilot program with 50,000 households, mainly to gauge whether residents would change their minds about once-a-week recycling and garbage service after they had experienced it for a while.
Participants received two rolling barrels, one with a blue lid for their recyclable items and one with a black lid for their garbage. Both containers of waste are hauled off on the same day.
The company did a recent survey, using 303 of the program's participants as a sampling. About 54 percent said they were satisfied with weekly trash pickup, in contrast to 74 percent of non­participants polled who opposed having their garbage service reduced to once a week.
Roughly 90 percent of those surveyed said they preferred a single recycling bin to the three boxes.
Giunchigliani said the company should be able to expand recycling without reducing garbage service or bumping up rates. It tacked on a $1.25 recycling fee to users' monthly bills in 1991 without adding services, she argued.
"They've got the money," Giunchigliani said. "They've been collecting it on the back of our ratepayers."
But Coyle countered that the fee was used to develop the three-box recycling program. It helped pay for a fleet of trucks as well as expanding and improving the recycling plant in the north valley, he said.
"For some reason, the commissioner thinks that (money) went into a bank," Coyle said.
One recycling advocate said she opposes twice-a-week garbage pickup done in tandem with weekly recycling runs.
"It's sending out the message that trash is more important than recycling," said Tara Pike, who oversees recycling at the University of Nevada, Las Vegas. "And I don't think Republic Services could do this without increasing rates."
Many people discover that recycling diminishes their garbage and they don't need more than weekly service, Pike said.
County Commissioner Susan Brager said all that was probably true in the cooler months. In the summer, garbage reeks, especially inside a garage, and many homeowner associations won't let residents store trash bins outside, she said.
Ronald Sowinski, 72, a Southern Highlands resident, said his subdivision has rules against keeping garbage bins outdoors.
Sowinski has been in the pilot program for more than a year and said he likes tossing recyclable items into a single, 96-gallon barrel. But regular garbage needs to be taken twice a week to avoid foul odors in the garage, he said.
"It's very distasteful," he said.
Another problem is that some of his neighbors with two cars have trouble fitting the large bins in their garages, Sowinski said.
Coyle said users can request the smaller 65-gallon or 35-gallon containers.
If county leaders approve weekly recycling, the company would replace the 70 trucks serving the unincorporated areas with a fleet of automated trucks, and at no extra cost to ratepayers, he said.
The current trucks have one person driving and one person who jumps off and dumps the trash, he said. The automated models require only a driver who also works the levers of a mechanical arm that snags the barrels by the handles, lifts them up and empties the contents.
On each route, one automated truck scoops up recycling waste and another picks up garbage, Coyle said.
Coyle noted that garbage trucks are replaced every 10 years anyway. The older models that haven't reached the decade mark would be sent to other parts of the country, he said.
County Commissioner Steve Sisolak said he is undecided about how often trash should be hauled off, but he is eager to shift to the simpler, one-container system.
"I think it would drastically increase the amount of recycling," Sisolak said.
Contact reporter Scott Wyland at swyland@reviewjournal.com or 702-455-4519.
RecycleBankOnline company offers rewards to promote environmentalism throughout the country