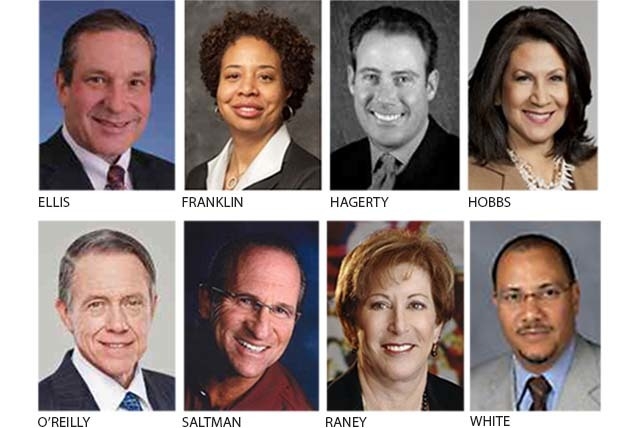 Clark County commissioners approved on Tuesday a slate of eight members who will sit on a new board for University Medical Center.
The 4-2 vote, with commissioners Lawrence Weekly and Chris Giunchigliani opposed, will allow the new board to start governing the affairs of the public hospital. Commissioner Tom Collins had stepped away from his seat and missed that vote.
The board will have a broad delegation of authorities, which includes approving contracts and hiring and firing the chief executive officer of UMC.
The move comes as healthcare is increasingly complex and public hospitals like UMC face steep competition. Other public county hospitals nationwide have made similar moves to give the facilities a dedicated board.
The new board will start meeting in January, and could recommend a ninth member to commissioners following a twist last week.
One of the nine candidates recommended for approval, Dr. Anthony Marlon, withdrew from consideration immediately after the Review-Journal reported on his misdemeanor conviction in 1991 for giving false information about his company's government contract to provide health insurance to federal employees in Nevada. Marlon, who was the chief executive officer of the company, Sierra Health Services, at the time, did two years of probation and paid a $25,000 fine.
The county's ordinance for a new board doesn't require nine members, just a slate of five to nine.
All eight candidates got the same vote, part of the county's plan to keep it free of politics.
At the meeting, Weekly, who is chairman when commissioners act as the UMC Board of Trustees, said that he was concerned about one of the board candidates. He didn't identify the individual or elaborate, though he did say it was his only reason for voting against the slate of candidates.
"I would never disrespect anyone," Weekly told reporters after the meeting. "It's nothing personal."
But he also stressed he's met with some of the other incoming board members and found them to be sharp.
"They're going to have a good board," Weekly said.
In an interview, the county's consultant, Larry Gage, said Marlon didn't participate in the nominating committee's decision to recommend him for the hospital board. Marlon was on the five-member nominating committee that worked with Gage to recommend applicants for the board.
Gage noted that they had felt Marlon was the most qualified person to sit on the board, given his varied experience as UMC's chief of cardiology, as a businessman in the healthcare sector, and a member of UMC's former advisory board. Marlon is "passionate" about UMC, Gage said.
To get the work done, the county hired lawyer and consultant Larry Gage, who founded and was the executive director of the National Association of Public Hospitals. In March, the county hired him and his Washington, D.C., legal firm to do preliminary work costing up to $24,500.
In September, the county approved a second agreement with Gage's law firm, Alston & Bird, to provide additional services that will cost up to $150,000.
The county pays Gage $640 an hour for his work, which he offered at a 20 percent discount from his normal rate of $800 an hour due to the county's membership with the NAPH. The $150,000 maximum includes travel expenses and the work of paralegals and other lawyers, which ranges from $170 an hour to $680 an hour.
The county didn't have a figure available Tuesday of the total expenses to date.
The eight new hospital board members are:
■ Jeff Ellis, vice president and chief financial officer, corporate HR shared services for MGM Resorts International. Ellis also has been a chief financial officer and vice president of finance at hospitals, physician groups and managed care organizations.
■ Elizabeth Renee Franklin, the principal and founder of Franklin & Bridges. She does leadership and business consulting and also is a retired human resources professional.
■ Harry Hagerty, president and chief financial officer of Sightline Payments. Hagerty also was on the former UMC hospital advisory board that the county disbanded in 2012.
■ Laura Lopez Hobbs, senior vice president, human resources and administration for Southwest Gas Corporation.
■ John O'Reilly, an attorney with O'Reilly Law Group and a former chair of the Nevada Gaming Commission.
■ Eileen Raney, who has worked as an executive or consultant with health care organizations for more than 40 years. In her career, Raney has developed a health plan for employees at the University of California and is a member of the Board of Nevada Health Centers.
■ Michael Saltman, a real estate developer. Saltman has been involved in various nonprofit and community organizations, including serving as chairman of the Council for a Better Nevada.
■ John Valery White, executive vice president and provost of the University of Nevada, Las Vegas.
Contact reporter Ben Botkin at bbotkin@reviewjournal.com or 702-405-9781. Follow him on Twitter @BenBotkin1.