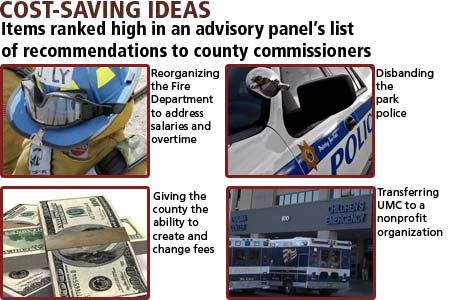 If Clark County commissioners were to follow an advisory panel's opinions, the government they oversee would change drastically.
They would slash jobs and reduce wages. They would turn University Medical Center into a nonprofit hospital and privatize paramedic teams.
They would have the power to raise fees for county services without the state's permission. They would eliminate CCTV Channel 4 and the park police.
Commissioners today will discuss a final report of the panel's recommendations that came after months of meetings. Commissioners have said they will at least consider the advice. What they will accept or reject should become clearer today.
"We need to take it seriously, which isn't adopting every suggestion they make," said Commissioner Rory Reid, who led the creation of the 15-person panel last year. "Some things might not make sense at the end of the day, and others could end up being county policy."
County commissioners each chose one task force member and then collectively picked eight people from various fields to form the panel. It includes representatives from law enforcement, gaming and business and a taxpayer advocate and health care representatives.
Commissioner Steve Sisolak said the committee was neutral with "no political ax to grind."
"I thought they had some real good ideas," Sisolak said. "I don't know how many we can implement. I'm certainly going to follow some of their suggestions."
Two weeks ago, 13 of the panel's 15 members voted on a couple hundred options for making county government leaner and more efficient in the face of the $126 million shortfall predicted in the coming budget year. Two union leaders refused to vote, saying the panel became too locked into cutting jobs and wages as a cure-all for budget woes.
The panel as a whole favored consolidation, an action that would prune departments and lay off workers.
Members ranked their choices by giving them one to five points or votes. Some high vote-getters included the following:
• Giving the county the ability to create and change fees.
• Reorganizing the fire department to address salaries and overtime.
• Transferring UMC to a nonprofit organization to stop the hospital from draining public money.
• Eliminating overlap of information technology staff.
• Consolidating business licensing.
• Eliminating fire department paramedics and assigning all emergency care to ambulance carriers so that insurers can pick up the tab.
During the past several months, panel members graded the importance of services and whether they should be kept or cut.
Although many members called for reducing firefighters' overtime pay, 75 percent agreed the department should keep providing the same level of emergency service.
About 67 percent of members thought park police should be disbanded. And only 17 percent thought that Channel 4 should continue in its current form.
Commissioner Chris Giunchigliani said she does not want to scrap the TV station, given that many residents get their government news from the station.
"That's public access, and I don't think that makes sense," she said.
She said she was surprised there were so many votes in favor of privatizing emergency services.
Giunchigliani, a strong union advocate, said she understands the mounting criticism of firefighters' overtime but thinks hiring more people is the answer. Hiring limits imposed on the department are forcing firefighters to work extra shifts, she said.
She contends the county could do without one unionized team: the park police. Las Vegas police can take over patrolling the parks, she said.
Although she does not agree with all of the panel's recommendations, she said it was valuable having the departments studied so closely.
"It turned out better than I thought it would," she said.
Contact reporter Scott Wyland at swyland@reviewjournal.com or 702-455-4519.