Community festival T-shirt mocks Osama bin Laden
August 29, 2011 - 1:34 pm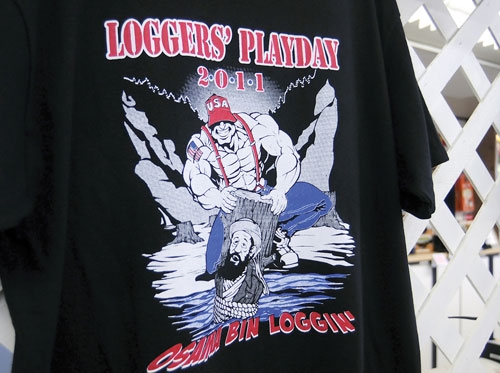 HOQUIAM, Wash. — A community festival near the Washington state coast is attracting attention with a T-shirt mocking Osama bin Laden.
The Loggers Playday festival shirts — featuring a cartoon of the terror mastermind tied to a log with the caption "Osama Bin Loggin'" — are being sold for $15 to raise money for a scholarship.
Organizers say they got the idea because their Sept. 10 event is so close to the tenth anniversary of 9/11 and because bin Laden was killed by U.S. military forces in May.
The T-shirt maker, Christian Burgess of Jacknut Apparel, told The Daily World critics have called the T-shirt tacky and in very poor taste.
One area resident, Jeanne Ward, printed several T-shirts that say, "My Hoquiam is a Hate Free Zone."