Commuters beware: Sunday's marathon is closing roads
November 15, 2013 - 12:04 am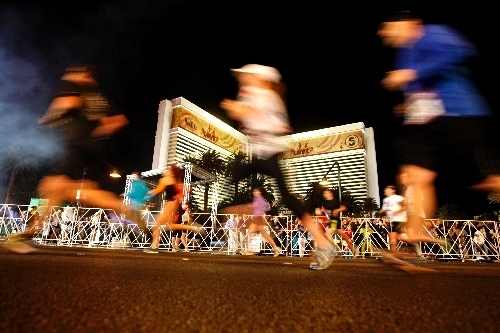 Motorists may want to build extra time into their Sunday commutes because several stretches of road along the Strip corridor, the downtown area and North Las Vegas will be closed for the estimated 30,000 runners participating in the 2013 Rock 'n' Roll Marathon.
Starting at 2 p.m., an 8-mile span of Las Vegas Boulevard between McCarran International Airport and Stewart Avenue — just short of U.S. Highway 95 — will be closed, though race officials said some portions will close earlier for race setup.
Once the races start at 3:30 p.m., the only pedestrian crossings available on Las Vegas Boulevard will be the bridges.
Drivers are encouraged to take either Interstate 15 on the west side of Las Vegas Boulevard, or Paradise Road and Maryland Parkway on the east side.
The monorail will be in service during the races, as will tram services to hotels on the west side of the Strip.
The southern portion of Las Vegas Boulevard will begin reopening at 7 p.m., said race officials. The northern portion won't begin reopening until 10 p.m., with several small downtown road closures opening a little earlier.
The other road that will experience major closures is Martin Luther King Boulevard, which will be closed from Symphony Park Avenue, near I-15 and the U.S. 95 interchange, to Brooks Avenue starting at 4 p.m. This route extends into North Las Vegas and should begin reopening about 9 p.m.
Carey Avenue, west of Martin Luther King Boulevard, will also be closed through Rancho Drive from 4 to 9 p.m.
Runners from all 50 states and 52 countries will participate in the Rock 'n' Roll Marathon, which consists of several races. Live music will be stationed along the way, along with water and Gatorade booths.
Runners will finish on Las Vegas Boulevard at The Mirage.
According to race officials, more than 50,000 people visited Las Vegas for the Rock 'n' Roll Marathon last year and the races generated almost $100 million in direct visitor spending.
Rock 'n' Roll Las Vegas Marathon
Date: Sunday, November 17, 2013
Time: Marathon – 4:30pm, Half Marathon – 4:30pm, 1/2 of the Half- 3:30pm
Start Line Location: Luxor Festival Lot