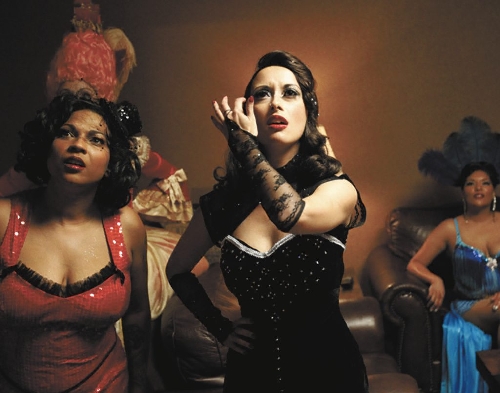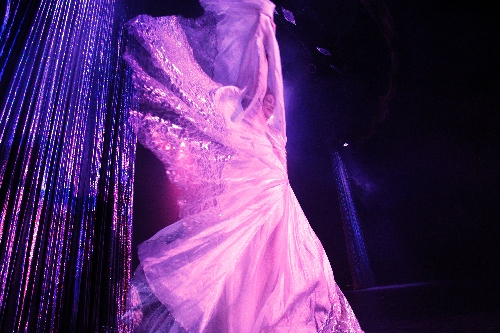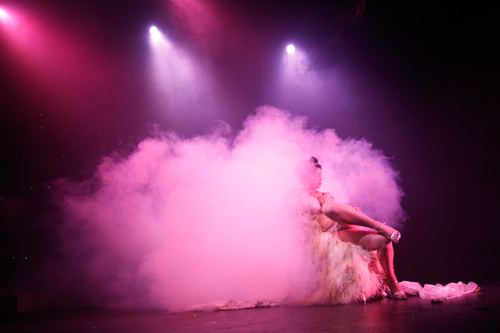 Burlesque performer Satan's Angel hadn't held a cigarette between her fingertips for years. But one was perched between her pursed lips Saturday night, stilling her nerves backstage at the Plaza's Copa Room.
The stage didn't shake her. The 66-year-old — notorious in the burlesque world as the first to twirl lit nipple tassels — has toured the world.
She couldn't stop thinking about an anonymous phone call from a couple of days before, threatening to bomb her car if she performed in the first-ever Dixie Evans Burlesque Show. She reported the call to police, but went on anyway.
"If you broke both my legs, I'd still crawl out there on my elbows to see that show," she said, true to her fiery reputation.
When the curtains parted, she was all smiles and tease, slowly stripping down to her tassels. The moves earned howls and catcalls from a crowd oblivious to the tumultuous power struggle looming just behind the scenes.
Across town at The Orleans, another very similar show took place Saturday — the Burlesque Hall of Fame's 22nd annual Tournament of Tease to crown the next Miss Exotic World, burlesque's equivalent of Miss Universe.
The two groups have been in a tug of war for months, with the hall of fame holding steady to one side of the rope. The hall of fame's creator — 84-year-old burlesque icon Dixie Evans — has moved to the other end, following two former board members — Luke Littell and Frederic Apcar Jr. — who used to produce the hall of fame's annual event but were voted off the board this year.
Evans said she followed Littell because she thinks he was mistreated. The hall of fame's executive director and board president is Littell's ex-girlfriend, Laura Herbert. Littell asserted in an interview that Herbert convinced the board to push him out for "personal reasons."
But Herbert said the board questions Littell's and Apcar's accounting of proceeds from last year's event. Whether the two former board members owe the hall of fame any money will be determined in an ongoing lawsuit.
"It's unfortunate," Herbert said. "Dixie had to choose between what she built and someone she loves. Dixie used to come to the hall of fame every Sunday to give tours, but hasn't for three months since the show was announced."
Littell and Apcar planned their own event for the same weekend as the hall of fame, which was no coincidence. The hall of fame always holds its annual fundraiser on the first weekend of June, and is suing Apcar and Littell for "engaging in deceptive trade practices" by creating another show at the same time to confuse people.
Apcar said that they were locked into the date because of their contract with the Plaza, which hosted the hall of fame event in 2010.
"It's hard to see it as anything but spite," Herbert said. "If you're going to go solo, go solo. Don't drag Dixie along with you."
"It's like 'West Side Story.' It has created a controversy, a duel in the sun," Evans said a couple of days before the event while sitting in her Las Vegas home. Grainy, black-and-white photos of burlesque stars from the 1950s cover Evans' walls, including a couple of herself, "The Marilyn Monroe of Burlesque."
The divorce between the hall of fame and its creator has forced performers to pick sides. Either perform at the hall of fame or take a chance on Evans' new endeavor, risking possible scorn of the establishment.
"Most of the girls are very upset because they don't want to rock the boat," said Big Fannie Annie, who performed at both shows. "I don't care if people are mad at me because I'm not trying to make a name for myself."
Big Fannie Annie is a longtime burlesquer who appeared in the 1982 movie "Porky's."
"It's been a very difficult decision for everyone, even myself," said 33-year-old Angie Pontani, who performed at Evans' show. "People feel very torn and are careful about what they say because of the lawsuits floating around."
Several performers said a clause in the hall of fame's contract, new this year, prohibits them from performing on any other stages during the weekend. Herbert confirmed that this stipulation is in the contract but doesn't know if it's new, claiming many changes were made.
"They're both in the wrong for putting the shows on at the same time," Big Fannie Annie said. "It shouldn't be a war. It's a shame, a terrible shame, especially for Dixie."
Many of the younger burlesquers look up to the trailblazers — Dixie Evans, Satan's Angel and Tempest Storm — who all appeared at the Plaza on Saturday.
That's why Pontani stepped onto the Plaza stage.
"Dixie is the Burlesque Hall of Fame in my mind," she said.
"This is Dixie's baby," performer Lucy Fur said. "It's her life work. I don't want to see her pushed out of everything she made."
Herbert said she feels the same way, and Dixie wasn't forced out.
"I'm still keeping a seat for Dixie, expecting her to show up," Herbert said before the hall of fame's weekend event. "Every Sunday, I still hope to see her at the museum."
Dixie is the reason that longtime friend Satan's Angel took the stage Saturday, despite a threat she took very seriously.
All lights were shut off for her finale. She quickly set a flame to her nipple tassels, shaking both into a twirl, catching the audience by surprise as they rose for the night's only standing ovation.
Satan's Angel couldn't help but break character, pumping her fist to herself.
Contact reporter Trevon Milliard at tmilliard@reviewjournal.com or 702-383-0279.