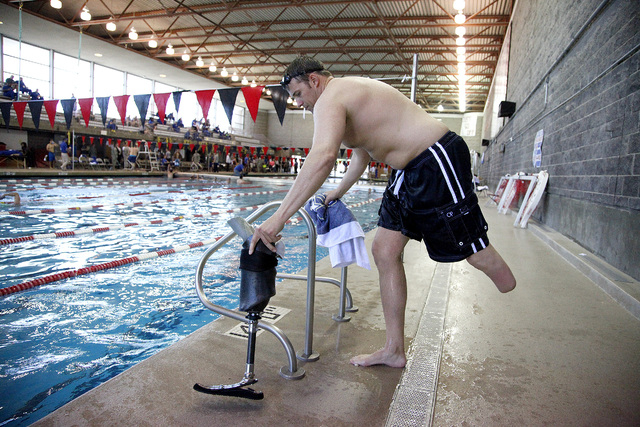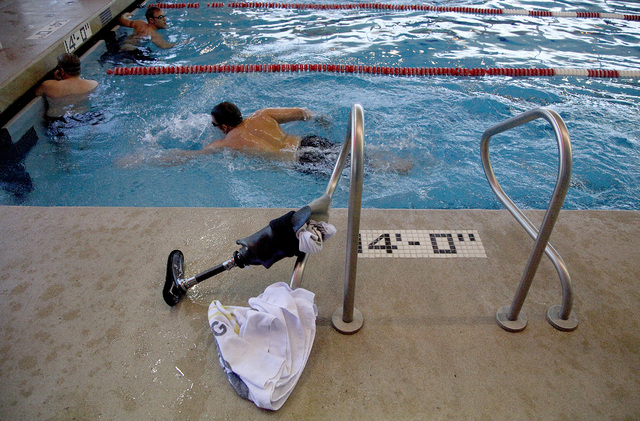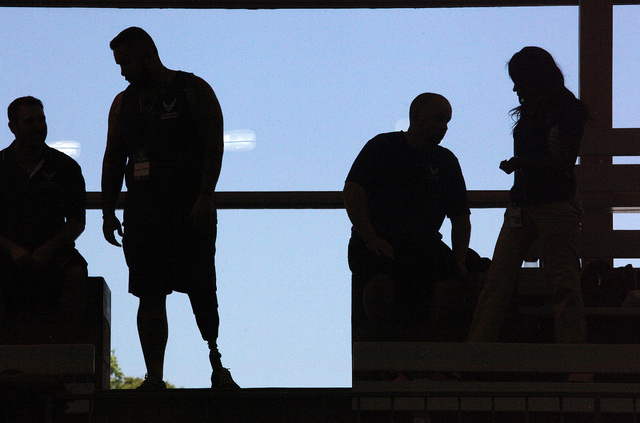 After the opening ceremony at Nellis Air Force Base, trials for amputee Mark Johnson and some of the 130 military members to make the team for the 2014 Warrior Games in Colorado got off with a splash Monday at the UNLV pool.
For the first time since he lost his right leg at the knee from a motorcycle accident a year ago in Oklahoma, Johnson gathered his balance to stand with his left leg on the starting block. He dived into the pool on his way to a medal-winning finish in the 50-meter freestyle.
"I never practiced it before. I usually just push in from the wall. But they said, 'Give it a try,' " the Air Force staff sergeant said during a break before his next event, the 100-meter freestyle.
So he did. And it worked even though he said it was scary, and he was nervous.
"I'm trying to do what I can to prove that I'm not handicapped. I'm just missing a leg," he said.
For Johnson, the trip to Las Vegas from Lackland Air Force Base in Texas was a chance to meet with his Army buddy, Master Sgt. Dan Hendrix. They have a lot in common. They both lost a leg after their overseas deployments, and they went through rehabilitation together last year at Fort Sam Houston, Texas.
Hendrix injured his left leg in a sky diving accident in northern Illinois in 2012. In 21 years in the Army, he's been all over the world during five deployments, including his last one to Iraq. He was injured on his 812th jump.
"I made a mental error. I came in pretty hot and ended up losing my leg after a year," he said.
Because he was vulnerable to infections, his leg was amputated just below his knee a year ago. He had learned to sky dive with the Army's Golden Knights parachute team. Ever since he's had to focus on bouncing back in his career that began as an air defense weapons system crew member.
"My family has been a huge inspiration," he said, mentioning his 8-year-old daughter, Ashlee, and 10-year-old son, Matthew.
A large part of getting into competitive swimming was to build strength for his primary event, wheelchair basketball. It took commitment to go forward with his life.
"First you have to realize it's time," Hendrix said. "It has got to come from within. Nobody else can make you do it. You can have all the encouragement in the world, and there are so many people who want to help you get back. But there is an inner trigger that has to be clicked before your rehab begins.
"Once that happens, it's every bit as intense as you had in life to go full bore and then some because you've got to have motivation to get back from where you're starting from. You have to hit that switch internally."
Hendrix pushed off from the wall to swim his 50-meter freestyle in 41.48 seconds. It wasn't the time or the event that mattered to him though. Instead, it was the training with his commander, Capt. Nicholas Kucan. Together, they swim as many laps as they can in a workout.
"Wheelchair basketball is my real passion," he said, adding that swimming adds strength to his shoulders and back and enhances his cardiovascular system. "I found it helps tone me up a little bit and helped me drop some weight."
In Denver, Hendrix plays for a local wheelchair basketball team, the Denver Rolling Nuggets. He also has formed a team at Fort Carson, Colo.
While the Warrior Games pit teams from military branches, the competitors are there to support each other. Some of the Army trials for the West Coast were held in conjunction with the Air Force trials at Nellis.
"We're all our own team," Hendrix said. "You always hear Army, Air Force, Navy, Marines. We come full circle. We deploy together as a team. We rehab together as a team. We heal together as a team. And in a sense we compete together as a team, too."
The trials for men and women, which are being held this week a Nellis, UNLV and Rancho High School, include swimming, track and field, wheelchair basketball, sitting volleyball, pistol and rifle shooting, archery and cycling.
Maj. Charlie Toth, an Air Force swim team coach, said the athletes compete according to their disabilities. The categories vary from those with most and least physical impairments, to those with traumatic brain injuries and post-traumatic stress disorder.
"We also have folks with spinal cord injuries, amputees. Some are combat-related, but some are not," Toth said. "The idea is to categorize them so they are competing against folks who have comparable injuries."
An Air Force team will be selected and those athletes will train for the Warrior Games to be held in the fall in Colorado Springs. This week's trial is the beginning of an intense summer of training.
"The biggest thing we're trying to do is give support to these wounded warriors to help in their recovery," he said.
Contact Keith Rogers at krogers@reviewjournal.com or 702-383-0308. Find him on Twitter: @KeithRogers2.