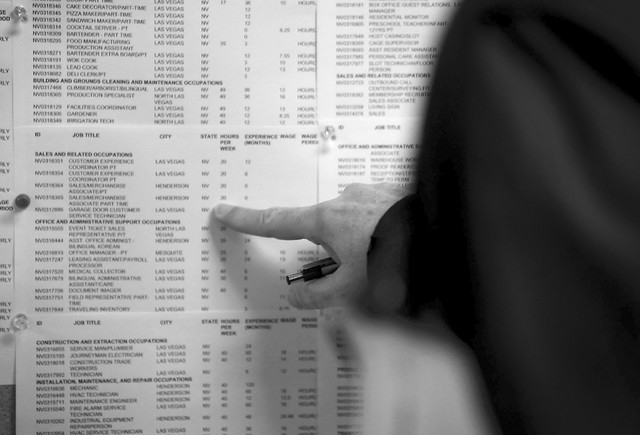 CARSON CITY — Despite the state's apology to people like him, North Las Vegas resident Josh Van Tuinen said it is hard to forgive when you call a number 300 times and still cannot reach anyone who can help you get the unemployment benefits you are owed.
"I have been calling for three hours now," Van Tuinen said. "Like everyone else, I need the little bit of money coming to me. It's horrible."
Kelly Karch, deputy administrator of unemployment insurance for the state Employment Security Division, extended his apology earlier Friday to Van Tuinen and thousands of others who have not been able to get through to his call center staff to file for weekly benefits or file for the first time. He said his agency experienced problems launching a $30 million computer system delaying the filing process for unemployment benefits.
"We are working as hard as possible," Karch said. "I know how it is hard on people. Be patient. These are the cards we have been dealt."
The Employment Security Division shut off its old computer system after Aug. 26 with hopes to opening the new system Sunday. But problems prevented the launch until 8 a.m. Wednesday.
About 50,000 Nevadans are eligible for unemployment benefits. Another 3,000 were expected to file for new claims this week.
His agency's call center will be open 9 a.m. to 3 p.m. today to help people who have not reached Employment Security Division employees. The Southern Nevada number is 486-0350.
It didn't help that the computer launch came during the Labor Day period, a short week for workers. But by next week, he anticipated the online process of filing and refiling for claims will be back to normal.
Karch said once a person reaches a representative to file a claim, the appropriate funds will be placed in their debit card account in one day. Funds for a claim filed Wednesday would be put in the account at 12:01 a.m. Friday.
No one will lose any money caused by the computer glitches, he added. Claimants, however, will have to continue to call until they reach Employment Security Division representatives and file for two weeks of benefits if they fail to get a claim approved this week.
Van Tuinen's problem is more complicated than most. The construction worker, unemployed since Christmas, said he was told he would have to file to reopen his benefits account because of an interruption in service. That is not true, he said, but he needs to speak with an employee to correct the problem.
He is receiving extended benefits paid by the federal government.
He has exhausted the 26 weeks of state-paid benefits and now receives them from the federal government.
The federal government program will end Dec. 28.
As the result of the federal sequestration law, Congress ordered states to cut the maximum and minimum benefits they pay claimants who receive benefits through the federal emergency unemployment program. On Aug. 31, the state reduced benefits to these people by 59.06 percent.
These huge cuts will remain in place through September. Then most benefits will be restored, except for an 8 percent cut from their original benefit amount. The federal sequestration plan had been to reduce benefits by 10.7 percent in all states in March, but Nevada had computer programming plans that forced it to delay the cuts, and now to implement the huge reduction.
Eventually all claims will be handled online through the new Unemployment Insurance system, or UInv.
One anonymous complaint to the Review-Journal said if you are "lucky enough" to reach the Employment Security Division, an automated message "tells you to refile your claim and gives you an invalid option to do so. There is no way to speak to a representative."
In a Wednesday release, however, the agency called that delay "minor." It also reported that new claimants could use UInv within 72 hours.
"Considering the magnitude of this undertaking, the transition has proceeded with minimal issues," said Frank Woodbeck, the director of the Department of Employment, Training and Rehabilitation. We just ask for patience as we gradually ramp up the new system to full deployment over the coming days."