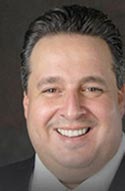 The owner of Silver Lining Construction, a business connected to Wednesday's FBI raids, also operates a nonprofit autism foundation, according to state records.
However, few within Nevada's autism community are aware of Leon Benzer or his Benzer Autism Foundation.
When reached Wednesday, representatives from the state's Autism Task Force, the state Division of Health, Families for Effective Autism Treatment and the Autism Coalition of Nevada said they were unfamiliar with the foundation.
"I've never heard of him," said Jan Crandy, executive director for the Autism Coalition of Southern Nevada.
"I match families of children with autism with resources and providers, and, considering we lack those resources, I try my best to identify every source available," said Crandy, who also is a case manager for children with autism.
The Benzer Autism Foundation at 4246 Bertsos Drive helps "autistic children" with housing, medical attention and assistance with everyday life situations, according to its Web site www.benzerautismfoundation.org.
Benzer's Silver Lining Construction Web site lists the same address and includes a link to the autism foundation.
Public contributions can be made by check or money order, according to the foundation's Web site.
Benzer, listed as the president, secretary, treasurer and director of the nonprofit, is a single parent raising two boys, according to the Web site. One of his sons, Benny, has autism, the site says.
The site doesn't say how many children the foundation serves nor how much money it raises. It does say that one of its goals is to assist individuals with autism who have no family or family that is "too old to care for them."
The programs offered children include sign language, vocational skills and activities, special toys and games, management of autistic children, musical plays, story telling, art, safe places and clothing. Aside from vocational skills and sign language, Crandy said, none of the programs is "evidence-based" forms of helping children with autism.
"I'm a little nervous about this (foundation) because we don't know if it is helping families," said Crandy, who also serves on the state's Autism Task Force.
One of the foundation's major sponsors is listed as Spencer Haywood, a former NBA player, the Web site says.
Under Benzer's profile, he is said to be the owner of multiple businesses and the creator of a tequila called Benzila.
The tequila is produced on Benzer's farm and proceeds from its sale go toward the autism foundation, according to the Web site.
Benzer also owns a record company.
The site says 50 percent of sales of its first CD, "Reflections," go toward the foundation's programs.
The music Web site — benzermusic.com — provides YouTube video links of celebrities endorsing the autism foundation.
"Hey, this is Patrick Swayze. Please support the Benzer Autistic Foundation. It's worthwhile," the actor says during an interview.
Similar comments are made by Larry King, John O'Hurley, Lance Burton and Rich Little.
Motley Crue frontman Vince Neil tells viewers to "check out Benzila."
The Benzer Autism Foundation isn't Benzer's only endeavor in Nevada with a philanthropic purpose.
According to a 2005 news release by Stephanie Parker of Nevada Child Seekers, Benzer donated funds to assist a Las Vegas mother in accompanying law enforcement to reunite her with her 12-year-old son who had been abducted and taken to the Philippines.
Nevada Child Seekers is a nonprofit that assists families and law enforcement in locating missing, abducted and runaway children.
On Wednesday, Parker said she didn't know much about Benzer because she was new to the job at the time of his donation.
"I don't know of any additional support to Nevada Child Seekers," Parker said about Benzer.
Contact reporter Annette Wells at awells@ reviewjournal.com or 702-383-0283.
RELATED STORY FBI investigates corruption case