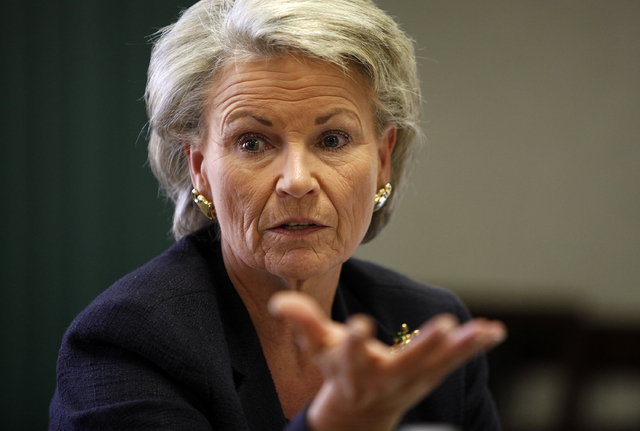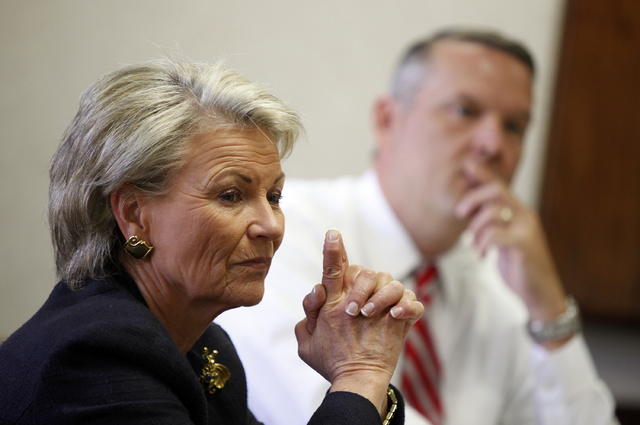 The Clark County Commission has approved a contract with John Entsminger, the unanimous pick to replace Pat Mulroy at the helm of the Las Vegas Valley Water District and the Southern Nevada Water Authority.
The 42-year-old will be paid $260,000 a year, plus benefits. That's an increase of $30,000 over the base salary he was paid as deputy general manager for both agencies.
The district and the authority each cover half his pay.
The commissioners, serving in their role as the water district board of directors, approved the three-year contract Tuesday without discussion.
Under the agreement, Entsminger would receive a year's pay and benefits if he is fired or forced to resign early for anything short of a criminal conviction.
The contract calls for performance evaluations each January starting next year, when Entsminger will be eligible for a raise of up to 5 percent.
Thursday is Mulroy's last day on the job after 25 years as water district general manager. She has held the top post at the water authority since she helped create the regional water supply agency in 1991.
Mulroy was paid $279,154 a year plus benefits. Her contract included an automatic 4 percent raise annually, but she voluntarily stopped taking that money in 2008.
Entsminger was hired by the water district and the authority straight out of law school at the University of Colorado in June 1999.
He was promoted to deputy general counsel for both agencies, and he served as lead negotiator on a series of national and international agreements that secured more water for Nevada from the Colorado River.
Mulroy named him to her executive team as deputy general manager in early 2010. When she announced her retirement last year, she identified him as the best choice to replace her.
Contact reporter Henry Brean at hbrean@reviewjournal.com or 702-383-0530. Follow him on Twitter @RefriedBrean.