Controversial case decisions dog District Court judges
December 30, 2013 - 10:21 am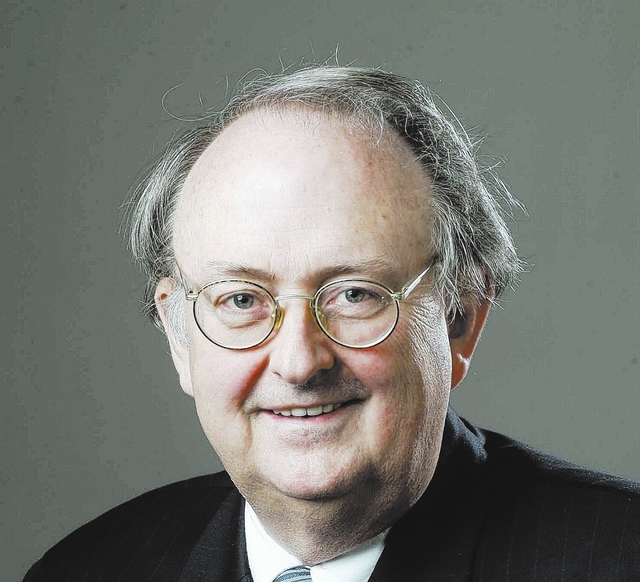 Four of 32 District Court civil and criminal judges up for election next year did not receive a majority retention score from lawyers who responded to the Review-Journal's 2013 Judicial Performance Evaluation.
Low scores could translate into political opponents for those judges, including veteran jurists Michelle Leavitt, Doug Smith and Jessie Walsh. Judge Valorie Vega, who received a low score, announced in July she would not seek re-election.
Judge Carolyn Ellsworth, appointed to the bench in 2011, received a majority retention rate, but barely.
Between 280 and 320 respondents filled out the survey for most of the 32 judges.
Judge Elissa Cadish received the most responses: 404. Cadish, a one-time federal judge prospect, received one of the top retention scores: 87 percent.
Judge Mark Denton received the highest retention rating of 93 percent based on 309 respondents. Judge David Barker received the second-highest retention rating: 91 percent based on 291 respondents.
While lawyers anonymously vilified or praised each judge in the comments section, one judge was a lightning rod for controversy.
Ellsworth, who received a 51 percent retention rating based on 284 responses, drew a flurry of responses from lawyers based on her sentencing to jail former prosecutor David Schubert on drug charges.
Schubert lost his job as a chief deputy district attorney after he was arrested on charges of buying cocaine in 2011. He later pleaded guilty.
As part of a plea deal, Schubert expected to be released on probation. But Ellsworth ordered the veteran prosecutor to spend nine months in jail as part of his probation.
Schubert fled to Mexico the day he was supposed to turn himself in. Nine days later, he returned and was arrested. Ellsworth revoked his probation and sent him to prison, where he served a six-month stint.
A few months later, Schubert took his own life. He was found dead in his southwest valley home in July, though he is believed to have died weeks earlier.
Several respondents took Ellsworth to task for her ruling in the Schubert case.
"What she did on the Schubert case was sickening and reprehensible," one attorney wrote.
Another wrote, "She was way out of line with the Schubert case and is an embarrassment to the legal system with that ruling."
In an email, Ellsworth responded to the criticism she received regarding the Schubert case.
"I am proud of the fact that I do not shy away from making hard decisions in hard cases. If a judge is not prepared to decide the hard cases along with the more routine cases on his or her docket, this is probably not the career path for them. And after all was said and done, the Nevada Supreme Court upheld my handling of the Schubert matter on three separate occasions on appeal," the judge wrote.
Ellsworth added, "Of course, I was saddened that Mr. Schubert chose to take his life rather than accept responsibility for and address his addiction and mental health issues as I urged him to do."
The judge did earn praise for her use of a technique where she releases preliminary rulings in cases and narrows oral arguments to un­decided issues.
"Her preliminary rulings are extremely helpful, and it is obvious that she spends a great deal of time preparing for court," a respondent said.
One attorney wrote, "She is always incredibly prepared and her rulings are fair but firm. She understands issues set forth and, if she doesn't, she'll put in the work to learn."
Ellsworth said she was proud of the positive comments she received because it reflects the hard work she puts into the job.
"Of course, all sitting judges would like to see 100 percent satisfaction in all categories, but that is mere wishful thinking given the nature of the job we do. The fact is, one of the parties 'loses' exactly 100 percent of the time in every contested matter that a judge must decide," Ellsworth said.
Of the four judges who received below 50 percent retention scores, Judge Walsh scored the lowest, 42 percent based on 328 responses.
Walsh was repeatedly criticized for making improper legal rulings. One respondent called her a "disgrace."
"Although she is a nice person, Judge Walsh struggles to properly apply the law to the facts. She seems to make more mistakes in her decisions than any other judge," a lawyer wrote.
Several respondents said she was unduly influenced by lawyers who contributed money to her campaign.
"Her knowledge of the civil law and rules of evidence appears to be completely lacking. She seemed to have been elected by monetary donations rather than her judicial skills and appears to have significant bias," a respondent said.
Still, some praised Walsh.
"She is always prepared. She has a good judicial temperament. She is a good judge," one respondent said.
Of the judges with low retention rates, only Vega has said she is not running for re-election. The 25-year jurist received a 43 percent retention rating based on 251 respondents.
In February, Vega agreed to a public reprimand from the Nevada Commission on Judicial Discipline for putting her personal schedule ahead of a murder trial. Controversy surrounded Vega after the acquittal of Victor Fakoya on charges he killed a family friend's son.
Vega faced misconduct charges for mishandling her court schedule in the Fakoya case, including keeping a jury from 1:12 p.m. on Dec. 16, 2010, to 6:57 a.m. the following day to keep a planned vacation.
She was also accused of recessing the trial midday on at least six occasions so she could attend her daughter's soccer matches.
One respondent defended her. "A great judge. Sorry to see her chased from the bench because she tried to grab some family time before her daughter was grown and gone off to college. The law is a jealous mistress."
Some were happy to see her retire from Department 2. Respondents complained that Vega's court calendar moved too slowly and that she had lost interest in being a judge.
Vega, who is the wife of Review- Journal business writer Howard Stutz, isn't alone in deciding not to remain on the bench. Judge Allen Earl, a 13-year jurist, in November announced he will not seek re-election. Earl had a retention score of 77 percent based on 234 respondents.
Judicial candidates have until Jan. 17 to register to run for a judgeship.
Veteran jurists Leavitt and Smith also received low retention ratings.
Leavitt received a 46 percent retention rating from 312 respondents.
Some of those surveyed lauded Leavitt for her concern for public safety.
"She is extremely protective of her community. Public safety is one of her highest concerns," a respondent said.
Others called her discourteous and rude.
"The judge is rude, does not understand the law she attempts to interpret, is biased against certain attorneys and treats people with contempt," a lawyer said.
Several respondents questioned whether Leavitt had been elected because of the venerable reputation of her father, Supreme Court Justice Myron Leavitt.
Smith received a 48 percent retention rating from 303 respondents.
Some of those surveyed said Smith was rude and surly.
One said, "He has no respect for the law, the Constitution or the lawyers standing before him. He's bereft of empathy and human decency."
Another said Smith was a bully.
"He shouts down lawyers and defendants with hostility and accuses the defendant and/or his attorneys of being hostile. He misrepresents defense counsel's arguments on the record and tries to bully defense counsel."
Others praised his tendency to harshly punish offenders and his no-nonsense attitude.
"Actually cares about the state of the community and understands that people that prey on people should be appropriately punished," a lawyer said.
None of the four lowest-scoring judges responded to multiple requests for comment. The judges were afforded several opportunities to respond in an interview or by email.
Contact reporter Francis McCabe at fmccabe@reviewjournal.com or 702-380-1039.
RELATED

Judging The Judges