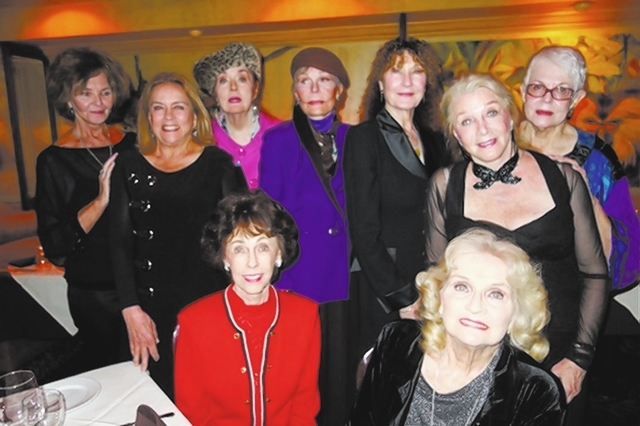 The Sands Hotel's famed Copa Girls, long considered the ultimate showgirls, reunited over the weekend.
In their day, they were a dazzling warm-up act for the biggest names in show business.
Nine former Copa Girls gathered at Bellagio and Piero's Italian Cuisine on Saturday and Sunday. Among them: Judy Johnson Jones, Mary Neivens, Kathy Martin, Corinne Entratter Sidney, Shirley Kirkes, Billye Nelms Hannah, Joy Blaine, Joan Ryba Gillis and Charlotte Nort.
Sands president and entertainment director Jack Entratter brought the idea of the Copa Girls to the Sands' 450-seat Copa Room in the mid-1950s after creating the dance line at the legendary Copacabana Club in New York.
Nort, who arrived at Piero's on a walker Sunday, spent 10 years as a Copa Girl after moving to Las Vegas with the June Taylor Dancers in 1952. Raised in St. Louis, she had worked on Broadway in musicals, including "Peepshow," produced by Michael Todd, who later married Elizabeth Taylor.
Opening for the Rat Pack was "the biggest thing," Nort said. She recalls peeking through the curtains on New Year's Eve around 1960 to watch a dance routine.
"I heard a voice behind me say, 'Happy New Year, dear.' I turned around and saw these two blue eyes" that belonged to Frank Sinatra.
One night during a Rat Pack show, she noticed a stunning blonde "sitting ringside, clapping and carrying on." It was Marilyn Monroe.
One of the best-known Copa Girls was Felicia Farr, who married film star Jack Lemmon in Paris, while he was filming the comedy "Irma La Douce." She was with him until his death in 2001.
Jack Entratter married one of the Copa Girls, actress and Playboy model Corrine Kegley, whose father was a deputy attorney general in California.
"I went from white collar crimes to the mob," Entratter Sidney said.
THE SCENE AND HEARD
George Kotsiopoulos of E!'s "Fashion Police" hosts the inaugural "Fashion Gives Back" benefit at The Shops at Crystals (CityCenter) on Thursday. Proceeds will go to a dozen local charities. …
Miley Cyrus turns 21 on Friday. Imagine what kind of bidding war is going on to land her in a Las Vegas nightclub for the big night. …
Judy Garland tribute artist David de Alba performs "Dorothy the Later Years" on Nov. 24 at The Onyx Theater, 953 E. Sahara Ave. De Alba played Garland for years at Finocchio's, the legendary drag club that packed 'em in from 1936 to 1999 in San Francisco's North Beach. Tickets: $15 for general seating, $20 for VIP. The show starts at 2 p.m.
SIGHTINGS
Sitting together at the Rod Stewart concert (Caesars Palace) on Saturday: Steve Wynn, Republican strategist Karl Rove and Fox News commentator Bill O'Reilly. … Among the crowd at UFC 167 (MGM Grand) on Saturday: Arnold Schwarzenegger, Leonardo DiCaprio, Jeremy Piven, Shane Victorino, Ryan Howard, Giancarlo Stanton, Larry Walker and Chuck Liddell. … Former NFL star and current TV analyst Donovan McNabb and former NBA All-Star Gary Payton, at Tao (The Venetian) on Saturday. McNabb was with friends at the Ghostbar Dayclub on Sunday.
Bally's headliner Véronic DiCaire, backstage after Ron White's show at The Mirage on Friday. … Olivia Newton-John, backstage after the "Donny &Marie" show (Flamingo) on Friday. … Skateboard legend Tony Hawk, having lunch Saturday at the Social House inside The Shops at Crystals (CityCenter). … At Echo &Rig Butcher Shop &Steakhouse in Tivoli Village last week in separate groups: Andre Agassi and Steffi Graf, MGM Grand President Scott Sibella, Tom McCartney, chief operating officer of The Cosmopolitan, and comedian Carrot Top. Sibella joined a table of friends at La Comida on Friday.
Norm Clarke's column appears Sunday, Monday, Wednesday and Friday. Reach him at 702-383-0244 or norm@reviewjournal.com. Find more at normclarke.com. Follow @Norm_Clarke on Twitter. "Norm Clarke's Vegas" airs Thursdays on the "Morning Blend" on KTNV-TV, Channel 13.