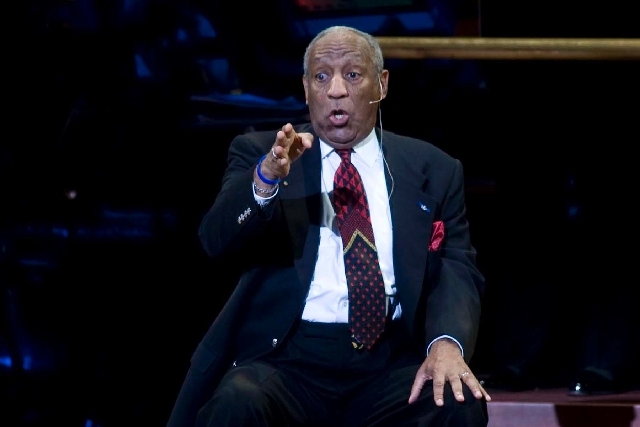 Bill Cosby — sweater-wearing, "Fat Albert"/Dr. Huxtable/"I Spy" Bill Cosby — is about to go on a political roll for my column today.
It all started with this other question: How does it feel to receive so much love from other comedians lately?
For instance, Louis CK has been going around saying the best comedy gig he ever saw in his life was a Cosby show three years ago. And many comics have been calling Cosby the creator of contemporary stand-up.
So Cosby (who performs Friday at Treasure Island) tells me the love feels good — because people have been dismissing him during his "old" age.
"For the past 25 years, I have been put in a descriptive mode of being 'old,' " Cosby, 76, says. "As in: Too old to tell people something."
That is, people have made him feel as if whatever wisdom came out of his mouth was going to "ruin" young people's fun.
"It is tantamount to the teenage daughter telling the mother she doesn't know what life is about," Cosby says. "It is that rejection."
Cosby says this age-ism is going on all around us — as evidenced by Republicans' efforts to marginalize Hillary Clinton for her age, 65.
"I think the Republicans are now trying to make her 'too old' to be capable of running. And how contradictory can they be? How old was Ronald Reagan?"
Reagan turned 70 during his third week in the Oval Office.
"They want to try to wipe out Hillary Rodham Clinton — not on her intelligence, not on her experience — but on the fact that she has stayed alive. How dare she.
"This is America. And the foolishness of saying, 'By (election) time, she'll be 69, and we the Republican Party deem her too old to think' — I think you guys need to look at your own age and realize you guys have outlived intelligence."
Cosby then returns to my question and says he is grateful for the "wonderful praise" he has gotten from comics and from fans of his TV shows and stand-up routines.
On a totally different topic: Cosby still likes Cosby sweaters. He has been running polls online, asking people to pick their favorite Cosby sweater (BillCosby.com).
But his neckties in the 1970s — man, they were too much.
"The video of my comedy sit-down — I don't know how old that thing is, but I just know the knot in that tie is too damn big, and I wish I could have somebody digitally make a smaller knot."
HEROES & VILLAINS
CRAZY PERSON POSSIBILITY — Former New York Knick Baron Davis told a sports podcast he was abducted by aliens (half-human, half-ugly crazies) while driving from Vegas to Los Angeles, according to the New York Daily News. But the Daily News calls him a "first class practical joker," and he later Tweeted, "that alien thing is a joke." Oh. Hilarious. …
THEIR NAME IS JONAS — The new Jonas Brothers music video for "First Time" was shot in Vegas a few weeks ago, and it premiered Wednesday. It's the usual — gambling, pretty people at dayclubs, red-cup toasts and riding the Strip in a convertible. …
VEGAS SPEARED — RadarOnline said Wednesday Britney Spears told some judge she is excited about playing Vegas starting Dec. 31, and "The judge was impressed with how happy and excited Britney was." How low are a judge's expectations when she is impressed by someone's happiness?
TWEETING VEGAS
"Saw the news that Paris Hilton got her 1st dj residency in Ibiza. So much for the argument that Las Vegas is selling out 'EDM.' " — Marquee nightclub resident DJ @Kaskade.
Doug Elfman's column appears Mondays, Tuesdays, Thursdays and Saturdays. He also writes for Neon on Fridays. Email him at delfman@reviewjournal.com. He blogs at reviewjournal.com/elfman.