Cosmopolitan has 'polished' opening
December 16, 2010 - 12:00 am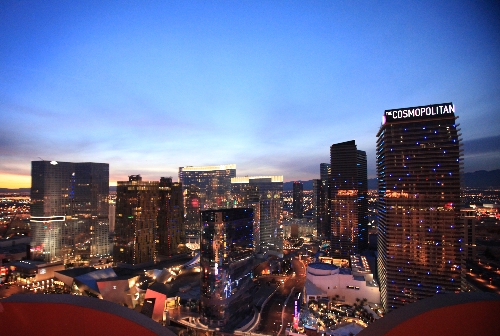 First impressions of the last megaproject we'll see on the Strip for at least a decade:
Let's start with crazy, but crazy good.
It was unlike any opening many of us have seen.
The best description of what unsuspecting first-timers will find at The Cosmopolitan of Las Vegas came from a lady who runs the salon.
"Polished without pretense," she volunteered, before dashing off to join one great party that broke out on the third floor, home of restaurant row.
How else to describe the leap from the massive David Rockwell-designed chandelier in the casino, where Brandon Flowers of The Killers held a miniconcert to dozens of kitchen staffers clanging pots and pans while doing a 5-4-3-2-1 countdown.
Or Lt. Gov. Brian Krolicki in line at the pizzeria with no name.
Or the pool table and foosball game area near the Spanish restaurant Jaleo, where star chef Jose Andres climbed on a marble counter and hoisted a garron (think of a goatskin wine container made out of glass).
Clusters of curious mingled in $2,000 suits, the ubiquitous black cocktail dresses and the well-worn blue jeans-and-caps crowd.
A "Nightline" camera crew was trailing Cosmopolitan CEO John Unwin as he met a guests ranging from VIPs such as Elaine Wynn to prop comic Carrot Top.
Professional party planner Colin Cowie raved about the New Year's Eve soiree he's putting together.
Many of the captains of the gaming community were there: Steve Wynn and fiancee Andrea Hissom, Wynn's new senior VP of marketing and strategic development Mark Brown, MGM Resorts' Jim Murren and Gordon Absher and The Mirage's Scott Sibella.
Also spotted: Larry and Camille Ruvo, music producer Tommy Lipnick, Jill Curtis, Tony Curtis' widow, and Holly Madison's cast mates from "Holly's World" — Josh Strickland of "Peepshow," Laura Croft and Angel Porrino.
THE SCENE AND HEARD
I will be the designated train engineer at Opportunity Village's Magical Forest from 7 to 8 p.m. tonight. Free hot chocolate will be served during the hour.
SIGHTINGS
Oscar-winning actress Susan Sarandon, at Rao's (Caesars Palace) on Tuesday night. She was in town for the U.S. Nationals table tennis tournament at the Las Vegas Convention Center.
THE PUNCH LINE
"It looks like unemployment is up. Especially if you're the guy who designed that inflatable dome where the Vikings play." — Jay Leno
Norm Clarke can be reached at (702) 383-0244 or norm@reviewjournal.com. Find additional sightings and more online at www.normclarke.com.