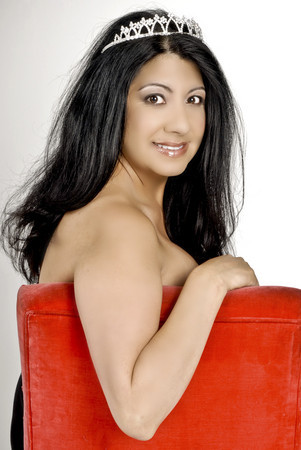 Lock up your sons, because Vegas gets invaded Friday night by the 2010 "Cougar convention" at the Tropicana.
"Cougars," stereotypically, are middle-aged women (in their 40s and 50s) who chew up "cubs" (men in their 20s and 30s) and spit them out, gnawing on their gristled lust until all the marrow, money or machismo is sapped from their bodies.
Also stereotypically, cougars live alone, are possibly perimenopausal, and may be focused on the self after decades of coupling. But they know how to make a younger man smile.
I don't believe all that. It's the silly cliché that bookends clichés about men in their 40s. All the 40-something women I stay in contact with are terrific.
Anyway, Gloria Navarro, Miss Cougar USA, sets the record straight.
"The cougar-cub relationship is one of mutual understanding," she says. "It can be something from a hookup to a one-night stand, all the way to marriage."
Cubs prefer cougars, because women in their 20s are immature and women in their 30s have "wedding dresses picked out and rotting ovaries," she says.
Meow.
"That leaves women in their 40s. They don't want to get married. They don't want kids," Navarro says.
Navarro, a business consultant in Silicon Valley, divorced her high school sweetheart after two decades.
At 40, she began dating a 24-year-old.
"It was probably the best relationship of my life. And he would say the same. He actually told me it's going to be very hard for him to get married, because I set the bar so high for him," she says.
Alas, the guy had to move to Miami for a job. And Navarro doesn't "do long distance. I don't even cross the bridge" in San Francisco.
She says it's a misconception cougars are sugar mamas, desperate or on the prowl.
"I've never picked up the tab for any of my dates," she says.
"We just want somebody who has the same energy as we have.
"Older men just have a lot of baggage. You're talking wives, ex-wives, mortgages, children, alimony, work. That leaves very little time for us to date. And they've lost their sense of adventure. They've lost their zest."
Women handle baggage better than men, Navarro says, although some boring women in their 40s blame their dullness on a menopause "excuse."
Anyway, Navarro says: "Age is just a number." And she'll be at Friday's convention (7 p.m.-1 a.m.; $20 at the door; 415-507-9962).
At 11 p.m., cubs elect a Miss Cougar Las Vegas, who wins a free ride on one of two "cougar cruises" set for May and December. (December-May, get it?)
Rich Gosse, promoter for CougarCon (CougarEvents.com), is hard on men too.
"Older men are leftovers with relationship problems and substance abuse problems. Few are willing to date middle-aged women."
Gosse — a married former Catholic school teacher who ran for California governor in 2003 as a Republican — has been promoting singles parties for decades. He started doing "older women/younger men" parties 20 years ago, but attendance was lackluster.
Then, the word "cougar" hit pop culture a few years ago — along with celebrity cougars Halle Berry, Mariah Carey, Jennifer Aniston and Demi Moore — and now cougar parties garner more attention and partyers, he says.
I asked Gosse if he throws older man/younger woman parties.
"Yeah," he says. "That's ALL of our parties" except for the cougar parties.
"That's the way it's been for thousands of years: Men date younger women," Gosse says. "What's good for the goose is good for the …"
Gander? Somehow, I knew that quote was coming.
Doug Elfman's column appears on Sundays, Mondays, Tuesdays and Fridays. E-mail delfman@reviewjournal.com. He also blogs at reviewjournal.com/elfman.