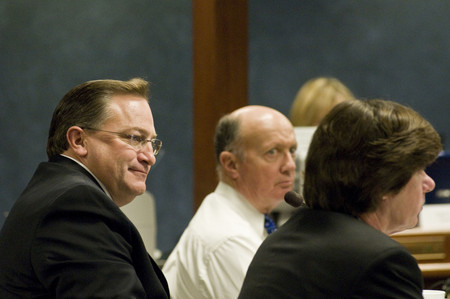 Las Vegas Councilman Steve Ross issued a broad disclosure before Wednesday's City Council meeting that noted his ties to local construction unions.
The action followed a Dec. 11 Nevada Ethics Commission decision dinging Ross for three votes in 2008 and early this year in favor of a new city hall.
The commission found evidence that the Southern Nevada Building and Construction Trades Council, for which Ross works, was talking to the developer of the city hall at the time the votes were taken.
Ross should have disclosed a conflict and abstained from all of the votes, commission members said in a 4-1 vote. He disclosed on one vote but participated in all three.
On Wednesday, Ross read a statement noting that he is secretary-treasurer for the trades council, which promotes union labor.
He said he was disclosing his position but would not abstain from all votes involving future construction projects.
Competitively bid projects that are awarded and not challenged are OK, he said. If a conflict exists between union and nonunion contractors, or if the trades council is engaged in securing jobs on a project, he will abstain, he said.
His disclosure Wednesday applied to votes on the construction of several bus turnouts, which he joined the council in approving unanimously.
He abstained from voting to reject bids on a proposed Neon Boneyard Park because of the potential for union-nonunion conflict, and he abstained from an item related to the new city hall.
Ross has abstained from all votes advancing the new city hall since Feb. 18, citing the trades council's talks with the city hall's developer. The council approved the building Dec. 2, and construction is scheduled to start next month.
Three residents of Ross' ward filed the complaint. The Ethics Commission found that the violations were not "willful." If they were found to be willful, Ross could have faced fines or the possibility of being removed from office.