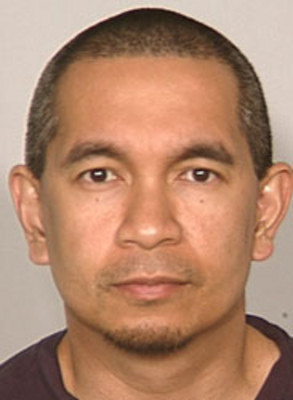 A Saville Middle School counselor was arrested this weekend on a charge of lewdness with a minor involving explicit text messages to a 13-year-old female student, an arrest report obtained Monday said.
Franz C. Fajardo, 39, surrendered to Las Vegas police Saturday. Police accuse Fajardo of sending inappropriate texts from his cell phone to the student's cell phone. Fajardo also faces a charge of using technology to lure a minor.
Fajardo denied any physical contact with the girl.
The report said that the student told police "Fajardo has tongue kissed her on numerous occasions in his office at the school."
Saville is at Torrey Pines and Grand Teton drives.
The report added that Fajardo sent the girl messages about his erection, oral sex and his love for her.
Clark County School District spokesman Michael Rodriguez did not know late Monday whether Fajardo had been placed on administrative leave, but he said that typically is what happens when an employee is arrested.
Fajardo was hired by the district in October 2003.
Betsy Allen, an attorney representing Fajardo, wouldn't discuss the specifics of the case.
"They're allegations and yet to be proven," Allen said. She added that Fajardo's family members want to maintain their privacy.
According to the arrest report, the girl met Fajardo in 2007 when he was her basketball coach.
The girl's mother noticed her daughter was texting Fajardo and that they were in contact outside of school. The mother contacted Fajardo in January, and she told him she was uncomfortable and the contact needed to stop, the report said.
The girl's mother spoke with police Saturday about the text messages.
The report said Fajardo contacted the girl's mother that same day and apologized. He denied that anything physical had happened.
The girl's mother told Fajardo he had "broken her baby and that she is not an adult," the report said.
The girl told police she considers Fajardo her boyfriend and believes he considers her his girlfriend. She also told police that Fajardo said they should wait until she was 16 before trying anything sexual. The report said the student told police she and Fajardo planned to be together when she is ready to go to college.
Fajardo is married with a newborn, the report said.
Lt. John Bradshaw, with the Metropolitan Police Department's Sexual Assault Detail, wouldn't discuss specifics of the investigation because it is ongoing.
In general, Bradshaw said, adults who lure kids into inappropriate relationships usually do so by earning their trust.
"It's not an overnight thing," he said. "They groom their victims, develop relationships of trust, and it goes from there."
Contact reporter Antonio Planas at aplanas@reviewjournal.com or 702-383-4638.