County abolishes rule restricting cross-gender massages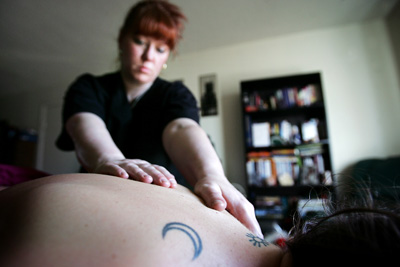 A longtime restriction on cross-gender massages in Clark County was rubbed out Tuesday.
County commissioners voted to rescind the rule that licensed massage therapists say lumped them with prostitutes and severely hampered their businesses.
The rule affected mainly lone therapists who do outcalls at homes and in hotel rooms. Casinos, spas and massage establishments were exempt.
Lifting the rule aligns the county with the cities. Last year, Las Vegas repealed its restriction on massages to the opposite sex. Henderson and North Las Vegas also allow cross-gender massages.
Those in the industry praised the action, saying that it creates a uniform code across the valley and that legitimate therapists are no longer treated as prostitutes.
Heather Mehudar, a massage therapist, said the rule made it difficult for her to survive in the tough economy.
"Ninety percent of the calls I get for my business are males," she said, "so I'm turning away 90 percent of my calls."
Commissioners also approved shifting responsibility for overseeing therapeutic massage to the state board. The county will issue business licenses to therapists and let the state handle code enforcement.
Commissioner Chris Giunchigliani proposed the policy changes after state officials told her the county overstepped its authority in limiting what therapists could do. She recalls trying to get the cross-gender rule repealed in 1991 but to no avail.
Having the state in charge of massage laws will make them consistent in every jurisdiction, Mehudar said.
One of her clients, Laura Stendel, who helps oversee a large massage staff, said the cross-gender law was stifling because most therapists are women and most men prefer to be massaged by women.
She never dared to break the rule, Stendel said, because undercover officers sometimes posed as customers. She blamed Nevada's patchwork of legalized prostitution.
"It's really only this complicated in Las Vegas," she said.
Removing the cross-gender rule will simplify the profession and boost sales, said Becki Ortiz, a local therapist.
"In my neighborhood, I could massage the wife but not the husband," Ortiz said. "Now I can do both."
Contact reporter Scott Wyland at swyland@reviewjournal.com or 702-455-4519.
THEY ALL SCREAMED FOR ICE CREAM — AND WON
Twenty children screaming for ice cream — in writing, not with vocal cords — coaxed Clark County commissioners into softening rules on delivery trucks.
Ice cream trucks can cruise through neighborhoods until 9 p.m. during daylight saving time and 7 p.m. standard time.
Commissioner Chris Giunchigliani on Tuesday proposed limiting the trucks to 8 p.m. during daylight saving time and 7 p.m. standard time.
But Commissioner Lawrence Weekly told of children writing him letters of protest about curbing the icy treats. Commissioner Steve Sisolak said he had to back the kids and reject the 8 p.m. limit as too early in the summer. Giunchigliani relented, and vendors rejoiced.
The new 9 p.m. restriction is only an hour earlier than the current one and very reasonable, said Tammy VanderHeiden, owner of Pooters Ice Cream.
"I wouldn't let my kids come out at 10 o'clock to buy a fudge ice cream," VanderHeiden said.
LAS VEGAS REVIEW-JOURNAL