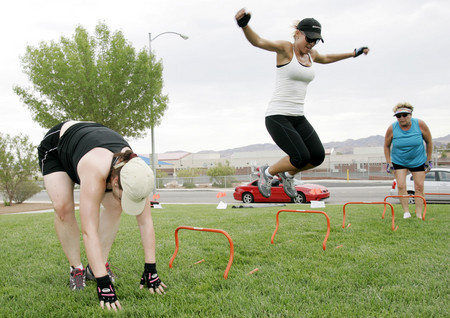 A lukewarm rain dampened an already sweat-soaked pack of fitness hounds who last week welcomed a July shower as they ran up hills, knocked out push-ups and dragged tires across the wet grass like plow horses.
The Henderson park where they huffed and groaned is aptly named Mission Hills, in part because they had to power through 15 drills, ranging from demanding to torturous, in one hour, a feat that has been dubbed "Mission Impossible."
Also, the founder of the fitness boot camp last week accomplished a mission that she zealously pursued for 18 months: persuading Clark County officials to let her offer paid exercise classes in county parks.
Julie Johnston, who owns Boot Camp Las Vegas, can smile and describe her wrangling with county parks officials as a thing of the past.
She and the county have struck a truce, one that clears the way for other fitness professionals who want to lead groups in the county's 94 parks.
"We're very happy," Johnston said. "You know, you have to compromise."
Commissioners last week approved new language in the code enabling commercial and nonprofit groups to run paid fitness activities in the parks for a yearly fee.
Businesses pay $1,000 a year for each park they use, and nonprofit groups pay $500 per park each year.
The fee change was crucial, Johnston said, estimating that she will pay $4,000 to $6,000 a year.
Park officials initially had wanted to charge $20 an hour, which would have cost her $30,000 to $60,000 a year, she said.
The cities of Las Vegas and Henderson allow her to run boot camps at their parks at no cost as long as she follows the rules and doesn't interfere with other park users.
Mayor Oscar Goodman assured her that he would resist any attempts by the city to impose fees on the boot camps because he thinks they are good for residents, she said. Henderson officials are observing how well her activities fit with the parks while they decide how much to charge her, she said.
"That's why the fight with the county was so important because it's going to set a precedent with the cities," Johnston said.
Johnston credits a regime change or the outcome.
Jane Pike became Clark County's acting parks and recreation director in February after her predecessor, Leonard Cash, transferred to Justice Court.
At first Pike wanted to impose hourly fees and a rule requiring Johnston to hold her classes in designated areas.
Johnston objected. She brought a group of vocal boot camp supporters to a commissioners meeting in protest.
Hourly fees combined with rules keeping her from moving freely in the parks could sink the boot camp, Johnston argued.
Pike invited Johnston to her office to resolve the dispute, which had been simmering since early 2007.
Johnston said she and Pike met weekly, delving into how the boot camp could operate without infringing on park goers. They also discussed how large the fees should be and what types of groups should pay them, Johnston said.
"This Jane Pike, she really worked out for the residents," Johnston said. "She kept her ego out of it."
Johnston agreed to avoid running the classes in ball fields, courts and other areas where organized teams play. She will move the group if other park goers ask to use that space.
In contrast, Cash, the former director, believed that no private enterprise should use the parks for profit, even ones that offer fitness classes, Johnston said.
Last year, Cash told the Review-Journal that if he let in one business, a swarm of entrepreneurs could invade the parks, from tennis instructors to food vendors to hot air balloonists, usurping space that families should enjoy.
Cash ordered park police to break up the boot camps. He softened his stance later, allowing Johnston to operate at Desert Breeze and Nevada Trail parks.
Pike said after she took over, she decided the county should be more flexible about paid activities. After all, the purpose of parks has evolved over the decades, she said.
"It's much easier to say, 'No, period. We've always done it that way,'" Pike said. "I think that flexibility is so important."
A big selling point was Johnston's assurance that boot camp participants are mobile and don't monopolize one area for an entire hour, she said.
Pike said there's little chance of vendors flooding into the parks. The county will decide which businesses to permit, based on how their activities fit with the parks' recreational goals, she said.
With these changes, boot campers must contend with only one enforcer: Johnston.
"Go, go, go, go!" she barked last week at anyone slowing to catch their breaths. "Run, run, run as fast as you can go!"
Andrea Martinez, 35, a bartender training for a half-marathon, has put herself through the rigors since April, and gladly.
"I like being outdoors and having her push you," Martinez said. "It's good motivation."
Valerie Gray, 55, stopped to patch up a blister on her foot after running laps, darted up and down a hill several times, and knocked out 100 sit-ups and 100 push-ups on her knees.
Gray survived a three-year bout with cancer and thought a boot camp would do her some good. Four months later, she routinely does two grueling sessions a day.
"I like it," Gray said, flexing her right biceps. "I went from flab to muscles."
Johnston launched the venture four years ago after intense exercise in the park helped her shed 60 pounds.
Being in a family of entrepreneurs, she originally envisioned the boot camp as a business, but is now pursuing nonprofit status. She sees herself improving fitness in people who crave something more lively than a ho-hum workout in the gym.
"They want a little crazy added to it," Johnston said.
Contact reporter Scott Wyland at swyland@reviewjournal.com or 702-455-4519.