County Commission tables More Cops; Collins still pushing tax hike
November 19, 2013 - 5:40 pm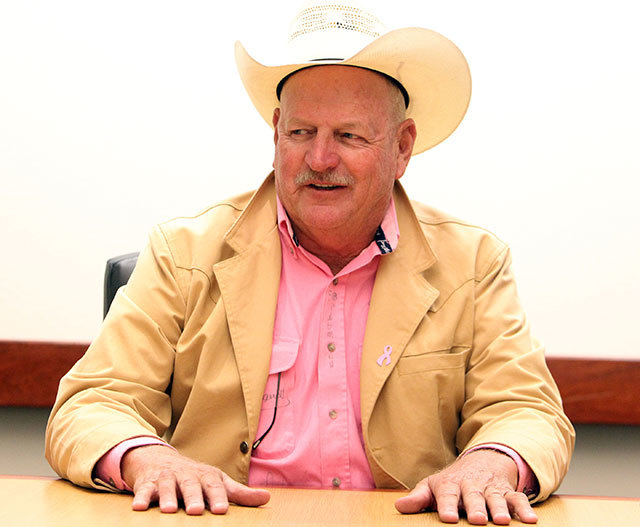 Clark County commissioners on Tuesday tabled a proposal to raise the sales tax to pay for police officers.
The More Cops proposal, spearheaded by Commissioner Tom Collins, would have phased in a 0.15-percentage point increase in the sales tax.
Collins asked for the item to be tabled, and said he hoped a presentation on the issue could be made that gives a clear picture of the situation. He didn't say in his comments when that presentation will come.
Commissioners have grappled with the More Cops sales tax proposals in recent months and already rejected two other tax measures.
Collins, who had voted on a scaled-down proposal to boost the sales tax by 0.75-percentage points, said he'll only support one vote for the full amount allowed, 0.15-percentage points.
Collins stressed that his goal is for a vote that will get the county the full 0.15-percentage point increase, phased in incrementally. For example, his tabled proposal called for a 0.10-percentage point increase in April 2014, and a subsequent 0.05-percentage point increase in July.
But Collins stressed he's open to other combinations of incremental tax increases, as long they add up to the full 0.15-percentage point allowed.
The current sales tax in Clark County is 8.1 percent.
Sheriff Doug Gillespie left the meeting without taking questions from reporters, saying only that he's optimistic about working with the commission in the future.
Collins said that soon, possibly the second meeting in December, the commission might get an in-depth look at the financial picture of the police.
"There's going to be a very in-depth financial presentation to our entire board that will move the personal feelings aside, will move the prejudices aside and show the facts of here's what this community needs going forward between now and 2025 and beyond," Collins said.
Commissioners on Oct. 1 rejected two separate More Cops sales tax proposals. The proposal for the full amount allowed by the Legislature, 0.15-percentage points, gained only three of seven votes, with Collins joined by commissioners Lawrence Weekly and Larry Brown.
The 0.75-percentage point proposal, however, had four votes of support, one short of what was needed for passage. One of the votes that killed it came from Collins.
Collins on Tuesday stressed the long-term outlook, noting the difference between the two tax levels of 0.15-percentage points and 0.75-percentage points is about $200 million between now and 2025.
He said it's important to remember the tax would aid not just the Metropolitan Police Department, but also police departments in Mesquite, North Las Vegas, Henderson and Boulder City.
Some commissioners have encouraged Gillespie to dig into his existing More Cops account to help patch a $30 million shortfall. That account has about $140 million in it, with revenues coming from an existing sales tax that started in 2005.
Questions also were raised about whether calling the new tax "More Cops" is appropriate, given that it would primarily keep officers and not increase the size of the police force.
But Gillespie has resisted that, saying he needs to set funding aside for when the current tax in place sunsets in 2025, and officers it was hired with are still on the job.
Gillespie had lobbied the Legislature this year for a 0.25-percentage increase in the sales tax to pay for officers.
Instead, lawmakers authorized just 0.15-percentage points, and left the final decision up to county commissioners.
Despite the measure being tabled, commission Chairman Steve Sisolak still allowed testimony from the public, noting it's not fair for them to take time to show up for a hearing and have it be tabled without a chance for input.
Contact reporter Ben Botkin at bbotkin@reviewjournal.com or 702-405-9781. Follow @BenBotkin1 on Twitter.