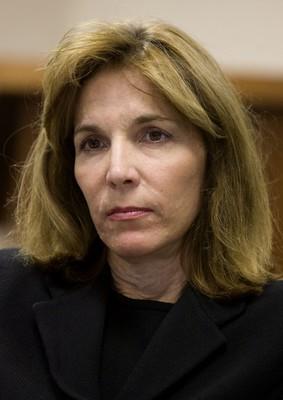 Clark County Manager Virginia Valentine got a 4 percent raise, an $8,000 bonus and high praise from her bosses during her first review as the head of Southern Nevada's largest government agency Tuesday.
The Clark County Commission unanimously voted to give her a 4 percent bonus and increase her salary to $207,500.
Commissioners commended Valentine on her job performance since taking the county's top job last August, especially in light of scandals that erupted shortly after she was promoted from assistant county manager.
"There were some difficult issues laid at her feet," Commissioner Bruce Woodbury said.
University Medical Center's finances were hemorrhaging, and police launched an investigation of the hospital's management.
Also, there has been intense criticism and scrutiny of the county's child welfare system in light of the deaths of numerous children.
"I'm very appreciative of the increase in compensation," Valentine said after the commission meeting. "I'm more appreciative of the expression of trust and support."
Chairman Rory Reid said, "She stepped into the job at a very difficult time. Under normal circumstances, being county manager is a very difficult job."
He pointed to Valentine's "intellect and ability to lead."
Commissioner Lawrence Weekly lauded her "great leadership" and her help with his transition this year from the Las Vegas City Council. Weekly also said he wanted her to focus more on helping minority businesses.
Commissioner Chris Giunchigliani said Valentine has a "huge job" and needs to work on her communication.
Valentine oversees the county's $5.7 billion budget and 10,500 employees. She reports directly to the commissioners and can be fired by them.
She presented them with a short list of accomplishments, including the streamlining of board meetings and the reorganization at UMC. That reorganization included presenting to the commissioners $19 million in cost savings by cutting some contracts and services and improving overall efficiency at the public hospital.
The county also reached an agreement with the Youth Law Center and American Civil Liberties Union of Nevada regarding how to improve the county's Department of Family Services. The two organizations had been threatening to sue the county regarding cases of abused and neglected children.
Valentine's salary is below that of many other top government employees.
"Based on budget, number of employees, and population, you should be way above any of them," Woodbury said. The county, however, had to be reasonable when giving salary increases, he added.
Last week, the Las Vegas City Council gave City Manager Doug Selby a $10,000 bonus and a 5 percent raise, making his base salary $206,064.
He is completing his fifth year as city manager, overseeing day-to-day operations and most of the city's 3,000 employees.