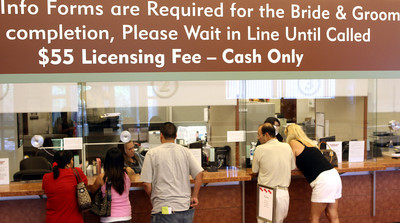 A Clark County employee has been placed on leave while officials investigate whether money has been mishandled or stolen at the Marriage License Bureau in downtown Las Vegas.
The county clerk's office is also looking at new procedures for handling cash at the marriage bureau, because under the current system it's going to be difficult to document how much money may be missing.
The employee was placed on paid administrative leave following a meeting last Thursday, said Clark County Clerk Shirley Parraguirre.
"If there's others, we of course want to pursue that," she said. "We're looking at what other evidence we can find and if there's other couples who will come forward."
The inquiry is focused on a small fee collected from many of the 100,000-plus couples served each year at the marriage office, which only accepts cash.
A marriage license costs $55. The marriage bureau also issues certified copies of a marriage license application for an additional $7.
The certified copy contains more personal information, such as place of birth and the names of the individual's parents, and is used to file name changes and the like with government entities.
One local minister noticed several instances in which couples had the certified copy and said they'd paid $62 — but their receipt only showed the $55 for the marriage license.
The minister showed the information to the Clark County District Attorney's office and the Review-Journal.
District Attorney David Roger said the information should've been taken to police because his office doesn't have the resources to investigate it. Parraguirre started looking into the matter after being contacted by a reporter.
The investigation is focused on what happened to the $7 fees collected by the clerk placed on leave, who has worked for the office since June 2007.
"It certainly makes me question it," Parraguirre acknowledged. "That's why we're pursuing it immediately."
Her office is also looking at ways to better track the certified copies, which are created by individual clerks using a device that leaves a raised stamp with the date and the county clerk's signature.
Options include adding software that would generate certified copies electronically or printing them on coded paper that's numbered for tracking.
"If we did that, we would have an audit trail," Parraguirre said. "Now, we have no way of knowing. If they issued 50 licenses, we have no way of knowing how many certified copies they had."
The office might also post signs urging customers to check their receipts for accuracy before leaving.
A $7 fee may not be much on its own, but clerks can issue between 30 and 50 licenses per shift, Parraguirre said.
"If somebody was only selling 50 percent, over a month's time that could add up to a little bit of money," she said. Using her numbers, that comes to as much as $875 a week, or $3,500 a month.
The person in question is classified as a legal office assistant and makes about $30,000 a year. The salary range for that position is $28,953 to $44,844 annually.
"Everybody who takes cash is subject to something like this happening," Parraguirre said. "If this is true, they've walked away with quite a bit of money."
Contact reporter Alan Choate at achoate@reviewjournal.com or 702-229-6435.