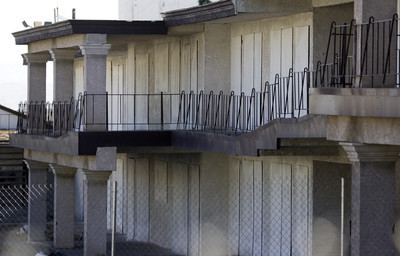 The old Klondike Inn's shattered windows and broken doors were boarded up not long after the Review-Journal last month reported that the closed south Strip property had become a hazard and a homeless campsite.
But now, Clark County has apparently initiated abatement proceedings against the property's owners.
The Department of Development Services recently handed off the Klondike case to county code enforcement officials, a step the county takes when it plans to begin an abatement, said Joe Boteilho, chief of code enforcement.
What happens next depends on how the property owner responds to a notice of abatement.
In the worst-case scenario, the county could end up demolishing the property, charging the owner for the demolition, and levying a $10,000 fine.
That process could take as little as 60 days, Boteilho said.
The Klondike's owner, Royal Palm Las Vegas, did not respond to calls seeking comment.
The county has in the past said that Royal Palm hasn't been responsive enough to directives to do something with the Klondike.
Boteilho wouldn't say whether the owners have more recently been in contact with the county.
"We don't talk about active cases," he said.
Officials say the 153-room building is dangerous, its landings are rotting and columns that support the second floor are in danger of collapsing.
Neighbors said they saw people carting out the building's framing and copper wires.
In addition to the recent boarding up of the hotel's windows and doors, its previously glass-strewn courtyard has been cleaned up, and a hole in the chain-link fence surrounding the property has been patched.
It was unknown whether any homeless people were still camping on the property.
Royal Palm is part of Royal Palm Communities, a Florida company that has developed high-rise condominiums, hotels and business offices.
The company paid owners the Katsumi Kazama Family Partners about $24 million for the Klondike's 5.29 acres in 2005, according to Clark County assessor's office records.
Royal Palm also spent $42 million on a vacant, 5.25-acre site next to the Klondike.
The county's Department of Development Services sent a letter in September to the company detailing dangers at the Klondike and ordering the owner to either repair the place by Dec. 18 or demolish it by Nov. 13.
LYNNETTE CURTIS Wondering how a local story turned out or what happened to someone in the news? Call the City Desk at 383-0264, and we will try to answer your question in this column.