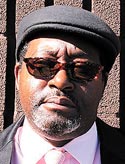 A married couple who police say dedicated the past five years to duping valley senior citizens and Asian women out of more than $150,000 have been arrested in what's known as a "pigeon drop" scam.
On Feb. 10, police arrested William Howard Mitchell, 53 and Rotzilyn Mitchell, 51, on dozens of felony counts of conspiracy, obtaining money under false pretenses and theft.
Police said the couple worked together but made it appear as if they were strangers in the scheme.
Police have identified 40 victims who shelled out anywhere between $200 and $15,000 to the couple, adding they suspect more people were deceived in the grift.
The couple would target victims in parking lots or bus stops, police said. They used money obtained in the scam for their day-to-day living.
"This was their livelihoods," said officer Bill Cassell, a police spokesman.
Cassell said police have been after the couple for years, but didn't know their identities. He noted the elderly can be susceptible to such schemes but police haven't nailed down why Asian women were targeted.
"Historically, older individuals are the usual targets of these scams," Cassell said. "They are generally a little more trusting and in many cases more approachable. In a lot of cases, they have more savings."
The Mitchells declined a request to be interviewed.
Detective Matthew Jogodka with the Police Department's Fraud Detail said the hustle worked this way: Rotzilyn Mitchell would tell prospective victims she worked for a law firm. She would approach someone who was alone and ask the mark if he or she had lost a wallet or container full of money. Rotzilyn would convince the target that there was between $50,000 and $150,000 in the wallet or container.
William Mitchell then would approach his wife and act as if he didn't know her, and he would tell the target he was a real estate agent, Jogodka said. The Mitchells would convince their target the three could split the money after they paid a hefty amount in attorneys fees in order to legally secure it, police said
The Mitchells then would say an earnest deposit was needed for attorney fees. One person entrusted the couple with $15,000, police said.
The couple would be dressed in business attire during the con, Jogodka said.
Police said William Mitchell often would drive the victim to a bank or their home in order to obtain the deposit.
At that point, Jogodka said a victim was out of luck.
"Once the suspects have the money in hand, they do whatever they can to get rid of the victim," Jogodka said. "They leave with the money, never to be seen again."
Jogodka said police won't be able to return to the victims money taken by the Mitchells.
He suspects more people have been scammed by the couple because many aren't willing to come forward and admit they were had.
"They're even embarrassed to talk to me about it," Jogodka said. "They knew it was (their own) greed, and they're embarrassed for other family members to find out about this."
Jogodka said the couple was caught after a person who was victimized gave them a Rolex as a deposit. The Rolex was pawned, and the Mitchells were connected with that exchange, police said. Cassell said more details of that incident couldn't be released.
Police can only pursue charges against the Mitchells in incidents stemming back four years because of statute of limitation laws, Jogodka said.
The Mitchells are slated to make their next court appearance Thursday.
Police are asking anyone with additional information on the couple to call the department's fraud detail at 828-3285 or Crime Stoppers at 385-5555.
Contact reporter Antonio Planas at aplanas@reviewjournal.com or 702-383-4638.