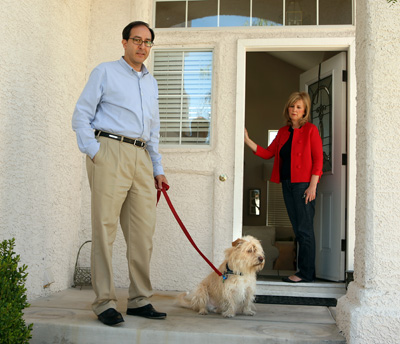 They live in a nice house in a Summerlin neighborhood with their 17-year-old daughter, Caroline, and a little shaggy dog named Logan.
They have a daughter at Harvard University, and two sons in their early 20s, one in New York and one in Ohio.
John and Christina Pfabe — pronounced "fabe" — are Las Vegas parents trying to make ends meet as the economy continues spiraling downward.
But in nine days, he'll lose his job as a nuclear licensing engineer on the Yucca Mountain Project, joining the ranks of some 500 other co-workers for the project's contractor, Bechtel SAIC Co., who will be laid off before the new contractor, USA Repository Services, takes over April 1.
They blame Sen. Harry Reid, D-Nev., for the layoffs. As Senate majority leader he was the driving force behind lopping $100 million from the project's budget. That left only enough money — $288 million, if approved — to support the workers and their task.
They are trying to persuade a Nuclear Regulatory Commission board that the mountain is safe for storing used nuclear waste, and that the project should be granted a license to build what Reid calls "the dump."
"I just want people to know that 500 people are losing their jobs not because of the economy but because of politics," Christina Pfabe said Thursday at their home while Energy Secretary Steven Chu was telling a Senate committee that Yucca Mountain is not an option for entombing the nation's highly radioactive waste.
She said President Barack Obama "inherits this terrible, terrible economic downturn. And that's the first thing on his (Reid's) agenda is to cut jobs in his own state."
Said John Pfabe: "He (Reid) wants to cancel the project by any means whether or not he speaks the truth. For whatever vendetta, for whatever reason why he's bitter, I don't know.
"It's not as though he's fighting some Goliath. He is the Goliath and he is the bitter man at the same time," the 52-year-old licensing specialist said. He emphasized that is his personal opinion and not necessarily the view of his company or the Department of Energy.
"How can just a few people change national policy? Congress mandated this years ago and he's effectively stopping that and denying it and not through the courts and not through any valid safety concerns, but strangling it by budget," he said.
A spokesman for Reid reacted to the Pfabes' criticism, saying in an e-mail Friday that the senator "sympathizes with every Nevadan who has lost their job."
"This is an extremely difficult time for our economy. But every member of Nevada's congressional delegation agrees that the economy should not be the justification for shipping the most toxic substance known to man to Nevada," Reid spokesman Jon Summers said.
Summers added that "most jobs would be temporary until the dump is completed" and few people would monitor the waste as it sits in a maze of tunnels.
He said Reid's focus is investing in renewable energy, such as wind and solar power that will create jobs across the state, not just at one location.
"Yucca Mountain is not about politics. It is about protecting the health and safety of every Nevadan," Summers wrote. "The vast majority of Nevadans have long opposed the dump out of safety concerns" and the effect it could have on tourism and attracting new businesses to the state.
John Pfabe bristles at the word, "dump." Reid, he said, "calls it a dump. Well, gee, if that's a dump, then I guess Congress must be a house of prostitution because they're doing things for votes in return.
"If you look at it, the dump conjures up some idea of a landfill whereas if you look at any of the designs for the repository, they're going to be moving the material in on rail. And if they wanted to they can move it out on rail 50 years later," he said.
Because they are renters, the Pfabes aren't in jeopardy of losing their home. They chose to invest in education instead when they moved here from New York three years ago.
Regardless, John Pfabe said many of his co-workers who will be laid off are homeowners in Summerlin and their job losses will probably translate to more foreclosures — or at least put more devalued homes on the flooded market. And the job losses, he said, will have a trickle effect on the local economy as families won't be going to the pizzeria, the dentist and the grocery store down the street, not to mention the thousands of square feet of office space used by contractors that will be vacant.
Paul Seidler, senior director in Nevada for the Nuclear Energy Institute, said the 500 job losses and other layoffs on the Yucca Mountain Project will "have a very big impact on the economy of Southern Nevada in a time when we can least afford it."
As for the Pfabes, they still have two college educations to pay for. "We'll have to deplete our savings once again," Christina Pfabe said.
John Pfabe said he had planned on staying on the project at least through the four-year license application review to support the general counsel on technical matters and discovery during hearings.
Instead, he said, "I'm looking for work. Where? The continental United States sounds good. I'll have to do a long-distance commute and eventually move the family."
Contact reporter Keith Rogers at krogers@reviewjournal.com or 702-383-0308.