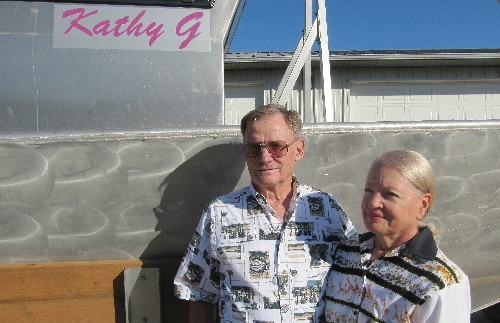 KUNA, Idaho – Gene Ralston and his wife left their home in southwestern Idaho less than a week after he had a coronary angioplasty, putting 2,400 more miles on their motorhome while traveling to and from Canada with their aluminum boat.
Ralston's doctor told him to take it easy, but the trip was just too important.
"We left to go find Ralph," Ralston said.
Ralph Der, 59, drowned in early August while fishing at a lake in British Columbia. Although he had never met the Ralstons, they would become involved with the man's family while working to recover his body from the lake floor.
"We know practically everything about him, his favorite fish, and all kinds of things," said Ralston, who has volunteered with his wife in body searches since the early 1980s.
'ODD HOBBY'
They've recovered the remains of 80 people and participated in the high-profile searches for Laci Peterson and Natalee Holloway. Ralston acknowledges not everyone may understand their life's work – he chuckled at a recent headline in the Canadian newspaper that read: "Idaho couple with odd hobby bring drowning victim home."
"We don't think it's odd," said his wife, Sandy.
The Ralstons initially worked with watercraft , dogs and GPS , but their searches for drowning victims became more exact 12 years ago after they started using side-scanning sonar developed with technology similar to that used in medical ultrasounds.
Ralston first learned about the technology in 1999 when he was assisting with a body search in Oregon. He was horrified when the company leading the effort charged the grieving family about $30,000 for their time and use of the equipment, he said.
The Ralstons purchased their own scanning sonar in 2000 and traveled later that year to Utah's Bear Lake, where authorities sought help in recovering a young man who drowned six weeks earlier. The Ralstons found the body within a few hours, under more than 100 feet of water.
"It was just such an awesome experience," Sandy Ralston said, her voice choking up at the memory. "To actually find somebody when everybody else had just totally given up."
The torpedo-shaped sonar device is 6 feet long and drags behind the boat, mapping the area and recording images in real time for the Ralstons to read on a computer screen. The Ralstons later acquired a remote-operated vehicle, called an ROV, which has a grabbing device that allows them to retrieve bodies.
Ralston estimates they've spent $100,000 on their equipment, though they don't charge families for their time or for the use of their technology, asking only for travel expenses. Other companies offer similar services, but they typically seek payment, sometimes thousands of dollars for a day's work, Ralston said.
'SEARCH FOR AS LONG AS IT TAKES'
Some law enforcement agencies also have the technology but most don't take it outside their jurisdictions , Ralston said. He and his wife, who are in their 60s, are mostly retired from their business as environmental consultants specializing in water issues .
"Typically law enforcement agencies will spend a few days on a search," Ralston said. "They don't have the resources that we do, they don't have the luxury of having two or three weeks or more to search for someone."
In eastern Washington, Walla Walla County Sheriff John Turner met the couple this summer when they helped search for a 14-year-old boy who fell into the Snake River after a boat capsized. Turner's agency deployed all their resources in a rescue effort, he said, but at some point it turned into mission to recover the boy's body.
"You cannot, especially for an agency our size, you cannot sustain that level of commitment toward that mission just because you don't have the resources," said Turner, who called the Ralstons a godsend. "They have expertise and equipment that we don't have."
A few days into the search, the Ralstons were asked to help find a 12-year-old boy who had also drowned, Turner said. The couple recovered the second drowning victim, and stayed until the following weekend when the first boy was found.
The Ralstons take pride in their commitment, which is why they didn't hesitate to go search for Der in Canada, even as Ralston was recovering from his heart procedure. The day after they recovered the body, Ralston was back in the hospital with internal bleeding resulting from complications from his heart procedure.
He's now doing better with changes to his medication and returned to Canada last week with his wife for Der's funeral. Ralston has vowed to continue the searches as long as he's physically able, but his wife is thinking more and more about passing the torch to someone else, he said.
"We haven't really found the right person yet," he said. "It takes a bit of a special person who, in our opinion, will do more than just work on a weekend and then go home. It needs to be someone who has enough compassion to where they'll stop everything and go on a search for as long as it takes."