Coyotes ride Harper's cycle to decisive win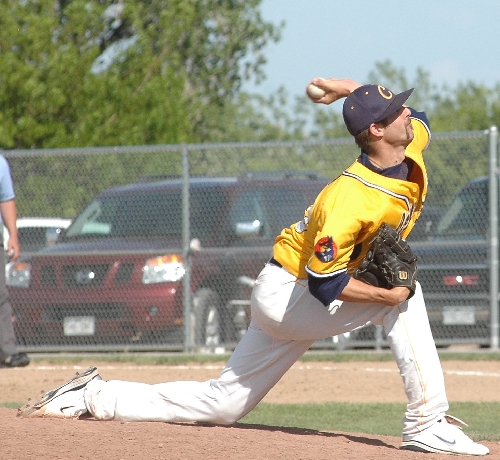 LAMAR, Colo. — Add another impressive accomplishment to Bryce Harper's resume. The College of Southern Nevada freshman slugger surprised himself with what he did Friday.
On his seventh trip to the plate, Harper hit a triple to complete the cycle and cap a six-hit, six-RBI performance.
"I don't know if I hit for one in high school," Harper said of his cycle, the second in the 11-year history of the CSN program. "I didn't even think about it when I went up there. I hit one down the line and just ran forever."
The Coyotes spent a lot of time running the bases while putting a 22-8 beating on Lamar Community College in the semifinals of the NJCAA Western District Tournament.
CSN (48-13) will face Central Arizona (45-19) in the championship round of the double-elimination tournament at 11 a.m. today. Central Arizona's 17-8 win eliminated Lamar (48-12) in the losers' bracket.
The Western District winner advances to the Junior College World Series in Grand Junction, Colo.
"We've had a lot of things happen this year that are record breakers," Coyotes coach Tim Chambers said. "But we keep telling our guys, 'It means nothing if we don't finish.' I'd rather break no records and get to the Series and have a shot to win it."
Harper, who left Las Vegas High School after his sophomore year, added to his CSN record with his 25th home run in the seventh inning.
Trailing 5-4 after six innings, the Coyotes scored eight times in the seventh. Casey Sato led off with a walk, and Ryan Scott sacrificed him to second. Sato scored the tying run on Daniel Higa's single.
"We started rolling as a team," Harper said. "When you get on a roll like that, hitting gets contagious. We hit some balls hard."
Scott Dysinger followed with a two-run homer that barely cleared the left-field wall, and Harper hit a towering solo shot to center to make the score 8-5.
After Trevor Kirk and Marvin Campbell each knocked in a run, the 5-foot-10-inch Sato came up again and ripped a two-run homer to left that traveled about 450 feet and put CSN up 12-5.
"I'm real proud of Casey," Chambers said. "He drew the walk, and all we're trying to do right there is play for a run to tie it up. It kind of just sparked us.
"We have a powerful lineup and a potent lineup when we're patient. With this wind blowing like it is, if you hit it in the air to the (left) side of the field, it's going to be a home run most of the time."
The Coyotes scored all eight runs against Lamar right-hander Brandon Ward-Hersee, the nation's leader in saves with 24. Ward-Hersee is the team's closer, but he was called in from the bullpen with two outs in the sixth.
In the middle innings, strong winds began whipping out to center and left field to contribute to the offensive explosion. The teams combined for seven homers. CSN collected a season-high 23 hits.
Campbell's two-run homer to left gave the Coyotes a 4-2 lead in the fifth. Gabe Weidenaar went 3-for-4 with three runs and two RBIs.
Harper, who finished 6-for-7, lined an RBI double in the first inning and had a two-run single and two-run triple during a 10-run eighth, after which the game ended on the eight-run rule.
Sophomore left-hander Bryan Harper (10-1) got the win by striking out eight in 3 1/3 innings of relief.
Chambers said Chasen Shreve, a Bonanza High product, will start today's first game.
"We needed Bryan to finish that one for us," Chambers said. "We've still got a bunch of guys left. We've got seven or eight guys we can use. We're in good shape."
■ NOTES — CSN baseball can be heard today through a link on network1sports.com. Dan Cabrera calls the action. … Central Arizona eliminated Western Nebraska 17-4 in Friday's first game.
Contact reporter Matt Youmans at myoumans@reviewjournal.com or 387-2907.
CSN 22
LAMAR 8
KEY: Bryce Harper, Scott Dysinger and Casey Sato homered in the Coyotes' eight-run seventh inning.
NEXT: CSN vs. Central Arizona, 11 a.m. today