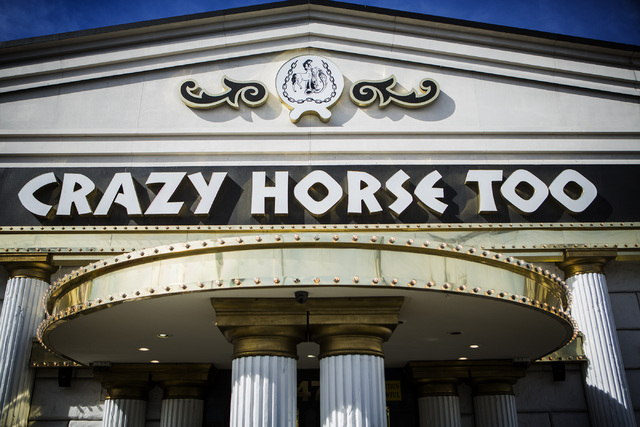 The Crazy Horse Too's comeback has come and gone.
As historically mobbed-up topless cabaret revivals go, the 2013 reopening of the notorious Industrial Road skin joint wasn't exactly flashy fireworks and flying Champagne corks. Far from it. Despite the energetic intentions of new owner Mike Galam, the return of the once-infamous Crazy Horse Too has displayed all the sparkle of a flat can of Keystone Light.
It closed in late August amid a flurry of rumors, most of them centered on a distinct lack of business at the once-thriving operation that sits like a gaudy troll next to the Sahara overpass. For all the notoriety it generated during the years it was run by exiled topless boss Rick Rizzolo, the club was an undeniable moneymaker. The millions it made helped make Rizzolo a high roller on the Strip and a player in Nevada political circles.
The Crazy Horse Too in those years was also a trouble magnet, generating complaints for roughing up customers and parking lot altercations. But for some inexplicable reason, neither city officials nor Metro's finest could clear their schedules long enough to fumigate it or shut it down.
All that began to change after the September 2001 beating of Kansas tourist Kirk Henry.
Thanks in large part to an ensuing litigation and the work of FBI and IRS agents, Rizzolo and his crew ended up with tax convictions, and Henry and his family won a $10 million settlement. Attorneys for the Henrys continue to wring what's owed Henry, a quadriplegic, from Rizzolo.
Rizzolo's club not only was successful, but it also attracted big-spending Bonanno crime family soldier Vinny Faraci and provided a nice payday for Rocco Lombardo, brother of former Chicago Outfit hammer Joseph Lombardo.
Does that prove Las Vegas was better when the mob ran the topless joints?
The ensuing years haven't been kind to the Crazy Horse Too, which was purchased last year by Galam as part of his $5.5 million takeover of Canico Capital. After a quiet opening, business at the once-raucous club grew even quieter. Unlike so many other topless bars in the valley, cabs and limousines failed to drop off randy tourists to its front door.
Galam had his own legal squabbles over the rights to the name, but even keeping the original signage failed to return the Crazy Horse Too to its neon glory.
Galam and attorney Michael Mushkin declined to return calls for comment Tuesday. On Facebook Galam noted he was handing off the club to an associate but provided few details.
Last year, when Galam was touting his experience as the owner of Bare Elegance in Southern California and attempting to craft his image as the anti-Rizzolo, they struck a far different posture in the press.
"I have an excellent reputation, and especially at my clubs," he said in a March 2013 interview. "There's no violence. We're extremely strict on the conduct of the girls. And there's a zero drug tolerance policy. I feel extremely confident in being successful because our modus operandi is completely different from the previous owner. We're friendly, courteous. All of my security staff will be signing a no-violence waiver, including if they're attacked. The most they can do is bear hug a guy and restrain him until the police come. No punching, no assaults of any kind, including self-defense. We have a bear hug-only policy. … We plan on a whole new demeanor of smiles instead of punches."
Mushkin added, "He's a real operator. He's not in it to do anything but open the joint and run it. He wants to be in Las Vegas and sees this as the best opportunity for him."
There was even talk of producing a Crazy Horse Too reality TV series.
In 2013, Mike Galam talked a good game.
Now, no one's talking much at all about the Crazy Horse Too.
John L. Smith's column appears Sunday, Tuesday, Wednesday, Thursday and Friday. Email him at Smith@reviewjournal.com or call 702-383-0295. Follow him on Twitter @jlnevadasmith.