Crew wraps up work on new trail to Griffith Peak
September 4, 2011 - 11:29 pm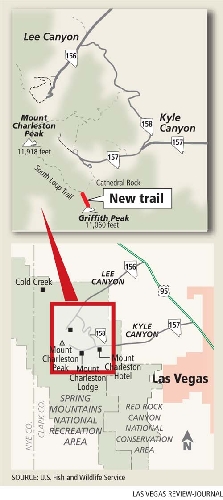 It still won't be easy, but the hike to the top of the third tallest peak in the Spring Mountains is about to get a little easier.
A crew of 20 volunteers and six interns from the Student Conservation Association are wrapping up work on a new trail to Griffith Peak, which rises to 11,060 feet in the Mount Charleston Wilderness.
The official U.S. Forest Service trail replaces an old, user-created path to the peak that was steep, prone to erosion and posed a threat to the Mount Charleston blue butterfly and other rare bugs.
"Hikers were climbing up the ridge and trampling a lot of the host plants that the butterflies use as habitat," said Judy Suing, spokeswoman for Spring Mountains National Recreation Area.
The work, done mostly with shovels and hand tools, was planned and funded by the Southern Nevada Agency Partner­ship, a group of federal agencies that manage wilderness areas in the region. The volunteers are from Friends of Nevada Wilderness and other local conservation groups and hiking clubs.
Outdoor retailer REI kicked in additional money for some pack horses to help haul water, tools and supplies to the remote work site more than 10,000 feet above sea level, Suing said.
Some members of the work crew camped on the mountain for the duration of the project.
Friends of Nevada Wilderness board member John Hiatt said the trail improvement has been in the works since 2006.
"Traffic going to Griffith Peak has increased by an order of magnitude," he said, and the old trail simply wasn't sustainable.
As part of the project, signs are being installed to direct hikers to the improved stretch of trail. The new quarter-mile section also will be added to trail maps of the area as they are updated and reprinted.
It will take more than a casual stroll in the forest to see the improvements in person.
The first four miles of the hike follows the South Loop Trail as it climbs roughly 3,600 vertical feet of switchbacks to the ridge line.
"It is just a wonderful place to view the valley," Suing said of Griffith Peak. "But it's definitely one of our more strenuous hikes."
Hiatt said the walk is rewarding enough in itself. It begins among Ponderosa pine and white fir and climbs through an avalanche chute populated by aspens. Then it tops the ridge and meanders through a forest of bristlecone pine, a species that produces individual trees that are among the oldest living things on Earth.
"There are trees in there that are three feet in diameter and 10 feet high," he said. "This is a really interesting area."
Work on the trail is supposed to be finished early this week. Until then, Suing said people are asked to avoid the area if they can.
Contact reporter Henry Brean at hbrean@reviewjournal.com or 702-383-0350.