Criminal charge filed against mine owner over road work at Lake Mead
January 7, 2016 - 6:32 pm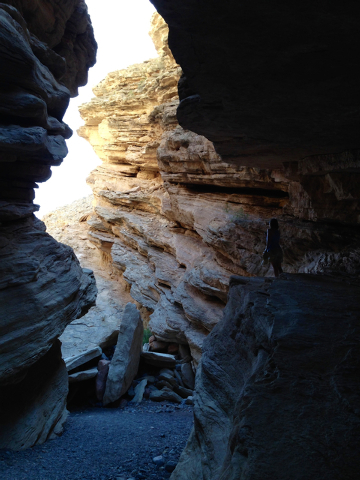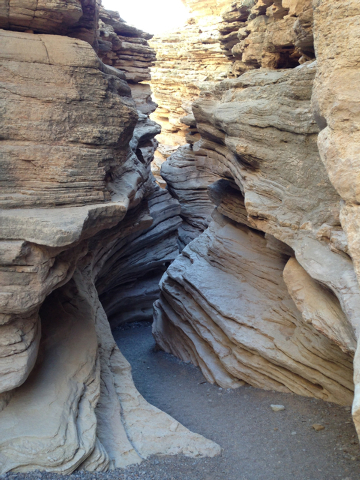 Federal authorities have filed a criminal charge against a mine owner who is locked in a dispute with the National Park Service over access to his property near Lake Mead.
Robert Earl Ford is accused of "willfully injuring" government property in March by widening a dirt road that runs through Lake Mead National Recreation Area to his Anniversary Mine.
Todd Howard Tomlin, a mine employee who drove the road grader for Ford, also was charged.
According to the criminal complaint filed against the men on Nov. 24, Lake Mead park rangers on routine patrol spotted the unauthorized road work on March 22.
At the time, Ford was trying to lease out the mine for a three-day music and arts festival called Further Future, but the Park Service and the Bureau of Land Management declined to issue permits for the event.
Ford mines limestone and other minerals on his 215-acre tract sandwiched between Lake Mead National Recreation Area and the BLM's Muddy Mountains Wilderness Area. He also uses the land for a composting operation and previously rented space to a Las Vegas gun range that lets people shoot heavy machine guns and grenade launchers.
Ford was not immediately available for comment.
He first made headlines in February when he gated his portion of Anniversary Mine Road, cutting off public access to a popular hiking trail through a nearby slot canyon.
At the time, he said he was forced to close the road because it was dangerous and his insurance carrier was threatening to drop him if he kept letting people cross his land to reach Anniversary Narrows.
He offered to pave the entire 2½ mile road — two-thirds of which is on federal land — at his own expense, but the BLM and Park Service turned him down.
The Anniversary Mine was founded in the early 1920s, more than a decade before Hoover Dam was finished and the recreation area was born in 1936.
Ford said he entered into a deal to buy the old mine in 2006 and took possession of the land in 2011. The following year, the BLM sent him a warning letter about unauthorized road work after he put asphalt chips on the dirt track leading to and through his property.
Ford is scheduled to appear in court on the criminal charge on Feb. 2.
Natalie Collins, spokeswoman for the U.S. Attorney's office in Las Vegas, said the count carries a penalty of up to 10 years in prison and a $250,000 fine.
A government assessment of the resource damage caused by the road grader pegged the cost at $1,540.
Contact Henry Brean at hbrean@reviewjournal.com or 702-383-0350. Follow him: @RefriedBrean