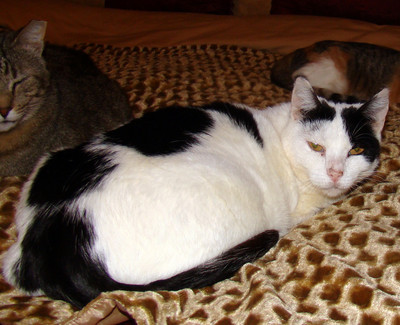 Nye County officials have filed criminal charges against the organization in charge of a former Pahrump cat sanctuary where hundreds of ailing cats were rescued last year.
Eighteen misdemeanor charges relating to animal abuse, neglect and cruelty were filed Thursday against Las Vegas-based For the Love of Cats and Kittens, or FLOCK.
Authorities closed the facility run by FLOCK in July after discovering that more than 700 cats weren't receiving adequate food, shelter or medical treatment. Instances in which cats were emaciated or wounded by lack of care were cited, and more than 60 animals died or had to be euthanized.
"After a lengthy investigation, these are the charges we felt were appropriate," Nye County District Attorney Bob Beckett said. He said he could not elaborate because the investigation was still under way.
Sharon Lee Allen, who ran the sanctuary on behalf of FLOCK at one time, was charged in March with 13 misdemeanor counts stemming from keeping more than 100 cats in her home.
FLOCK President Maggie Ward said that the organization will face the charges, but that any abuse at the sanctuary occurred under Allen's supervision.
"I got involved in this the day we took it over," Ward said. "They are still trying to get me prosecuted. I am so tired and fed up."
Allen could not be reached for comment Friday afternoon.
Ward said that Allen was ousted by the board shortly after the abuse was discovered and that the group spent six weeks and more than $18,000 helping the cats before Utah-based Best Friends Animal Society was brought in to assist.
Since then, Ward said, there have been internal issues with Best Friends, and she believes the group is trying to run FLOCK out of business.
"FLOCK is being punished by power and influence," Ward said.
Although no specific names are included with the charges, the charges are punishable by a maximum sentence of six months in jail and a $1,000 fine.
Ward said FLOCK officials haven't considered what the group will do if convicted of the charges.
"I haven't even thought about it because we aren't guilty," she said. "We have a good attorney, we have proof and an excellent case."
FLOCK adoption coordinator Janet Differ said the group continues to work with area veterinarians and organizations rescuing and helping place cats in loving homes.
Ward said the group has more than nine lives left in its fight.
"We have an excellent case," she said. "We are just going on about our business. There is no way we will stop working with cats. We may not have a sanctuary, but we will go on working with cats."
Contact reporter Maggie Lillis at mlillis@reviewjournal.com or 702-383-0279.