Criticism of Kenny intense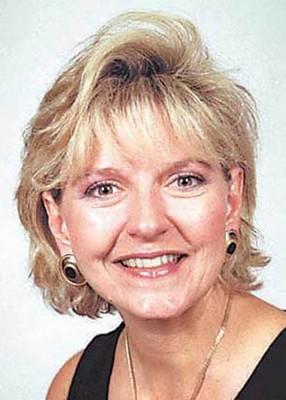 A pharmacy that sits just beyond Carolyn Edwards' backyard wall is a constant reminder of her fiercely fought but losing battles with former Clark County Commissioner Erin Kenny.
Edwards believes that of all the county commissioners embroiled in a political corruption scheme, her former representative is "the worst of the bunch."
Two of Kenny's colleagues were sent to prison this year for trying to change ordinances to benefit strip club owner Michael Galardi.
But Kenny's actions were more harmful, Edwards said. Kenny accepted bribes in exchange for lobbying for developments opposed by neighbors.
Ordinances can be reversed; buildings cannot, Edwards said.
"She committed the most egregious crimes, and she convinced, I think, other people to do the same," Edwards said.
Kenny signed a plea deal in 2003 that allows a more lenient sentence if she helps the government unravel a web of political corruption that, according to court documents, not only involved Kenny, her fellow Clark County commissioners and Galardi, but also developer Donald Davidson.
Under the agreement, the 46-year-old Kenny can serve no more than five years in prison.
Last year, she assisted in putting former Commissioners Mary Kincaid-Chauncey and Dario Herrera in prison when she told a jury that the two had joined her in an effort to push Galardi's agenda forward in exchange for cash rewards.
Kenny confirmed that former Commissioner Lance Malone had delivered the cash on behalf of Galardi.
Kincaid-Chauncey was sentenced to 30 months in prison, Herrera received a 51-month term, and Malone, who signed a last-minute plea agreement, began a six-year sentence this month.
Galardi, who also pleaded guilty and cooperated with the government, received a 30-month sentence.
Those sentences can't be used to gauge what might be expected for Kenny because they were levied by U.S. District Judge Larry Hicks, who did not conceal his contempt for political corruption.
But Hicks has no control over Kenny's fate.
Her sentence will be determined by U.S. District Judge Kent Dawson, who accepted Kenny's guilty plea in 2003.
Edwards said she and her neighbors fear the commissioner who behaved the worst will get the best deal.
Federal prosecutors have agreed to postpone Kenny's sentencing eight times so that she can continue to assist agents with their investigation and pending trials.
She is expected to testify in the court proceedings of Davidson, who is accused of bribing or attempting to bribe elected officials.
Kenny's sentencing date is scheduled for June 6, but that is expected to change again because Davidson's trial, which had been slated to begin last week, was postponed a fifth time. It is now set for June 18.
Edwards and her friends and neighbors want the Davidson trial wrapped up so that they can finally see whether Kenny will get any semblance of the punishment they believe she deserves.
"People ask me about it all the time; no one is sympathetic," Edwards said. "People are wondering when she is going to have to pay her reasonable due."
Las Vegas resident Elaine Helbringer wrote in a letter to the Review-Journal: "It has been proven that she was crooked as a commissioner. She has done irreparable harm to many of her past constituents. She should get more time than the others."
Questions have been raised about whether the federal government is sympathetic toward Kenny and has already cut her slack.
For example, on Kenny's first day testifying against Herrera and Kincaid-Chauncey, Kenny was escorted through a back door of the courthouse to avoid television news crews gathered at the front entrance.
Other witnesses in the well-publicized trial had no choice but to wade through the crowd of reporters.
After Kenny spent two days on the stand, a federal investigator visited the Clark County Government Center. Former and current high-ranking Clark County officials, who asked not to be identified, said they were stunned when the agent appeared to empathize with Kenny, describing how difficult it was for her to testify and admit her misdeeds.
Kenny acknowledged she never paid taxes on any of the bribes she received, but there is no indication the federal government has ever gone after Kenny for the illicit income. Internal Revenue Service representatives did not respond to an e-mail asking for comment.
Defense attorneys who represented Herrera were outraged by Kenny's lavish lifestyle and her failure to pay taxes on money she admitted receiving. So are others, including Edwards.
"I think she should be paying taxes on the money she got and pay some sort of compensation to the people who were injured in this process," Edwards said.
It's unclear whether residents who were directly affected by Kenny's corruption can sue the former commissioner, said Deputy District Attorney Mary Ann Miller.
It would be difficult to prove the commission would have voted differently if Kenny had not been illegally influenced, Miller said.
"The burden is proving absent the corruption, the board would not have voted for (a project)," Miller said.
Kenny said last year that she believes she already has been sufficiently punished for her crimes.
"I've served three years in public jail," Kenny said during her former colleagues' trial. "It's been very difficult."
Despite the federal indictment, Kenny has not appeared to suffer financially since her power-wielding days on the commission.
In 2004, she purchased an $869,000 house in the exclusive, gated community of Eagle Hills. She put the house on the market last year for $1.29 million. It didn't sell after a year, so Kenny upped the asking price to $1.34 million. It eventually was taken off the market.
County records show that Kenny and her husband, John, a part-time chiropractor, still own the house, but parents of children who attend The Meadows School, a private institution, say they have not seen Kenny at school events for more than a year.
At one point, Kenny was a regular at her children's softball and soccer games. It is unclear whether the Kenny children still attend the exclusive school.
IMPAIRED MEMORY
Kenny's credibility as a helpful government witness was seemingly weakened last year when she took the stand to testify against Herrera and Kincaid-Chauncey and announced she suffered from memory loss.
"I've lost a lot of memory," Kenny said, explaining that she has bouts with vertigo. "Literally a lot of my childhood memory is gone. I have short-term memory loss."
Still, the government plans to call Kenny to testify again to describe her corrupt relationship with Davidson.
As Davidson's trial approaches, his attorney, Dominic Gentile, is demanding to know more about Kenny's medical condition. Gentile said last week that he has subpoenaed Kenny's medical records, but has yet to receive them.
Kenny's attorney, Frank Cremen, did not return a phone message seeking comment, and Assistant U.S. Attorney Steve Myhre declined to comment.
One of Herrera's lawyers, Jerry Bernstein, said he was surprised that the government would put a witness with memory problems on the stand.
"It is obvious that Kenny has credibility problems, and her vertigo story only adds to the picture" of a witness who cannot be believed, Bernstein said.
"We also heard no medical evidence that vertigo is related to memory loss," he said.
Neither Bernstein nor Richard Wright, who represented Kincaid-Chauncey, said they subpoenaed Kenny's medical records.
Last year, Scott Manthei, a doctor of osteopathic medicine at Nevada Eye and Ear, told the Review-Journal that memory loss is not typically tied to vertigo.
"You usually don't see memory loss in association with dizziness, unless you're looking at some type of stroke," Manthei said. "You don't get memory loss from dizziness; however, something that could cause dizziness can cause memory loss."
VIVIDLY AND LIVIDLY
Constituents Kenny infuriated by ignoring their concerns and voting in favor of businesses they opposed in their neighborhoods have vivid memories of her.
The mention of Kenny's name still triggers disdain among many residents of her former district.
Community activist Lisa Mayo-DeRiso worked on Kenny's first campaign. But not long after Kenny took her commission seat, Mayo-DeRiso and her commissioner butted heads.
The growing feud between the two was known to the public, who watched their battles at commission meetings.
"Erin pulls crap everywhere," Mayo-DeRiso said in 2001 after Kenny pushed for an unwanted project near her home. "Now she's pulling crap three blocks from my house."
District F constituents embraced Kenny's energy and enthusiasm when she first announced her intention to run for county commissioner in 1993.
Her passion for politics stemmed from her upbringing in Chicago, where her activist grandparents and parents worked on various campaigns.
In 1982, Kenny received a degree in speech communications from the University of Illinois in Urbana.
She moved to Las Vegas with her husband in 1989. She was keen on the city because she won a $600 jackpot during a visit.
Kenny worked a graveyard shift as a waitress at the Imperial Palace before opening her own public relations firm.
In 1992, she won a seat in the state Assembly.
The next year, the mother of five convinced residents in her commission district that she cared for the fast-growing community. She fought for the working class, fiercely supporting labor unions.
But Kenny's tenacious personality surfaced well before she was sworn into office. Incumbent Don Schlesinger's popularity plummeted after anonymous mailers were distributed claiming Schlesinger was gay.
Kenny won the race.
During her two terms on the board, her personality continued to rub her constituents, colleagues and county administrators the wrong way. She consistently authored proposals for controversial ordinances ranging from strip clubs to cell phone use.
When constituents questioned her motives and intentions, she berated them.
In 2002, Steve Small felt Kenny's wrath when he suggested she was siding with developers over residents.
"It's extremely easy to sling arrows; you not only impugned this board but the individuals involved in this," Kenny said to him. "Until there is any kind of proof, I find these accusations offensive and inflammatory."
Throughout her two-term tenure on the board, Kenny consistently presented herself as a mother of five children who was concerned about the quality of life in her district and was willing to make the unpopular decisions.
The indictment filed against Davidson indicates a different motive behind her decisions: cash payoffs.
PRO-BUSINESS
In January 2000, residents in Kenny's district rallied against a proposed casino in their Spring Valley neighborhood. It turned out their greatest obstacle in their fight was their own representative. Kenny convinced her fellow board members the project would benefit the area, and the commission approved it.
According to Davidson's indictment, Kenny met with the owners of Triple Five Development, the company that planned to build the casino, and Davidson, then vice president of the company, after the commission meeting.
"Davidson gave Kenny $3,000 from the owner of Triple Five owner (sic), and continued to give her $3,000 nearly every month until early 2003," Davidson's indictment says. "Most of the monthly payments were in cash."
Kenny revealed her relationship with Triple Five while testifying last year. The company released a statement shortly after Kenny's comment denying her allegations.
"Mrs. Kenny's prison sentence will be heavily influenced by how much the government lawyers like her testimony," the statement said. "Having already pleaded guilty to betrayal of the public trust in so many different ways, her alleged testimony is not worthy of belief."
In March 2001, Kenny helped Davidson execute a zone change near Fort Apache and Maule Avenue. A commercial shopping center was eventually built on the five-acre parcel.
After the commission meeting, Davidson gave Kenny "thousands of dollars in cash" from the owner of All American Land, the indictment says.
According to the secretary of state, the owner of All American Land is John Hui, who, according to court documents, is a businessman from China.
Kenny testified last year that Davidson delivered a $20,000 bribe from a developer he only referred to as "China Man." Hui, who has not been charged with a crime, could not be reached.
In late 2001, Davidson again approached Kenny and requested her assistance in pushing through a zone change that would allow for a CVS Pharmacy to be built adjacent to homes. Edwards and her neighbors got organized and protested at commission meetings, but Kenny made the motion to change the zoning and it passed.
Davidson, who already had access to Kenny, served as a consultant for the developer, according to the indictment. Kenny received $200,000 for her work on behalf of Davidson, according to court documents.
"It was illegal because it wasn't a loan, and it wasn't a campaign contribution," Kenny told jurors last year during the trial involving Herrera and Kincaid-Chauncey.
Kenny might have disappeared from the public eye, but constituents haven't forgotten her.
"Erin Kenny must be sentenced to time in prison. She should not get any special considerations. After all, she received more money than the other commissioners combined," Helbringer wrote in another letter to the editor.
"Let's get her sentenced and be done with Erin Kenny."